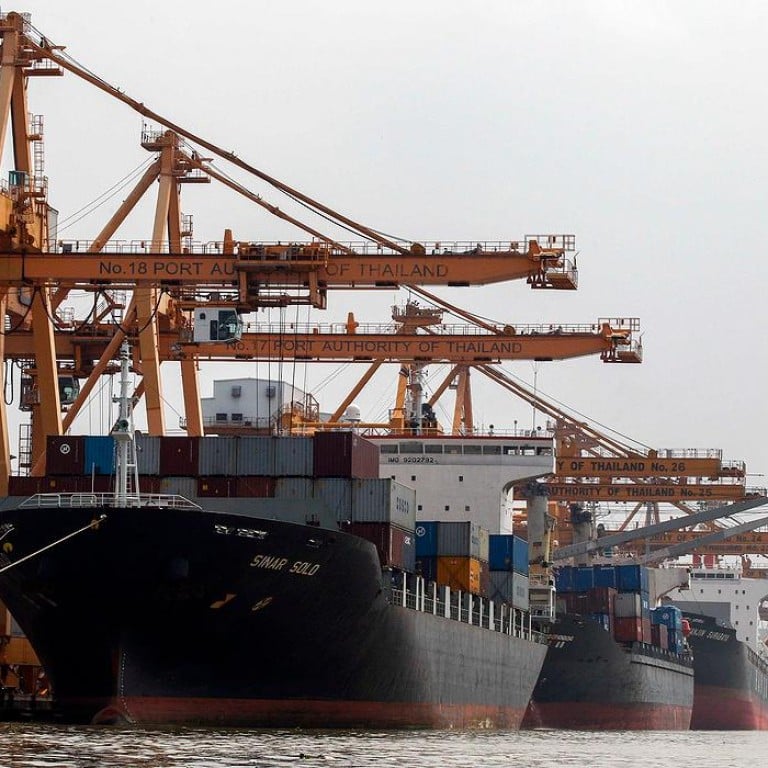 Centuries-old trade and commerce ties bolster the Thai-Hong Kong relationship. Reports by Euan McKirdy
Supported by:
Discovery Reports
Thailand and Hong Kong's trade and commerce relationship goes back centuries, and trade between the two is evolving, according to a Thai consulate spokesman.
Given its small domestic market, Thailand is dependent on exports, which make up about two-thirds of its gross domestic product.
It is the second-largest economy in Southeast Asia, after Indonesia, and membership in international and regional bodies, such as the World Trade Organisation and Asia-Pacific Economic Co-operation forum, has improved its standing and trade relationships.
In 2010, Thailand was Hong Kong's ninth largest trading partner; 11th largest market for domestic exports and 13th largest market for re-exports. On the other side of the coin, it was the country's eighth largest source of imports.
Support for bilateral trade is strong, and its importance is underlined by the attention of the two governments - almost a decade ago they signed the Investment Promotion and Protection Agreement (IPPA), strengthening the already healthy trade and economic relations.
Earlier this year, this commitment was renewed when Gregory So Kam-leung, Secretary for Commerce and Economic Development, and Thai Minister of Commerce, Boonsong Teriyapirom, signed the Co-operation Arrangement on Strengthening Trade and Economic Relations. The agreement covers everything from trade in goods and services, to investment and tourism.
So reiterated Thailand's importance as a trading partner to Hong Kong, and the signing of the co-operation arrangement enhances trade and economic ties.
"As the next step, we look forward to further enhancing economic ties between Hong Kong and Thailand through Hong Kong's eventual accession to the China-Asean Free Trade Area (CAFTA)," So said in February.
"We are delighted and encouraged to receive Thailand's support for our request for accession to CAFTA."
There is also a strong lobby, incorporating the influence of trade associations and other non-governmental organisations.
The Thai-Hong Kong Trade Association (THTA), established in 1996 to promote the development of trade and investment between Thailand and Hong Kong, aims to "provide a point of exchange and co-ordinate efforts to improve business and opportunity among those engaged in trade, industry, investment, and finance".
It is an active arbiter of trade relations between the two places and helps with Thai business development in Hong Kong.
Its mission is to foster effective business and social relations between the two nations, to offer essential business services, provide relevant local expertise and advice, and to liaise with the Thai government to ensure smooth working relationships with Thai and Hong Kong companies.
According to the Thailand Board of Investment, 211 project investment applications from Hong Kong were received from 2008 to the first quarter of this year.
The sectors involved range from electronics - around a quarter of applications - to agricultural products and textiles.
According to the Thai consulate, the total trade balance between Hong Kong and Thailand increased 4.6 per cent from January until September 2013.
Hong Kong plays a part in helping Thai trade with China. The Asian economic powerhouse is now Thailand's second-largest trading partner, and bilateral trade has increased 22.3 per cent year-on-year, reaching US$64.74 billion in 2011 and is expected to top US$100 billion by 2015.
Given its infrastructure, open business culture and continuing visa restrictions to Thai business travellers on the mainland, Hong Kong remains a key figure in this burgeoning relationship.
"Thailand regards Hong Kong as a gateway to China," the consulate spokesman says.
In the first three quarters of 2013, the consulate says, the re-export value of Thai products via Hong Kong to China reached US$3.9 billion.
Alongside electronics and computer components, Hong Kong's port saw Thai goods, such as telecommunications equipment, vegetables and fruits, plastic items, leather and other raw materials, come through, destined eventually for the mainland.
"We see good opportunities in goods and services, mutual capital flows and talent exchange arising from the growing trade ties between the two countries," said Vachara Phanchet, chairman emeritus of Pacific Basin Economic Council in Thailand, earlier this year.
"More investment in real estates, shopping centres and [the] growth of Chinese tourists in Thailand are also envisaged to grow in importance in the Thai economy."