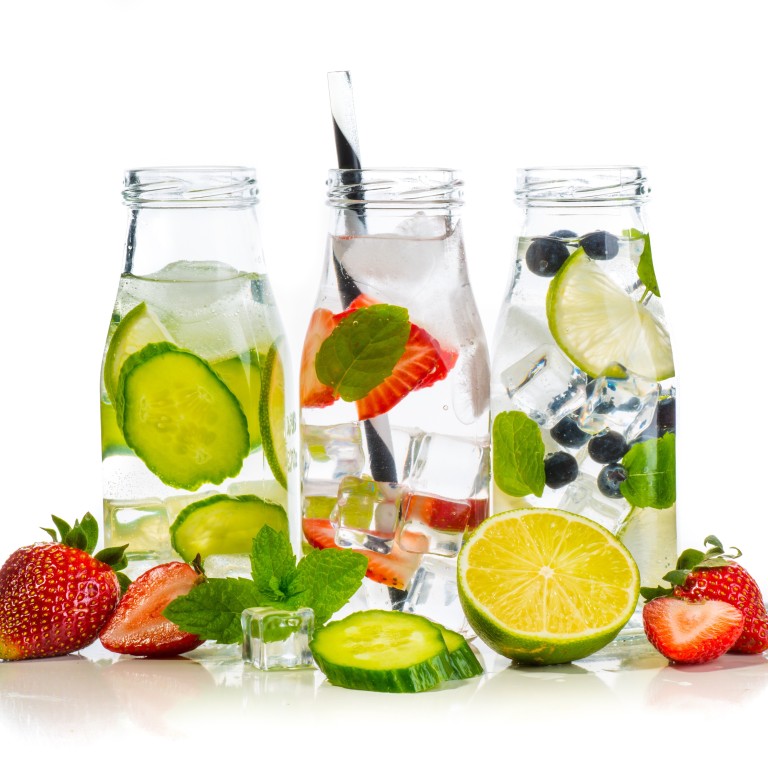 6 alternatives to soda that are better for your health
High-sugar, high-caffeine soft drinks like Coca-Cola and Pepsi may lead to obesity, diabetes and cavities
They have no nutritional value and can cause dehydration
Reaching for a Coca-Cola or 7-Up is tempting when the temperature rises, but the amount of sugar these soft drinks contain wreak havoc on your teeth and insides. The cost also adds up.
Ditch the soda for some fruit- and herb-infused drinks that not only look amazing but pack a punch of health benefits.
Start off by filling a pitcher or a one-litre water bottle with water. Then add slices of fresh fruits and herbs to make your customised drink. (Go easy on the herbs as they can have a very strong flavour.) Chill in the fridge, and you're good to go!
While these drinks can generally last for up to three days in the fridge, it does depend on what ingredients you use. Orange, lime, lemon and cucumber stay fresh longer, while berries will start to go bad within two days.
If you finish your drink in one sitting, you can always add more water to make the fruits and herbs go further. Watch out, though, as citric fruits such as grapefruit and yuzu might start to taste bitter if left in the water for too long.
Check out these easy, two-ingredient combinations that will help to beat the heat.
Blueberry orange
You'll need:
two mandarin oranges, rind removed
10-15 blueberries
Oranges are packed with vitamin C, fibre, and other essential nutrients, while blueberries are an excellent source of vitamin C and antioxidants. To prepare this delish thirst-quencher, peel and cut both mandarin oranges into wedges. You can also squeeze in one mandarin orange's juice to intensify the flavour. Combine the oranges and blueberries and chill at least four hours.
Cucumber mint
You'll need:
one cucumber, thinly sliced
eight mint leaves
Cucumbers contain antioxidants, including flavonoids and tannins that fight off harmful free radicals. Mint leaves give your immune system an extra boost as they are a great source of vitamin A and antioxidants.
Start by cutting the cucumber into thin slices. Crush or rub the mint leaves gently in your hands, and add to the mix. Stir gently and place in the fridge for at least four hours or overnight.
Watermelon basil
You'll need:
two cups of finely chopped watermelon, rind removed
10-15 basil leaves
This is basically summer in a bottle. Watermelons are one of the highlights of this season, plus they're high in vitamin C and carotenoids that boost the immune system. Meanwhile, basil leaves contain anti-inflammatory properties and may help with digestion.
Add the watermelon and basil leaves to a pitcher of water. Leave it in the fridge for at least four hours.
Strawberry lemon
You'll need:
5 strawberries, diced
one lemon slice with rind
Strawberries and lemons are a power duo of vitamin C, vitamins B9 and B6, and potassium. This combo can be as sweet as any bought drink, and you'll wonder why you never tried it before.
Dice the strawberries into small chunks and add them to the water, along with the lemon. Stir gently and chill for four hours or overnight.
Cherry lime
You'll need:
two cups of cherries, cut into half and pit removed
one fresh lime, thinly sliced
Cherries are filled with antioxidants, phytochemicals, vitamin C and potassium, while limes are a good source of magnesium and potassium.
To make what is basically a healthier, yummier cherry limeade (minus the excess sugar!), add the cherries and lime slices to the water. Let it sit in the fridge for at least six hours or until ready to serve.
Apple cinnamon
You'll need:
one apple, thinly sliced
two cinnamon sticks
Apples are packed with antioxidants, vitamin C and potassium, while cinnamon is known for its anti-inflammatory antioxidants, which help the body fight infections and repair tissue damage. This tastes – and smells – amazing, especially if you're into sweet, spicy aromas.
For this boost of instant happiness, soak the cinnamon sticks in the water bottle and store in the fridge overnight. Thinly slice the apple and add the next morning, and chill for at least two hours.
This article was curated by Young Post. Better Life is the ultimate resource for enhancing your personal and professional life.