Google
Get more with myNEWS
A personalised news feed of stories that matter to you
Learn more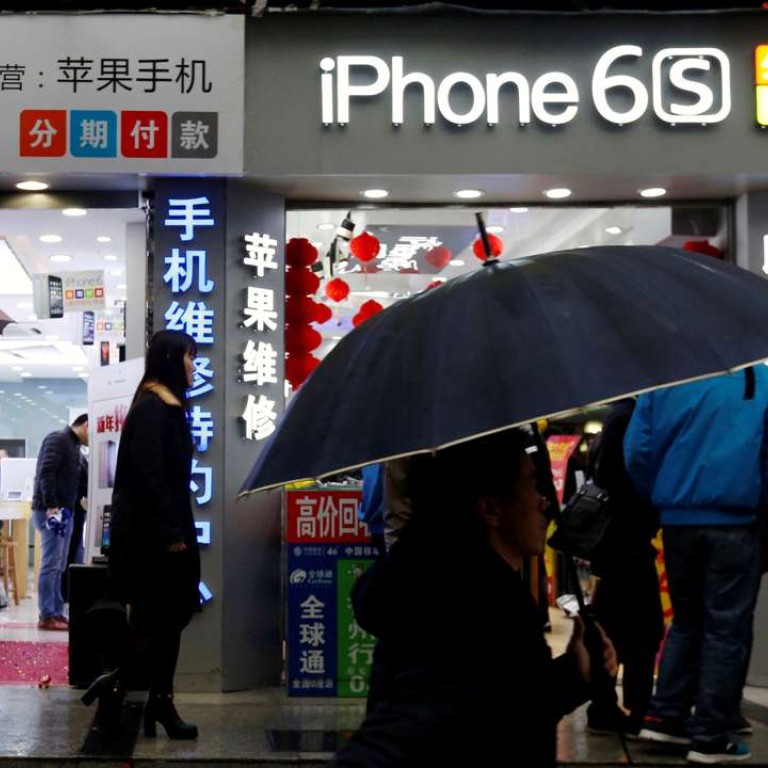 What recent deals tell us about Apple and Google's future in China
Google and Apple, two of the world's most powerful technology giants, respectively unveiled deals with major Chinese technology companies Xiaomi and Didi Chuxing in the past week, fuelling speculation about their China market strategy - or, in the case of Google, China market comeback strategy.
The two respective giants controlling the Android and iOS mobile operating systems are in a hurry to find the next growth drivers, as China, the world's largest smartphone market saturates, with handset sales slowing.
Apple has to wrestle with falling iPhone sales, while Google needs to first find its way back into China since pulling out in 2010.
Google's search business could return via Sogou, the mainland's third largest search engine company, which is owned by Sohu.com, according to a person with knowledge of the matter, who asked not to be named The two companies have discussed a partnership where Google would perform some of the searches and Sogou would conduct the results screening. "So that way neither 'loses face'," the source said.
The person did not provide a time frame for a possible tie up, but said some other Google functions, such as Google Play and Google Map, are expected to return in the form of Google being a third-party support provider.
Sogou on Thursday announced a partnership deal with Microsoft's search engine Bing, which would provide it with English-language and academic search results.
A spokeswoman for Sogou declined to comment on the possibility of a similar deal with Google, but said the Microsoft partnership does not exclude Sogou from partnering with another search engine. Google did not immediately respond to a request for comment.
A partial return to mainland China via its Google Play app store is most likely to happen this year. Supporting key Android users such as Xiaomi and Huawei are at the core of Google's strategy to grow the China market before a full-on return, industry insiders say.
Kitty Fok, managing director of market intelligence firm IDC China, said Google's return to China hinges on Beijing.
"The Chinese government has a different policy regarding censorship, and it is a matter of whether Google can comply or offer something different [in the Chinese market than elsewhere]," she said.
Google's introduction on Thursday of Xiaomi's TV set-top box Mi Box to US consumers through Android TV is seen by analysts as a much bigger deal for Xiaomi's international push than it is for
Google's way back to China. Meanwhile Apple's US$1 billion investment in car-hailing app Didi Chuxing is seen as a win-win deal that would help Apple score new growth in China.
Travis Wu, a Beijing-based vice president and research director at market research firm Forrester, said investing in Didi, which is backed by both Tencent and Alibaba, can help Apple collaborate with Chinese internet giants. It can also help Apple understand China's sharing economy, internet business model, and the car market it is seeking to enter, possibly with Apple Car.
"Apple Pay, which has only had lukewarm success in China, can leverage this partnership to boost its market share in China," Wu said.
IDC's Fok also said that the deal would allow Apple to gain consumer behaviour insights, especially on well-heeled Didi users who often hail private cars - the kind of consumers Apple is targeting.
Some market commentators, however, warned against reading too much in these recent investments.
"I don't think the deal has any immediate implications for Apple or Didi. ... This is not going to garner goodwill with the Chinese government...and this deal is not going to grow Apple's business in China," said Jeffrey Towson, professor of Investment at Peking University Guanghua.
Towson said a minority share in a car-hailing app is not going to change the competitive landscape for Apple in its core business. He also said the size of the investment is small for Apple, given its US$233 billion cash balance, and negligible for China's overall mergers and acquisitions, which totalled US$733 billion last year. Didi's own complicated relationship with the government - with its business still in a regulatory grey area - means Apple is not going to win favours with Beijing with this investment, he said.
This "simple, no-risk deal" was merely a way for the two companies to start exchanging complimentary expertise and "begin a relationship", Towson said. What comes next is likely to be more interesting, he said.