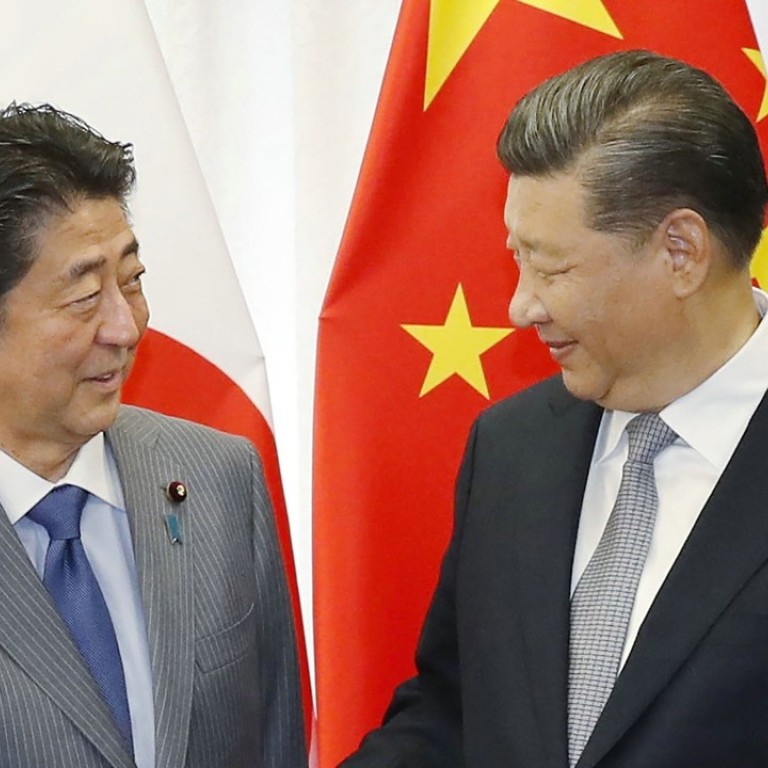 Opinion
Macroscope
by Anthony Rowley
Macroscope
by Anthony Rowley
Japan and China are being pushed into each other's arms by Donald Trump's antics
Improved Japan-China relations are in prospect, now that Shinzo Abe has been re-elected leader of Japan's Liberal Democratic Party for three more years.
Like President Xi Jinping, Abe is now operating from a stronger political power base and can afford to be bolder in the face of domestic constituencies.
Both men have expressed the interest in improving mutual relations, if only because they are confronted with the problem of dealing with Donald Trump's trade wars - right now in the case of China, and in the near future so far as Japan is concerned. But what form will enhanced economic cooperation take?
One likely development will be Japan-China cooperation on infrastructure building in third countries, which is a prospective multi-trillion dollar market in Asia in coming years. This form of cooperation will need to take an indirect form, however, given the complexities of the situation.
Channels for conventional economic cooperation, such as increased Chinese exports to Japan (and vice versa) to offset Trump's tariffs are limited. China is already Japan's biggest export market and Japan is unable to absorb any more imports from China, with which it already runs a trade deficit.
Likewise, the scope for increased mutual investment in manufacturing by Japan and China is limited, in Japan's case by the relatively small size of its market and in China's case by existing overcapacity and the fact that Trump's tariffs are limiting China's attraction as an investment destination.
Thus, the areas for cooperation lie beyond each country's own borders. One result of a Sino-Japanese Entente Cordiale (or maybe marriage of convenience) could be that Japan agrees to join the Asian Infrastructure Investment Bank (AIIB) quite soon. But that would be only a means to a larger end.
Joining the AIIB may be Japan's way into the much wider arena of China's Belt and Road Initiative (BRI), which encompasses more than 60 countries, which will require huge inputs of construction material, machinery and project skills of the kind that Japan has in abundance; and possibly of Japanese finance.
AIIB membership admittedly does not imply automatic entrée to BRI projects, and AIIB chairman Jin Liqun has said that these projects will represent only part of his bank's portfolio. But that was when the AIIB was seeking AAA rating for its bonds and had to avoid appearing over-dependent on a single source of income
Now that the AIIB has obtained these coveted ratings, which enable it to raise funds in global bond markets, it is likely to play a bigger role in financing the BRI, and to do so with the blessing of its 80 member countries who are eager to gain access to project participation or loans from the bank.
For Japan, access to BRI project via the AIIB could be more palatable than direct access through ventures with China only.
Japan has so far eschewed membership of the AIIB, but Abe and other high level Japanese figures have indicated that Tokyo could join under the right conditions.
The fact that there are so many nations among its members now - including all the important European ones, giving them voting rights within the bank - suggests that governance and other reforms that Japan would like to see are doable, especially if the US joins too at some point.
The beauty of this is that the AIIB is a relatively democratic institution, which requires it to consult member countries on projects it undertakes.
The BRI on the other hand is not a membership body with multilateral obligations. It is a series of bilateral agreements.
Jin has indicated that the best way for Japan to influence the policies of the AIIB is to join it and, given the Trump trade war, Abe could find Beijing more receptive to such ideas when he meets Chinese Premier Li Keqiang, and probably Xi, on a planned visit to China in October.
Interestingly, Abe's visit will take in Xi'an, the Chinese city from where the ancient Silk Road began, and from where the less romantically named Belt and Road Initiative also runs - and that may have more than symbolic significance in the light of prospective Japan-China cooperation.
Tokyo's stance until now has been to prefer alternatives such as a proposed Asia-Africa Growth Corridor (AAIG), which would involve Japan and India leading a kind of mini-BRI initiative. But events have cast doubts on the viability of this idea, not least in terms of its financing.
The Trump administration has proposed its own Free and Open Indo-Pacific Area, embracing the US, Australia, Japan and India, which is based largely upon propagating a kind of US-led free enterprise business model as a counter to China's state-led model.
But aside from the fact that the US seems unable to muster the funds needed to back this idea, a US leadership that urges cooperation with partners, while also threatens tariffs on their exports may be seen by Japan as a problematical ally.
Japan and China are being pushed into each others' arms.
Anthony Rowley is a veteran journalist specialising in Asian economic and financial affairs