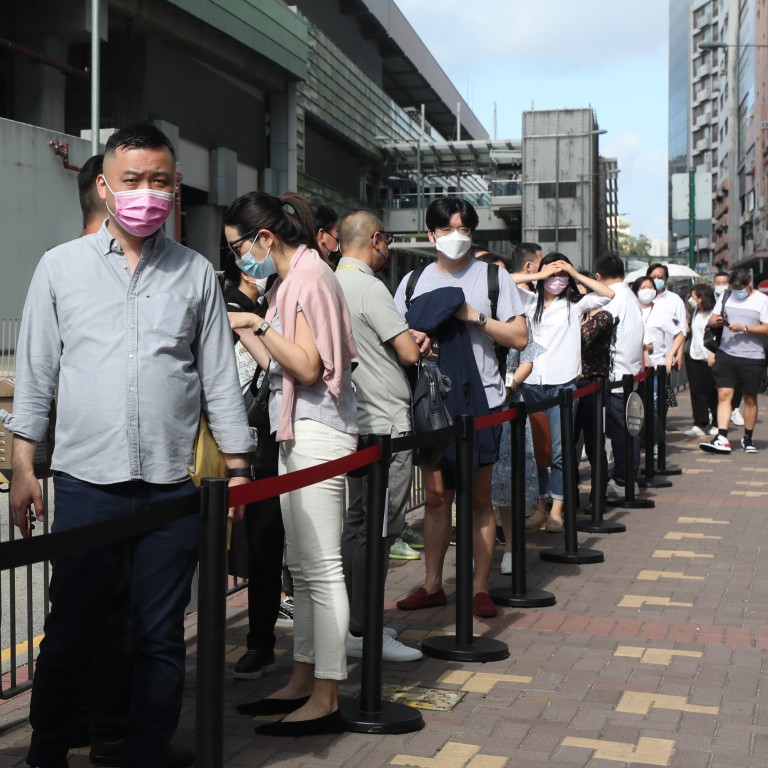 Opinion
Concrete Analysis
by Raymond Chong
Concrete Analysis
by Raymond Chong
Handy mortgage tips and pitfalls to avoid for first-time buyers of new houses in Hong Kong
Buyers should bear in mind that the caps new loan-to-value ratios are applicable to stage payment only and not immediate mortgage payment
Immediate payment is settled within 90 to 180 days, while stage payment is due only when the property construction is completed
As the vaccine programme continues to help contain the Covid-19 pandemic in Hong Kong, home prices have rebounded substantially in recent months. A flood of cheap money unleashed by global central banks has found its way into fixed assets including residential properties.
With increasing consumer confidence in the
property market
, buyers have responded with enthusiasm to new homes launched over the past few quarters, exceeding expectations. In particular, mega-developments from
The Pavilia Farm
in Tai Wai to
South Land
in Wong Chuk Hang, briskly sold out and broke multi-year records in subscriptions along the way.
For first-time homebuyers, it is essential to be equipped with some mortgage tips of first-hand properties.
Compared to a few years ago, buying a home in Hong Kong has become more affordable in spite of the rising prices. The reason is that the government had relaxed the cap on loan-to-value ratio in 2019. The maximum property value eligible for
mortgage
loans of up to 80 per cent loan-to-value (LTV) ratio is now HK$10 million (US$1.28 million) while that for 90 per cent LTV ratio has been lifted to HK$8 million.
Nevertheless, when it comes to buying first-hand uncompleted properties, homebuyers should bear in mind that the new LTV ratios are applicable to stage payment only rather than immediate mortgage payment.
When you buy a first-hand uncompleted property, developers will invariably offer you two payment options: one is immediate payment, which is usually settled within 90 to 180 days. The other is stage payment, in which most payments are due only when the property construction is completed.
Developers usually offer attractive price discounts for immediate payment over stage payment as they need the funds to complete the project. However, from the mortgage perspective, banks offer new LTV ratios only for stage payment. Therefore, if you need an 80 per cent financing for a HK$10 million home, you need to go for stage payment and forego the attractive discount available for immediate payment. Otherwise, you can only get 50 per cent LTV for your HK$10 million home.
Tip #1: when your property agent advises you to buy a first-hand flat, claiming you can obtain 80 per cent LTV, bear in mind it is only true for stage payment – unless the property value is HK$6 million or lower, or if you resort to developer's financing which carries a much higher interest rate.
Besides being offered at a lower LTV ratio, mortgage for immediate payment requires a stress test to be fulfilled. In other words, the borrowing power of your income will be much lower. First-time homebuyers resorting to stage payment are eligible to waive stress tests for loans above 60 per cent LTV ratio under the Mortgage Insurance Programme.
If you opt for stage payment and want to secure the new LTV ratios, the earliest date you can apply for a mortgage is three months before the property's completion. In case the completion date is delayed by developers, banks will hold off mortgage drawdown until the construction is completed and developers have issued the "notice of completion".
In that case, you may need to resubmit the latest income proof since mortgage agreements are only valid for three months from the application date.
Tip #2: think again if you want to quit your job.
Homebuyers should make sure they cling onto their job as completion nears. Any temporary unemployment will result in an ineligibility for a home loan. Even if the mortgage has been approved, a delayed property completion and re-submission of the latest income proof, temporary unemployment or switching to jobs with lower income at that time, may result in a withholding of the mortgage drawdown.
On the other hand, sometimes developers may complete the construction earlier than expected and require stage-payment buyers to settle the transaction on a short notice. You will then need to immediately apply for a mortgage. In the event that you are still looking for a job at that time, it is highly unlikely you will get one in time to settle the payments. In this situation, you will need to find a guarantor to help with the mortgage application or pay out of your own pockets.
If you have sufficient down payments and choose the immediate payment plan, you can apply for mortgage financing right away. Some banks allow mortgage applications up to 180 days before settlement, while others allow only up to 90 days. Choose your mortgage bank wisely if you need to apply for a mortgage and secure financing early on.
As a final friendly reminder, if you go for 90 per cent LTV ratio, the commission part of your salary will not be considered as income. Only the fixed portion will be used to calculate the debt-to-income ratio. Year-end bonus may be considered, taking a two-year average.
Raymond Chong is chief executive officer and founder of Star Property Agency, a mortgage referral brokerage