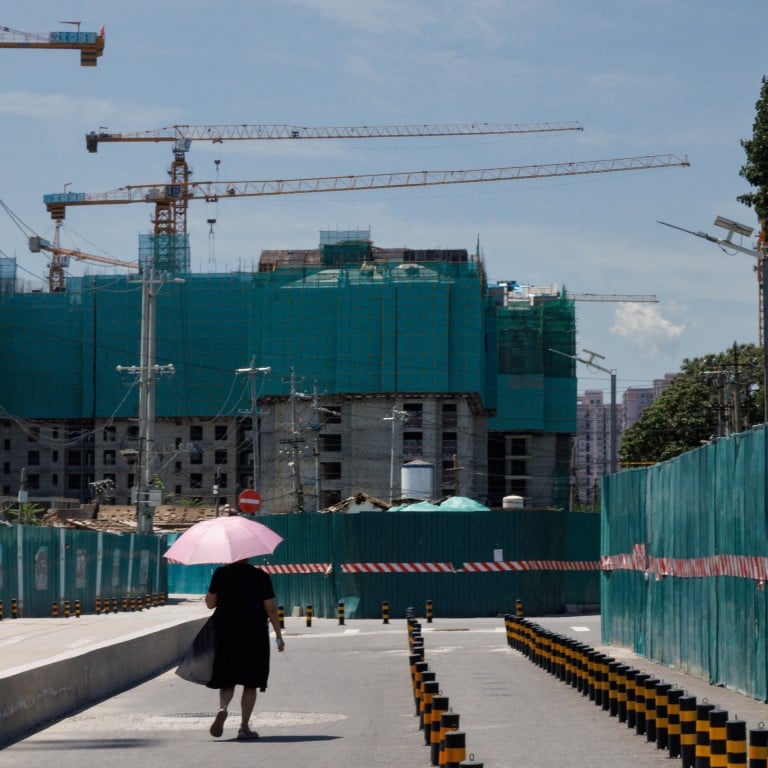 Developers' shares rise on news of China's US$12 billion bailout fund for beleaguered sector
The Hang Seng Mainland Properties Index rose by as much as 5.5 per cent in the morning session on Monday in Hong Kong
The size of the fund could be as much as 80 billion yuan (US$11.8 billion), Reuters says
The shares of Chinese property developers rose in Hong Kong on Monday on media reports that China's State Council, the country's cabinet, was stepping up efforts to bail out the sector with a fund that could be amount to as much as US$12 billion.
The rally came after the State Council approved a plan to set up a fund to support distressed real estate firms, distressed debt media REDD said citing people familiar with the matter.
The size of the fund could be as much as 80 billion yuan (US$11.8 billion) and will be used to buy unfinished projects and complete construction, before they are rented out to individuals as part of a government drive to boost rental housing, Reuters reported.
"If these measures are realised in the near future, they will allow more developers to avoid defaults, and will also help to improve market sentiment as well as developers' sales," said Raymond Cheng, managing director of CGS-CIMB Securities.
China's property sector has been in a tailspin since the
People's Bank of China
(PBOC) enforced its so-called three red lines on developers' debts in September 2020. The bailout fund will be supported by China Construction Bank and the PBOC, Reuters said. Other banks will follow suit if the pilot scheme works well, aiming to raise the fund up to 300 billion yuan.
The shares of Shanghai-based
Cifi Holdings (Group)
, which is trying to repay its bonds and deliver homes on time, led the increase, rising by more than 10 per cent to HK$2.15 on Monday. Shares of Chongqing-based Longfor Group Holdings, one of the most conservative borrowers among property firms, traded at HK$28.4 at market close on Monday, up 6.77 per cent.
Country Garden Group, China's biggest home seller, saw its shares soar 4.77 per cent, while shares of Sunac Services Holdings, the property management unit of Sunac China, the country's fourth-largest developer, closed 1.45 per cent higher at HK$3.5.
Last week, a senior official from the statistics and risk assessment department of the China Banking and Insurance Regulatory Commission said that banks would meet developers' financing needs where it was reasonable. These remarks, made during a press conference on Thursday, were also the first official mention of the unfinished flats that have led to homeowners suspending mortgage payments.
The homebuyers of 319 projects have said in public letters sent to banks that they will no longer be paying their mortgages as of July 21, according to files posted on Microsoft's collaborative code-sharing platform GitHub.
The three red lines have exacerbated problems in a market that has already been beaten down by strict rules enacted in 2017 to rein in runaway prices. As a result, developers have not been able to sell homes to generate cash, causing a rise in bond defaults and missed payments.
Sichuan Languang Development was the first to default last year, missing its payment on a US$139 million bond last July. The web of defaults quickly spread, ensnaring China Evergrande Group, which holds the dubious honour of being the world's most indebted developer with around US$300 billion in liabilities.
This month, Kunming-based Junfa Property became the 20th developer to default, when it failed to pay interest on an offshore bond, while another seven have applied for maturity extensions.
"The real estate industry needs as much support as possible at this point," said Wang Qi, co-founder of MegaTrust Investment (Hong Kong), a boutique China asset manager.