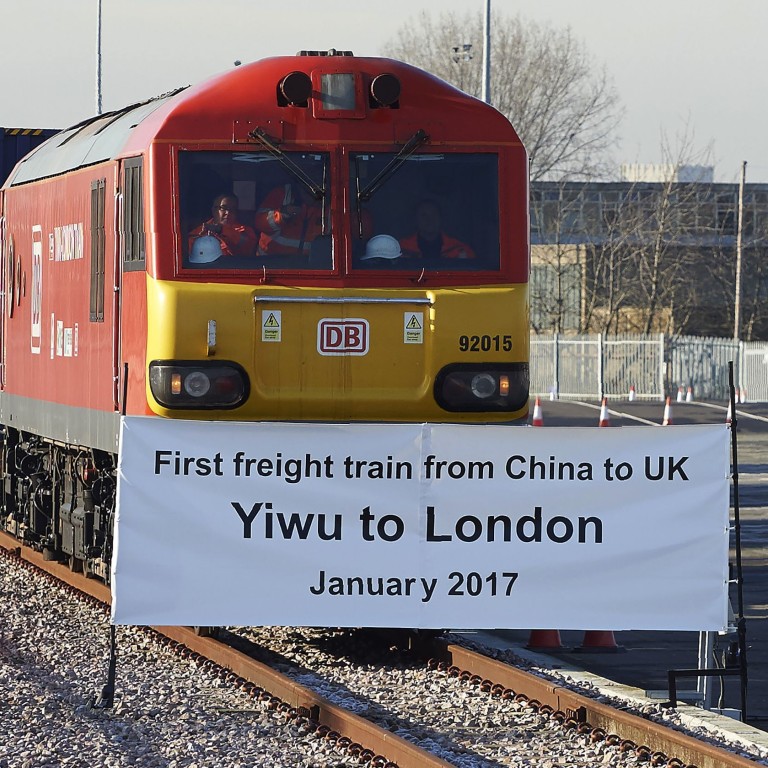 Opinion
Macroscope
by Anthony Rowley
Macroscope
by Anthony Rowley
Britain's quest for a role in China's Belt and Road is a journey to nowhere because of the UK's disconnection from Europe
China is intent on a connection with the heartland of industrial Europe, not with an island that wants to sever its umbilical cord with the continent
Unless China is interested in Britain's ports, it's difficult to see how Beijing can regard the UK as a key link in the Belt and Road
Britain is at the end of the road, not only because of its messy attempt to leave the European Union, but also because of its physical position with regard to China's Belt and Road Initiative (BRI).
Unlike Italy, which is set to become a way station for the BRI's march into continental Europe, all roads from Britain lead to nowhere.
As the UK staggers and stumbles toward some kind of exit from the EU, like a drunken man through a revolving door, some Brexiteers are looking to a UK-China free trade agreement as a way out of threatened isolation; Belt and Road to the rescue, as it were.
But this misses the logistical imperative: it is with the heartland of industrial Europe that China is intent on connecting, not with an island that is threatening to sever its umbilical cord with the continent. The best that Britain can hope for is to become an offshore financing centre for the BRI.
Kent Calder, a prominent expert on Northeast Asia, put this very succinctly in a conversation I had with him on China's strategy in Europe.
The real core of the BRI's prospective success, he said, "is building infrastructure that will link Europe and China, particularly Germany and Eastern Europe," he said. "German production chains since the end of the cold war have been moving to the Visegrad group (the Czech Republic, Poland, Hungary and Slovakia) to the east while China's economic centre of gravity has been moving west. Border clearance has been rapidly improving access the Eurasian continent, such that production chains across the continent are becoming increasingly economic."
Chinese contractors in talks to build two highways in Moldova, extending China's infrastructure order book in eastern Europe
Could UK policymakers not have foreseen this when they sought to sever the supply chain link between their own country and continental Europe?
It seems incredible if so, and yet such collective madness seems to have gripped Westminster and Whitehall lately, that just about anything is possible.
As
noted before in this column
, policymakers from Donald Trump to Theresa May just do not seem to get the fact that trade and economic relations need to be decided in corporate boardrooms nowadays as much as the hallowed halls of Whitehall or the White House.
When you need to protect vital supply chains, it is foolish to think you can simply ignore them. Britain has already hobbled Japanese firms in this regard and now it seems to think that the Chinese are also gluttons for punishment.
It's not just the US: around the world, doors are shutting on Chinese investment
When Britain's trade minister Liam Fox held talks with China's Ministry of Commerce in Beijing last August, there was talk of a top-notch free trade agreement between the two countries.
But that was when the UK government still hoped for a best-of-all-worlds trade accord with the EU. At that time, it still seemed to make sense for China to invest in UK production to secure tariff-free access to the huge European market from Britain. After all, China-EU relations are still governed by a 1985 EU-China Trade and Cooperation Agreement and China still lacks full access to the EU market.
But Britain has put its access to the EU customs union and to the Single Market in serious jeopardy, to put it mildly. Who knows how the US-Europe relationship is likely to develop from here on with Britain seemingly divided against itself and incapable of deciding a clear course of action?
Seeing the way some leading Japanese companies have already pulled their investments out of the UK, or are declining to make new ones there, it seems likely that Chinese firms will adopt a very cautious attitude toward investing in Britain while Beijing seeks closer direct ties with the EU.
Certain relationships between Britain and China are likely to continue flourishing. "The financial relationship of China, Britain and Hong Kong is quite central," said Calder, director of the Edwin O. Reischauer Centre for East Asian Studies at Johns Hopkins University.
He was referring to the role of the City of London (and of Hong Kong) in handling the issuance of renminbi bonds and other financial securities on behalf of the Asian Infrastructure Investment Bank (AIIB), and indirectly on behalf of the BRI.
Investments from Chinese companies in the UK are mainly in energy, finance, technology, real estate, according to a BBC report. This investment, the report suggested, is expected to expand into other sectors such as consumables, food, commerce, cultural tourism and film, television and multimedia services.
But unless China decides to enter key strategic areas in Britain such as port ownership, as it is doing now in Italy, Germany, the Netherlands and Greece, it is difficult to see how Beijing can regard the UK as strong and as key a link in the Belt and Road chain as it did before.
Anthony Rowley is a veteran journalist specialising in Asian economic and financial affairs
This article appeared in the South China Morning Post print edition as: UK quest for role in belt and road plan a journey to nowhere