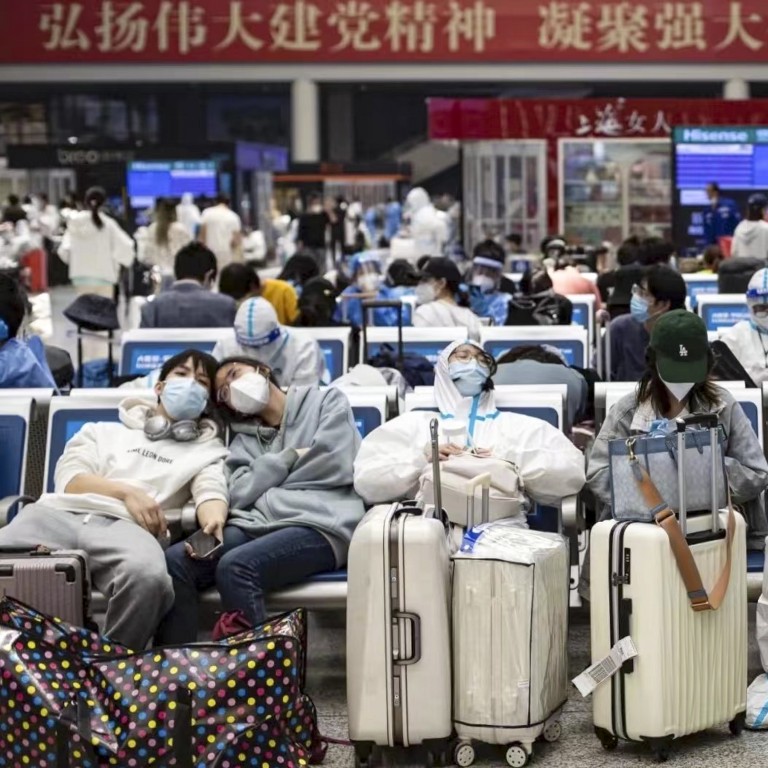 Coronavirus: Shanghai faces exodus of talent as lockdown dashes workers' hopes for good jobs and a better life
Complicated and lengthy procedures have failed to put off those determined to flee the mainland's commercial and financial centre
Shanghai, which went into a citywide lockdown on April 1, plans to ease draconian pandemic curbs from June 1
Shanghai is facing an exodus of talent and labour as thousands of people leave the pandemic-hit city which has been in total lockdown since April 1, knocked by worries that local authorities will backtrack from plans to switch to normal virus control measures in June after achieving a societal zero-Covid goal.
At the city's Hongqiao railway station, passengers have to queue up for two hours before they can even access the terminal. Those who plan on leaving need to show train tickets, approval letters from sub-district authorities and negative nucleic reports within 48 hours of their journey, before gaining permission to enter the terminal.
A rapid antigen test is also required at the security checkpoints.
But the complicated and lengthy procedures have failed to put off those determined to flee the mainland's commercial and financial centre, once the envy of the nation, following almost eight weeks of strict lockdown to combat a severe outbreak of Covid-19.
"There is a big question mark over Shanghai's plan to lift the lockdown in June," said Tom Ye, who left Shanghai for his hometown of Wenzhou, Zhejiang province, on Thursday. "I was determined to leave even though the journey turned out to be painful."
Ye, a 34-year-old manager at a state-owned company's Shanghai-based subsidiary, said it took him two hours to arrive at the Hongqiao train station by bike, the longest cycle ride of his life. He then took a train bound for Hangzhou, capital of Zhejiang, before transiting to another train to arrive in Wenzhou.
Ye is now required to undergo a seven-day quarantine in Wenzhou, before he is allowed to return to his home.
Shanghai, which went into a citywide lockdown on April 1, plans to ease draconian pandemic curbs from June 1, in a phased process aimed at returning the city to normality by late June.
Earlier this week the municipal government increased the number of trains allowed to leave the city to 12 a day, compared to the previous four, with more than 6,000 passengers expected to travel each day, according to government data.
The crowds are growing bigger by the day at Hongqiao station, according to two employees of the railway operator. Hundreds of passengers are arriving a day early, staying overnight outside the terminal to make sure they catch their train the next day, they said.
Public transport has yet to resume in the city and passengers are not able to reach the station unless they flag taxis - which are in high demand - walk, or ride a bicycle to get there.
"There is a clear sign of exodus [of professionals and workers]," said Hong Lingyun, a senior executive with recruitment services firm Joinlink Consulting. "Some others will have to leave because they will lose their jobs due to economic turbulence."
Shanghai, the gateway city for foreign businesses and capital to enter China, has been a magnet for mainland professionals over the past three decades, but the lockdown and associated scenes of some hungry residents looting grocery stores, has tainted its image as the mainland's most developed metropolis.
Laura Chen, 35, an interior designer and a native of eastern Jiangxi province, said she had decided to quit her job in Shanghai and look for new opportunities at home. She left Shanghai on Wednesday and said fleeing the city was a bitter "once in a lifetime" experience that would never be forgotten.
Shanghai city authorities originally planned to impose a two-phase lockdown of the city from March 28 to April 5. But it reversed a plan to relax virus control measures in Pudong - east of Huangpu River - on April 1 while shutting down the whole city amid an Omicron-fuelled flare-up of Covid-19.
Rubbie Zhong, a Taiwanese designer who temporarily left Shanghai for Singapore via Hong Kong on Tuesday, said she was disappointed with the local government for constantly pushing back the date for relaxing lockdown. She plans to spend some time in Malaysia and Taiwan and has not decided when her return trip will be.
Frank Wang, a Canadian Chinese who returned to the mainland in January to seek a job, agreed with this sentiment.
"This is not the Shanghai we expected," he said. "I haven't found opportunities here [instead] the messy urban management and dire economic outlook have forced me to return to Canada and I hope to leave sooner rather than later."