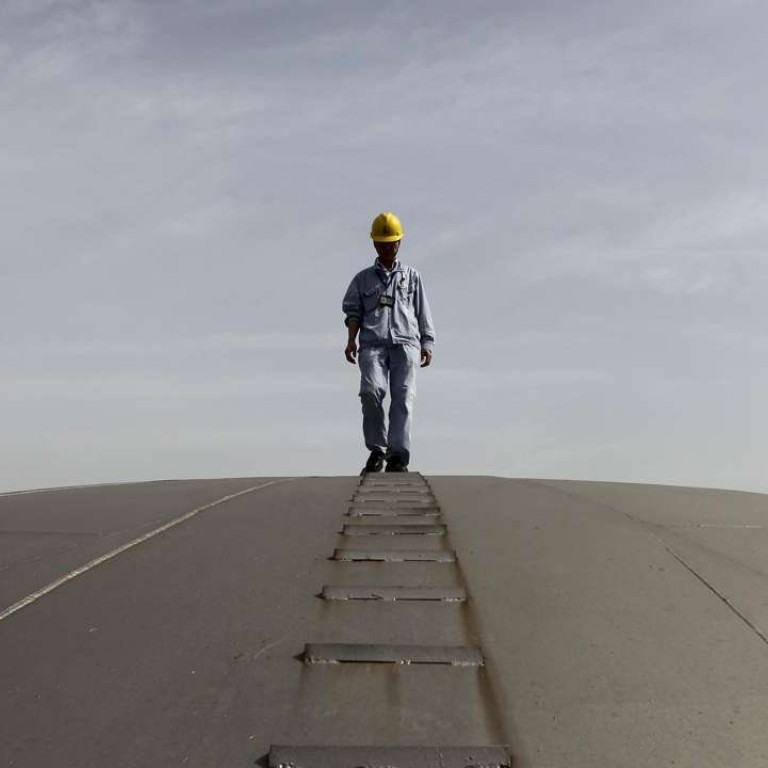 China's MIE sells assets again to shore up finances amid oil plunge
Struggling oil and gas producer MIE Holdings has unveiled its second major asset disposal in two months, agreeing to sell its two coal seam natural gas projects in Shanxi province for around US$220 million to a mysterious firm registered in Hong Kong.
Hong Kong-listed MIE, controlled by chairman Zhang Ruilin and brother-in-law and executive director Zhao Jiangwei, on Tuesday inked an agreement to sell the projects to Hong Kong-incorporated China New Energy Mining, MIE said in a stock exchange filing on Wednesday. One of these entered trial production late last year.
"In view of the prolonged volatility of crude [oil] prices ... the disposal opportunity shall further enhance the financial strength and liquidity of the group," MIE said, adding it would allow it to pursue potential acquisition opportunities "that may provide more long-term strategic value" and manage its liabilities.
The sale came close on the heels of MIE's agreement last month to sell a 60 per cent stake in some oil-producing assets in Kazakhstan to Malaysia-listed oil and gas investment firm Reach Energy for US$154.9 million.
China New Energy focuses on oil and gas exploration and development, and its management team comprises "industry veterans with extensive exploration and development experience" in China, Indonesia, Kazakhstan, MIE said.
The unidentified executives have worked at the nation's largest oil and gas producer China National Petroleum Corp – parent of listed PetroChina – besides CNOOC, Citic Resources and China Petroleum & Chemical (Sinopec), it added.
A company search at Hong Kong's companies registry conducted by the South China Morning Post found China New Energy was incorporated in May last year and has British Virgin Island-incorporated Easy Mount Group as its "founder member".
Zhao Runfeng is the ultimate beneficial owner of Easy Mount, according to a stock exchange filing by Hong Kong-listed PetroAsian Energy in January last year.
Easy Mount was one of four sellers of China LNG, a provider of liquefied natural gas equipment and services, to PetroAsian under a non-legally-binding memorandum of understanding signed in January last year. PetroAsian said the deal was terminated two months ago, citing changed market conditions.
China New Energy's directors include Kwok Siu-mei, who reported a Hong Kong residential address, Wang Jinzhou whose residential address is in Shandong province, and Zhang Wenbin, a doctoral degree candidate at Central University of Finance and Economics in Beijing.
Neither Zhao nor the three directors could be identified as former senior managers of the Chinese state oil majors by internet search.
The coal seam gas assets' sale could generate potential gains of 330.3 million yuan for MIE, the firm said, adding it plans to use the sale proceeds to fund working capital.
MIE recorded a net loss of 1.52 billion yuan last year, compared with a profit of 58.48 million in 2014, as revenue plunged 65.4 per cent to 1.03 billion yuan on the back of a steep drop in oil output and prices.
It was also hit by 724 million yuan of asset impairment loss and 328 million yuan of asset disposal loss.
Net debt surged to 4.3 billion yuan at the end of last year, from 3.7 billion yuan a year earlier.
With last year's steep loss eroding shareholder equity, its net debt-equity ratio almost doubled to 197 per cent at last year's end from 103 per cent a year earlier.
When the two asset disposals are completed, MIE will primarily rely on its oilfields in Jilin province and the remaining 40 per cent in the Kazakhstan oil assets to generate profit, as a shale oil project in Colorado, United States, only generated 5.4 million yuan in revenue last year.
MIE shares closed 1.2 per cent higher at 84 HK cents on Wednesday.