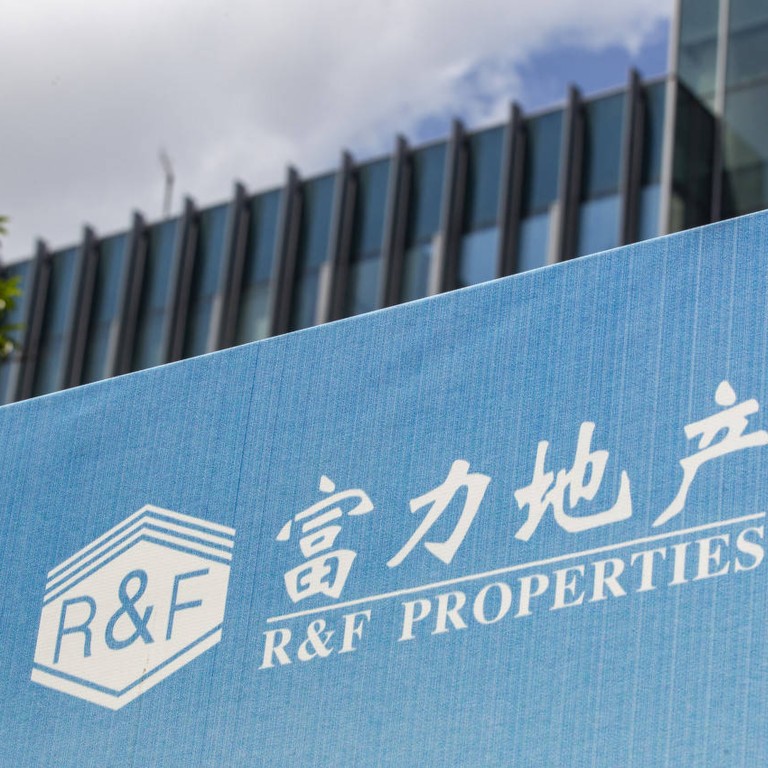 China's property crisis: Debt-laden Guangzhou R&F Properties seeks extension on 10 offshore bonds worth US$5.16 billion
The developer is seeking investors' consent to extend the maturity dates of the bonds to avoid default
The company's property sales tumbled 58.4 per cent year-on-year in the first five months of 2022
Debt-laden Guangzhou R&F Properties is seeking investors' consent to extend the
maturity dates
of 10 of its offshore bonds worth US$5.16 billion due between now and 2024, to avoid defaults.
If the Guangzhou-based developer fails to get the bondholders' approval, it said it will resort to restructuring its debt according to proposed terms already circulated to them.
"Despite the group's efforts to enhance its liquidity position, due to a weak liquidity profile with high uncertainties over debt refinancing and c
hallenging operating and funding conditions
, the group experienced negative developments in its credit ratings and the occurrence of certain defaults, and certain legal proceedings in connection with certain of its offshore indebtedness," it said in a filing to Hong Kong stock exchange on Friday.
"In light of the above, the group is conducting consent solicitations to seek waivers of existing and potential consequential defaults or events of default under the notes and to extend its debt maturity profile."
The bondholders have until July 7 to cast their votes on the proposals. Bondholders will receive US$5 for every US$1,000 of bond principle held, as an incentive to consent.
Three of the bonds, totalling US$1.38 billion, are due between July and November this year, while three others worth US$2.2 billion mature next year. The four remaining ones, amounting to U$1.55 billion, mature in 2024.
If the requests are approved, the bonds' principle repayment dates will be extended by between three and four years.
The requests were "within expectation" given the
state of R&F's finances
, said Raymond Cheng, head of China and Hong Kong research at CGS-CIMB Securities International.
"The extensions are to buy time for repayment," he said. "Other highly indebted mainland developers such as Shimao Group, Sunac and some smaller ones, especially those with offshore debts due late this month or next month, may do the same."
Since December, G&F has been seeking to extend the due dates of its debts issued in mainland China and in offshore markets besides selling assets in a bid to stay afloat.
It is in the process of selling the R&F Princess Cove project in Johor Bahru, Malaysia, and the London ONE project in the UK. R&F said it will use the proceeds of those to partially refinance the 10 bonds.
Reduced bank lending for real estate development and a string of defaults in the sector have intensified market concerns over the sustainability of operations of Chinese property developers, R&F said.
The company's property sales tumbled 58.4 per cent year-on-year in the first five months of 2022.
R&F got approval from creditors in January to extend the maturity of its US$725 million bond that matured on January 13 by six months to July 13 this year, with most bondholders agreeing to the plan. This is one of the 10 bonds on which it is seeking repayment extensions.
Founded by Li Sze-lim and Zhang Li in 1994, R&F has been trying to offload assets to avert collapse.
It sold 30 per cent of the Guangzhou International Airport R&F Integrated Logistics Park for 7.3 billion yuan last December to shore up its cash flow and cut debt. It offloaded the Vauxhall Square parcel of land in London for £95.7 million (US$117.15), a discount of about 42 per cent to market valuation, R&F said in March.
R&F has 331.8 billion yuan (US$49.48 billion) of total liabilities, compared with 270 billion yuan of saleable resources and a nationwide pipeline of properties to be launched, according to its 2021 interim report.