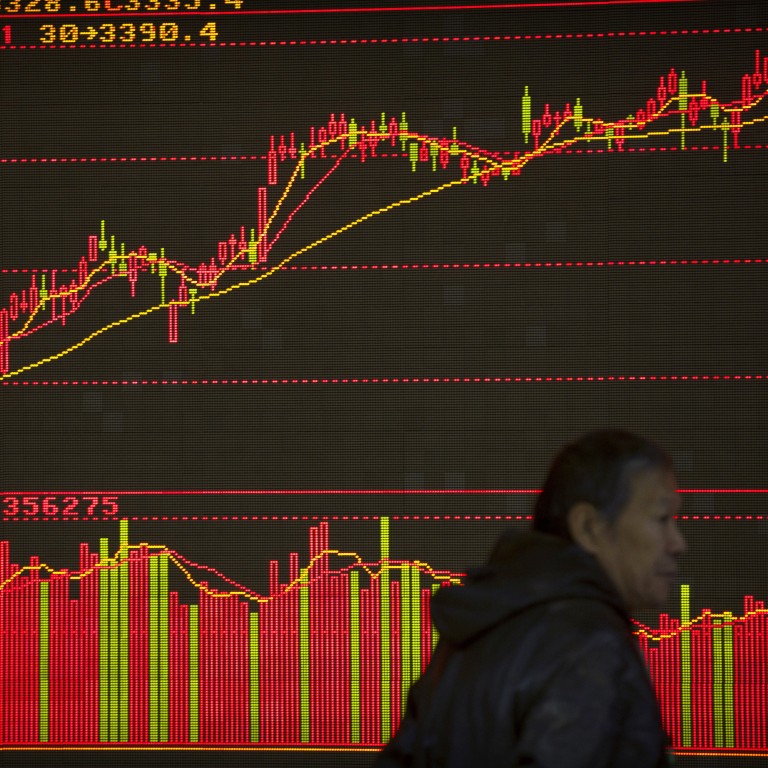 As trade war talks collapse, investors pull cash from China-region equity funds
It is the third straight week of net outflows from US-based China-region funds, according to data from Lipper
Across global markets, non-resident investors have withdrawn a net US$5.3 billion over the past two weeks
The breakdown in trade talks between the United States and China has contributed to investors pulling cash from US-based China region equity funds in the past week, updated data shows.
According to the weekly portfolio flows tracked by Lipper, a division of data provider Refinitiv, investors in US-based funds pulled a net US$690 million out of China-region equity mutual funds, marking the biggest net outflow in exactly three years.
This was the third straight week of net outflows, said Pat Keon, senior research analyst at Lipper. The divestitures reflect a broader trend of funds fleeing equities to seek shelter in lower risk assets and less trade dependent regions
"The net outflows for China region funds have grown from US$60 million to US$124 million to US$690 million over the last three weeks," Keon said. "This seems to be in direct correlation with the escalation of the US/China trade war over the same time frame."
Indeed, the latest data for the week ending May 15 overlapped with the unsuccessful conclusion of the 11th round of US-China trade talks.
It also coincided with the Trump administration increasing the tariffs on US$200 billion worth of Chinese imports to 25 per cent from 10 per cent.
It appears the US is preparing to increase duties on another US$300 billion to US$325 billion worth of imports, although the exact timing is unknown.
While the China region funds were hard hit, this was not in isolation, as the Lipper data showed US$1.5 billion in net outflows from emerging market equity funds overall, the biggest such move since late June 2018. This represents the first net outflow in 18 weeks.
"Clearly the higher trade tensions add to worries about slower economic growth in China, and with the economy slowing more than many expected, Chinese stocks have lagged many other emerging markets as well as US stocks," said Kate Warne, an investment strategist at Edward Jones in St. Louis, Missouri.
"We think emerging markets are an opportunity right now. We do expect some kind of trade agreement but don't expect it to happen soon.
"Stay invested through the volatility and potential short-term pullback because we think there will eventually be an agreement that will serve as a catalyst for stocks to rebound as well as contribute to better trade growth and global growth overall," she said.
Data from the bank lobby group Institute of International Finance (IIF) released earlier this week showed that on a global scale non-resident selling of Chinese equities resulted in outflows of more than US$2.5 billion.
"On the back of last week's increased US tariffs, and general deterioration in the prospects of a quick resolution to the US-China trade war, we've recorded US$5.3 billion outflows from Chinese equities" over the two weeks ending on Friday, the IIF said.
Meanwhile, data from IIF and Jefferies showed that emerging markets saw the largest capital outflow in eight months, while inflows into bond funds grew at their fastest pace in 17 years.
Seven heavily trade dependent regions – Hong Kong, Singapore, Ireland, Taiwan, Netherlands, Malaysia and Thailand – posted an average 2.4 per cent of net fund outflows as a percentage of the funds' managed assets since April 3, 2018, when the 25 per cent tariffs on US$50 billion of Chinese goods were announced, according to an estimate by Jefferies.
The seven regions all have a high trade-to-GDP ratio, between 120 per cent to 380 per cent.
Meanwhile, Brazil and Colombia, which have a trade-to-GDP ratios of 24 per cent and 34 per cent respectively, performed much better than peers. Colombia saw a 7.8 per cent net fund inflow as a percentage of the funds' managed assets. Brazil saw virtually zero net outflow during the same period.
Additional reporting by Laura He