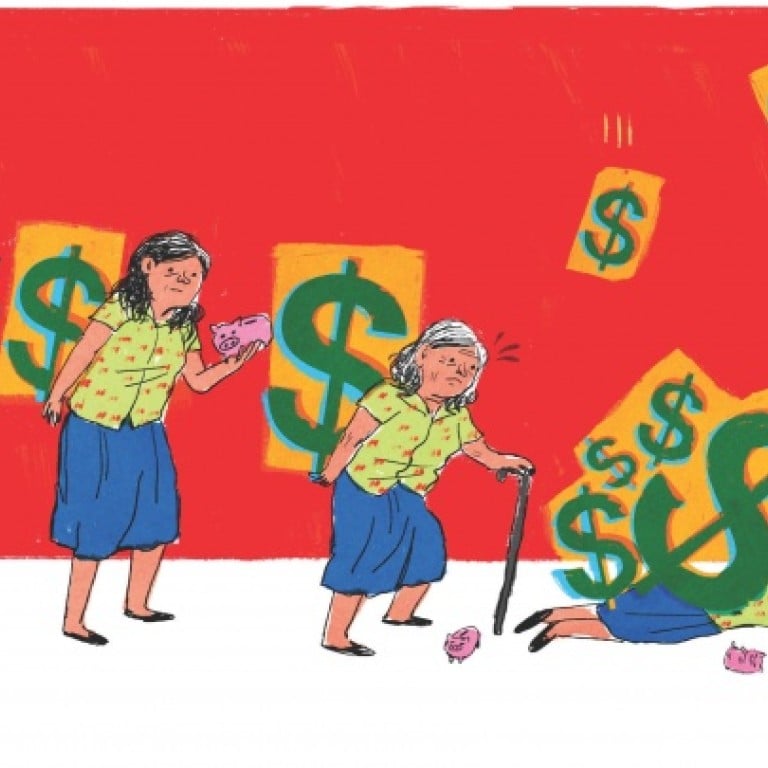 Is Hong Kong weighed down by the cost of insurance?
With insurance products pushed heavily, there is concern the city has become over-insured
Step into a financial adviser's office in Hong Kong, or go in for a financial review with one of the banks, and there is likely to be one result. They will sell you insurance.
Why? Because insurance pays some of the highest fees for instruments sold by an agent or bank. As well as an upfront commission, many insurers make an annual payment to the sales company for as long as the policy is in place.
Bank staff and other advisers are motivated to sell insurance products because the instruments generate big selling commissions, helping staff meet their sales targets and earn bonuses.
In an industry circular, the Hong Kong Monetary Authority cites several examples of the ways banks over-sell one type of insurance product in particular - pension and savings plans called investment-linked assurance schemes. These plans take many forms. Typically they let customers buy into an array of mutual funds. But the instruments all contain some component of insurance, usually life, and are therefore classified as insurance.
In one case, an insurance sales agency sold an insurance-linked investment to a customer with only HK$1 million to her name a policy worth HK$5 million, with the total premiums on the policy working out to more than the customer's entire life savings, according to the Monetary Authority.
Another customer, a 60-year-old woman, bought an insurance-linked investment that locked her into premium payments until the age of 100. She told the bank she didn't have any current income and was living off her savings - but was still sold a policy that, even if she only paid premiums for the lock-in period, would amount to almost all her life savings.
These kinds of situations make some Hongkongers suspicious. Yuan Wenli, a senior analyst at consulting firm Celent and the author of a 2008 report on the insurance industry in Hong Kong, says insurance agents need to disclose more, and to be trained better.
"Some agents get a very simple course and are named as a financial consultant, so people trust them but actually they didn't give the right recommendation or the full information," Yuan says.
Banks selling insurance-linked investments often cite performance numbers that are based on a "best-case" scenario rather than the likely outcome. The Monetary Authority clarifies that returns in sales materials are "assumed" and no guarantee of performance or even past performance.
"There are some people that tell their customers only the best investment results," Yuan says. "They don't say it is just possible to happen, so the policyholders think the optimised result is the real result you can expect."
Insurance-linked investments point to a fundamental difference with insurance and other financial instruments sold to the Hong Kong public: the insurance industry is self-regulated, while the sale of mainstream investments (stocks, bonds, mutual funds) is regulated by the Securities and Futures Commission.
This is a simplification. There is actually a lot of regulatory crossover. The commission is starting to get much more involved in the regulation of insurance-linked investments, for example. So is the Monetary Authority. But in broad strokes, the insurance industry regulates itself on the sale of insurance products, which means that banks and financial advisers can earn higher fees - and provide less disclosure on these fees - than on other financial instruments, such as mutual funds.
Insurance-linked investments for example often contain only a small amount of insurance - they are a mutual fund investing plan injected with a sliver of insurance. But the insurance lets agents and brokers sell them as insurance products.
"It's a 1 per cent policy to make it a life insurance product to get around the investment authorities," says one insurance broker, who did not want to be identified because he works with insurance agencies. "In general the financial advisers here are just insurance salesmen, basically."
The result, say some, is an over-emphasis on insurance sales, and an over-insured Hong Kong.
Hong Kong, at US$3,904 per year, is second only to Japan in Asia in terms of annual per-person insurance premiums, according to a report put out by insurance giant Swiss Re last year. In Japan, where it's not possible to cancel life insurance policies once they are started, people pay an average of US$5,169 in premiums each year.
An even more astounding figure, according to the Swiss Re report, is that premiums paid on insurance in Hong Kong equal 11.4 per cent of the territory's gross domestic product (2011 data).
Not everyone agrees Hong Kong is over-insured. Glenn Turner, the immediate past chairman of the Independent Financial Advisers Association, says a rule of thumb for a married person with siblings should be, after paying off the mortgage, 10 times salary as life insurance protection coverage. Currently Hong Kong has an average coverage of about 4.5 times salary.
Turner says that many people in Hong Kong - almost half the population - don't have health insurance and rely on the public system for care if they fall sick. The lack of ownership of health insurance is one of the drivers behind a government measure to privatise health care, to move the cost from the public sector to the private sector.
"The percentage of households which do not have property and casualty insurance is also alarmingly low, with another study showing a figure approaching about 40 per cent," Turner says.
Some in the industry say that many ethnic Chinese Hongkongers resist even talking about, let alone buying, life insurance, considering it bad luck. Life insurance often becomes a necessity only after a person has children.
"It is very specific to certain nationalities," one insurance broker says. "Life insurance is not a topic that is brought up among the Chinese. I guess they think it is bad luck. The Indian population may be over-insured because they like to leave a lot of life insurance for the next generation, and they pile on the life insurance. I think the expats are pretty well insured."
Whether one holds the view that Hong Kong is over- or under-insured, it is certainly true that regulators are tightening the rules on insurance sales, with a particular focus on insurance-linked investments.
As of the end of June, the Monetary Authority will make insurance agents at banks reveal, in writing, to clients the amount of compensation they receive from the sale of insurance-linked investments. The authority will also make sure clients understand the lock-in period of any policy, any penalties for ending it, and that the policy is right for the consumer and they can afford the plan they are buying.
This article appeared in the South China Morning Post print edition as: Is HK weighed down by the cost of insurance?