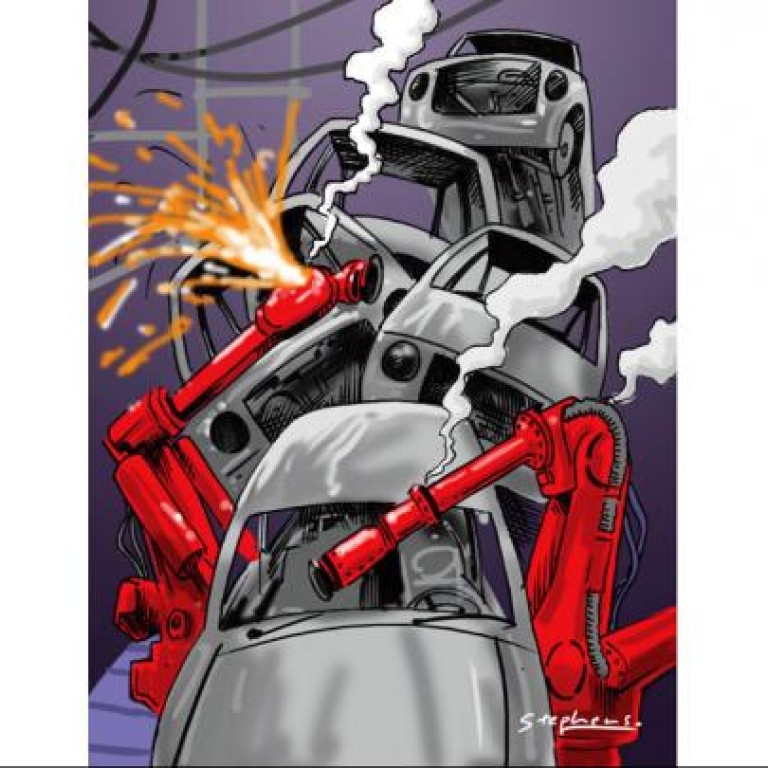 Corporate China in danger of a crash
John Gong says corporate China needs a shake-up to weather the economic slowdown, and the nation's auto industry is a perfect example of a sector burdened by overcapacity and regulation
China's economy is now at a critical juncture. It seems a day does not go by without reading more news of China's slowdown. The next few months could see the various adverse forces combining to form a perfect storm.
The euro crisis has caused havoc to China's export industry. The central government is determined to curb property prices at the cost of two industries already - steel and cement. Meanwhile, the railway industry - once the engine of the government's stimulus package - is in the doldrums after the scandals surrounding its former minister, who was instrumental in many of the new construction plans. And local governments across the country are loaded with debt to finance their infrastructure projects, while revenue from land sales that used to be easy money in the boom times is quickly drying up.
At the centre of this storm lies the crumbling manufacturing sector.
China used to be called the world's factory, renowned for its manufacturing prowess. But for those with a deep understanding of the situation, the "made in China" truth is that it's all a myth. China's manufacturing sector really doesn't have much of a competitive edge, and increasingly less of a cost advantage.
The economy has one of the highest corporate tax rates in the world, while the regulatory and administrative burden imposed on corporate China in the form of various fees and charges is extraordinarily onerous. Energy and transport costs, which are fundamental to manufacturing, are also comparatively high, thanks to fat-cat state monopolies. Labour costs, which used to be China's shining star, are now rising steadily.
Moreover, China's indigenous companies are still weak, even in the domestic market, let alone internationally. The automobile industry comes to mind. Take Chery Automobile as an example. Once a poster child of China's auto industrial policy, it has been having some serious problems lately. Its share in the domestic market is sliding, while exports face challenges in the wake of renminbi appreciation. Growth has become anaemic. Its brand and dealer-network expansion initiative started two years ago has turned out to be a fiasco.
Another indigenous company, the once high-flying BYD, had vowed to be the No 1 automaker in the world by 2025. This claim, however, looks more like a joke these days. It has learned a humbling lesson that mechanical engineering is, after all, different from electrical engineering.
In a climate where customers are tightening their belts but costs keep rising, how can corporate China weather the storm and survive the slowdown, which looks like it is going to last at least two years? It won't be easy and it is going to be ugly.
First, bad companies have to go. And Chinese industries must be consolidated. Again, take the auto industry as an example. It is madness for China to have over 100 manufacturers and brands. Granted, China is the world's largest auto market, but, still, with such a bewildering number of firms competing, it is just a matter of time before many go bankrupt. Before the inevitable bleeding starts, some of these companies should seek to merge to create synergies while saving costs.
Chery and JAC Motors are both state-owned companies controlled by the Anhui provincial government. Both have competing car models and powertrain development programmes. Yet, sales figures for both are embarrassing. They should have merged a long time ago but - as is often the case in China - local politics that puts personal interests above that of companies appears to be getting in the way of progress.
The government can help massively by relieving the industry's tax burden. If you look at the price of a typical 100,000-yuan car (HK$122,000), at least 40 per cent of the cost goes straight to the tax man. This is crazy.
In 2009, the government rolled out a "cars to countryside" programme, billed as a one-time government subsidy (but in essence a tax rebate programme) to rural customers buying new cars. It was a wild success, driving the boom in sales in 2009 and 2010. Yet, why distinguish between rural and city buyers? All citizens should be entitled to such a rebate, which is long overdue.
Aside from the tax issue, the government should also look to relieve the regulatory and administrative burdens on the industry.
Still, I have to concede that things are probably not going to change. Bureaucrats remain unwilling to do anything that would reduce their annual budgets, eliminate turf wars or ease corporations' regulatory burden. And that can only be bad news for China.
This article appeared in the South China Morning Post print edition as: Quality control