Asean
Get more with myNEWS
A personalised news feed of stories that matter to you
Learn more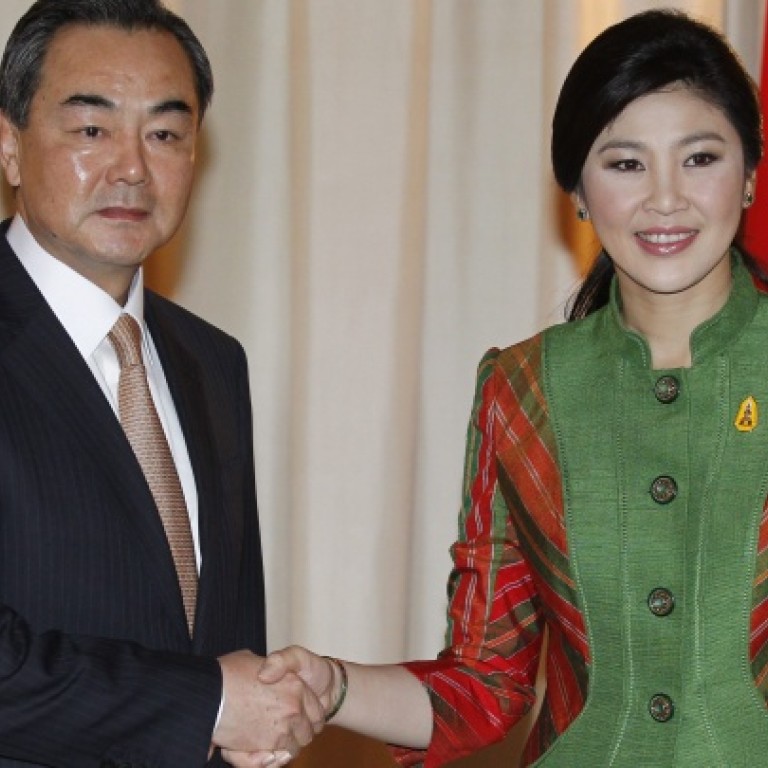 Cosy Sino-Thai relations affecting Asean unity
Pavin Chachavalpongpun says while China and Thailand have built up strong ties, Bangkok's unbalanced foreign policy is affecting Asean unity
China and Thailand have forged even closer ties with the recent exchange of visits of key policymakers. Foreign Minister Wang Yi , during his visit to Bangkok this month, praised Thailand for playing a "significant" role in promoting relations between China and the Association of Southeast Asian Nations.
The two countries agreed to increase bilateral trade to US$100 billion by 2015. Last year, two-way trade stood at nearly US$70 billion, as a result of the successful Sino-Thai free trade agreement signed in 2003, when Thailand became the first Asean country to conclude a free-trade deal with China.
Wang stressed that "the unique Sino-Thai relationship will play an exemplary role in the development of China's relations with Asean". Thailand is the country co-ordinator of China-Asean relations this year.
Meanwhile, on the sidelines of the Asean Defence Ministers Meeting, the Thai and Chinese ministers met and pledged to expand their military ties. Marines from the two countries have held a "Blue Strike'' counter-terrorism joint exercise for the past two years. The countries' armed forces first kicked off their co-operation in joint drills under the codename "Strike'', a smaller version of the Thai-US military exercise "Cobra Gold", which remains the oldest and largest operation in the Asia-Pacific region.
Since the early 1980s, Thailand has bought arms and other military equipment at "friendship prices" from China, much of which effectively amounted to "military gift aid".
Sino-Thai military links are among some of the most developed in the region - second only to Myanmar. Some analysts believe that Thailand is intentionally balancing its military and financial dependence on the US by nurturing better relations with China.
Quietly, Thailand is sliding into China's embrace. Most Thai cabinet ministers and powerful businesses have significant investments in China while Thailand has welcomed China's soft power; more Thai students are now keen to learn Putonghua, prompting China to dispatch a large number of language teachers to Thailand.
Thailand's foreign policy on China has been formulated based on the rule of "respecting each other's sovereignty". To confirm this, Thailand has repeatedly expressed its support of the "one China" policy and for China's sabre-rattling towards Taiwan over that issue.
In return, Beijing has avoided intervening in the protracted Thai political crisis. The current Chinese ambassador to Bangkok, Guan Mu, is fluent in Thai and has served in the country for 18 years in different capacities. Such familiarity has given China a personal edge and allowed access to Thai elite.
But the inexorable ties also place Thailand in an awkward position. For example, Bangkok has refused to make clear its position on the South China Sea for fear of upsetting the Chinese leadership. This Thai indecisiveness has cost Asean its unity.
A more balanced Thai foreign policy is needed, not just for the sake of the country's interests, but also for the regional stability which both Thailand and China could enjoy.
This article appeared in the South China Morning Post print edition as: Cosy relations