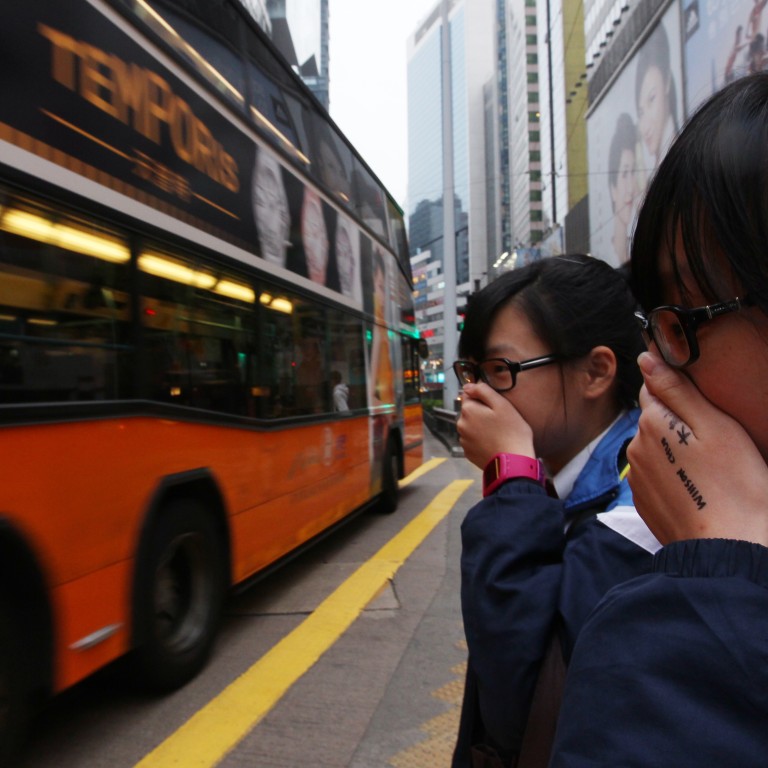 The grim picture of roadside air pollution on Hong Kong Island
Simon Ng says alarmingly high concentrations of carcinogens found along major arteries should jolt the government into urgent action
A report on roadside air quality on the northern shore of Hong Kong Island along the tramway was released on Thursday by Civic Exchange and the Institute for the Environment at the Hong Kong University of Science and Technology. Air quality readings were taken for more than a year from a monitoring system installed on one of the trams during its normal operating hours. Findings show that the annual average concentrations of fine particulate matter (PM2.5) along the route, which cuts through some of Hong Kong's typical urban street canyons, was alarmingly unhealthy, ranging from 30 to 55 micrograms per cubic metre.
To put the numbers in perspective, Hong Kong's air quality objective for PM2.5 is 35 micrograms per cubic metre and we often failed to comply with our lax objective; the World Health Organisation recommends a standard of 10 micrograms per cubic metre based on health considerations, and we are nowhere near that level. In layman's terms, most of the time we are inhaling carcinogenic substances in concentrations that can damage our health.
It is not surprising that Des Voeux Road Central came first on a list of air pollution hotspots in the report, followed by Yee Wo Street and the eastern end of Hennessy Road in Causeway Bay in second place. The WHO's daily average standard was exceeded on almost 280 days of the year in these locations.
By contrast, surprisingly, roadside air quality on Des Voeux Road West in Western District, Queensway in Admiralty, and the western end of Hennessy Road in Wan Chai are also very poor. Daily average PM2.5 concentrations exceeded the WHO's standard for more than 200 days during the year-long study. The overall picture is worse than we thought.
Hundreds of thousands of people are being exposed to roadside pollution that could undermine health and productivity, potentially causing cancer and other ailments, even premature death.
What should the government do to address the issue? And what is our priority as a city? Depressingly, roping off an area and calling it a low-emission zone without addressing the problem of the street canyon effect or keeping vehicles away from people (not the other way round) is not going to get us very far.
Exactly a year ago, the Hong Kong Institute of Planners and a few other collaborators, proposed to turn Des Voeux Road Central into a pedestrian- and tram-only precinct, citing air quality improvement as a major benefit. One year later, while discussions are ongoing, there is nothing to show on the ground.
Des Voeux Road Central will probably remain the urban road most associated with poor air quality but the latest findings have reshaped the discussion; Des Voeux Road Central may be the worst, but we must clean it up quickly, then replicate the effort elsewhere.
The government must prioritise improved air quality in major urban street canyons; targets must be set and met within a reasonable timeframe. Urban development practices and planning approaches also have to be reformed, to enhance ventilation and air dispersion in dense urban areas. Certainly, there will be trade-offs, such as blocking off some roads to traffic, and some people may lose out in terms of time and convenience. But everyone will benefit from improved air quality and a better environment. Such net gains for society are clear.
This article appeared in the South China Morning Post print edition as: Air of disgust