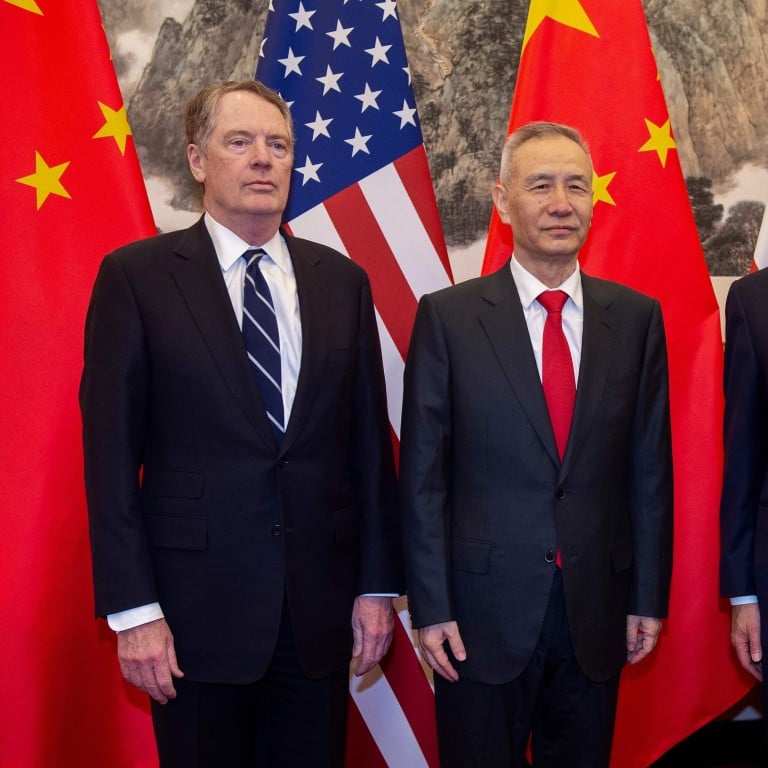 China's Vice-Premier Liu He poses for a photo with US Treasury Secretary Steven Mnuchin (right) and US Trade Representative Robert Lighthizer in Beijing on March 28. Ongoing negotiations between the US and China are reportedly nearing their end, with the possibility of Chinese President Xi Jinping signing a trade deal with US President Donald Trump floated for June. Photo: AFP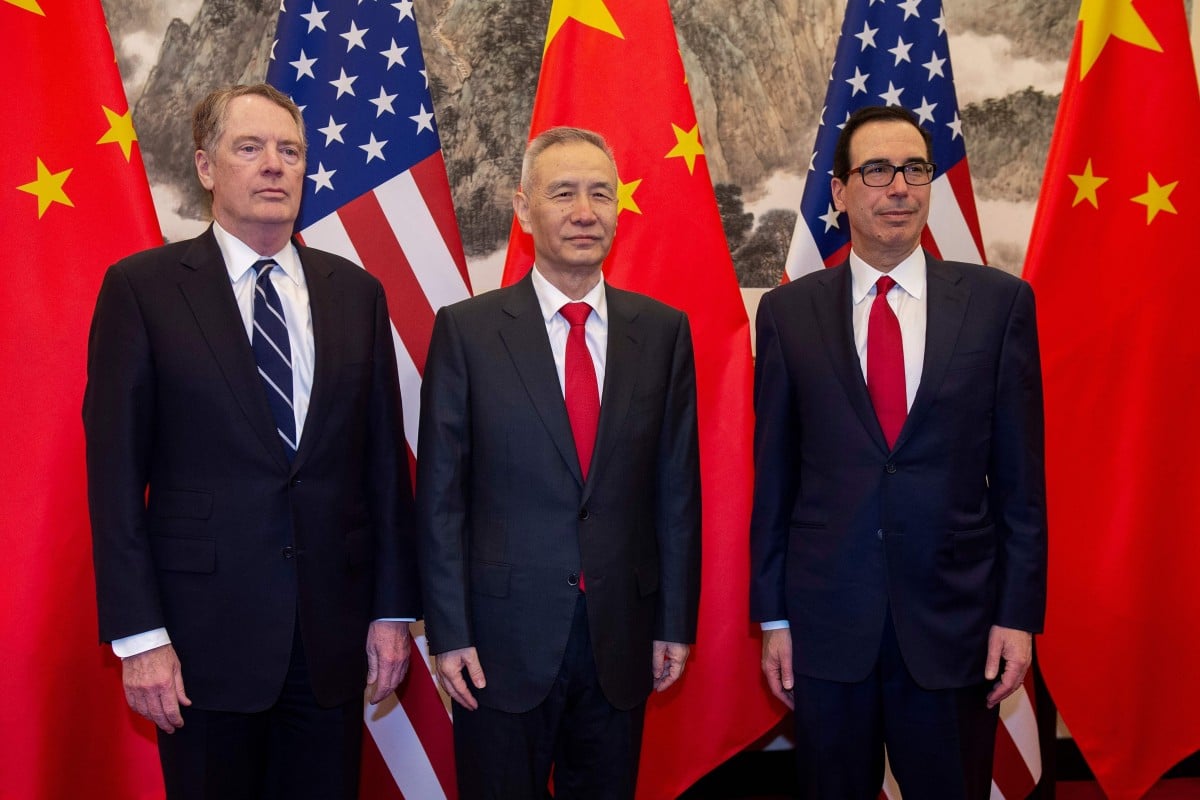 China's Vice-Premier Liu He poses for a photo with US Treasury Secretary Steven Mnuchin (right) and US Trade Representative Robert Lighthizer in Beijing on March 28. Ongoing negotiations between the US and China are reportedly nearing their end, with the possibility of Chinese President Xi Jinping signing a trade deal with US President Donald Trump floated for June. Photo: AFP
Nevertheless, much less attention has been paid to how the world economy and financial markets would adjust to a possible Sino-US trade deal. In this regard, the financial and economic implications of a China-US trade deal can be very disruptive for the world economy and global financial markets.
US President Donald Trump's grievance with China is America's bilateral
If so, the expected trade deal could cause serious economic and financial market dislocations. How?
The starting point is the dollar's status as a global
To see the disruptive impact of such a bilateral trade deal, a thought experiment is in order: suppose that China is forced to increase its purchases of American goods and services so much that the entire China-US bilateral trade deficit would be wiped out in one shot. In this case, China's imports from the US would surge by more than US$400 billion, or 2 per cent of US gross domestic product, which undoubtedly represents a huge boost to aggregate demand for the US economy, thus driving up US economic growth sharply.
The potential problem, however, is that the expected surge in Chinese imports would almost close up America's entire current account deficit and this would lead to a global dollar shortage. As a result, market forces would likely drive up the dollar to such a level where US exports to other parts of the world would be reduced, thus "re-creating" a trade or current account deficit.
Meanwhile, with the US economy already running at or close to full capacity, a surge in American exports to China could create inflationary pressures, forcing the Fed to raise rates to weaken domestic demand.
In the end, either higher short rates or a stronger US dollar or both would act to slow down the US economy and ensure that America's trade balance is more or less unchanged. Nevertheless, the side effect of these adjustments would be very problematic for the rest of the world economy.
The combination of a stronger dollar and higher US interest rates has always been a recipe for financial instability for the rest of the world economy, especially emerging markets. History has shown that this combination attacks emerging market economies with current account imbalances particularly viciously and often becomes a catalyst for global economic slumps, or even recessions.
To make matters even worse, if China begins to face a current account deficit as a result of the expected import surge from the US, Beijing would have to opt to reduce China's imports from other countries to keep its external balance under control. This import redistribution could add more economic pain for the rest of the world economy, which would already be pressured by a rising dollar and US interest rates.
In this scenario, a Sino-US trade deal could simply amount to a zero-sum game in the short term: a gain for the US, a loss for the rest of the world, and indifference for China. Over time, however, US trade deficit simply shifts from China to other countries. This shifting process would be fraught with financial and economic risk and in the end, it would represent a net efficiency loss in the world supply chains.
The actual outcome of the expected China-US trade deal will largely depend on how it is structured and what China's commitments are. In all likelihood, China's commitment to buy more American goods is likely to be spaced out over time, and as such the economic and financial impact of the expected trade deal may take some time to play out.
China-US trade imbalance is the natural result of global supply-chain evolution, and eliminating this imbalance is too disruptive for every country involved
Even so, policymakers and investors need to realise that a China-US trade deal may not be a panacea for global growth. There could be a dark side to it.
To avert or minimise the adverse impact of a China-US trade deal on the rest of the world economy, the Sino-US trade deal should focus on Beijing's protective trade and investment policies rather than bilateral trade imbalance. The China-US trade imbalance is the natural result of global supply-chain evolution, and eliminating this imbalance is too disruptive for every country involved.
However, making sure that Beijing plays by the rules and levels off the playing field for foreign businesses and suppliers would represent a net gain for the world economy, benefiting all.
Chen Zhao is founding partner and chief global strategist at Alpine Macro.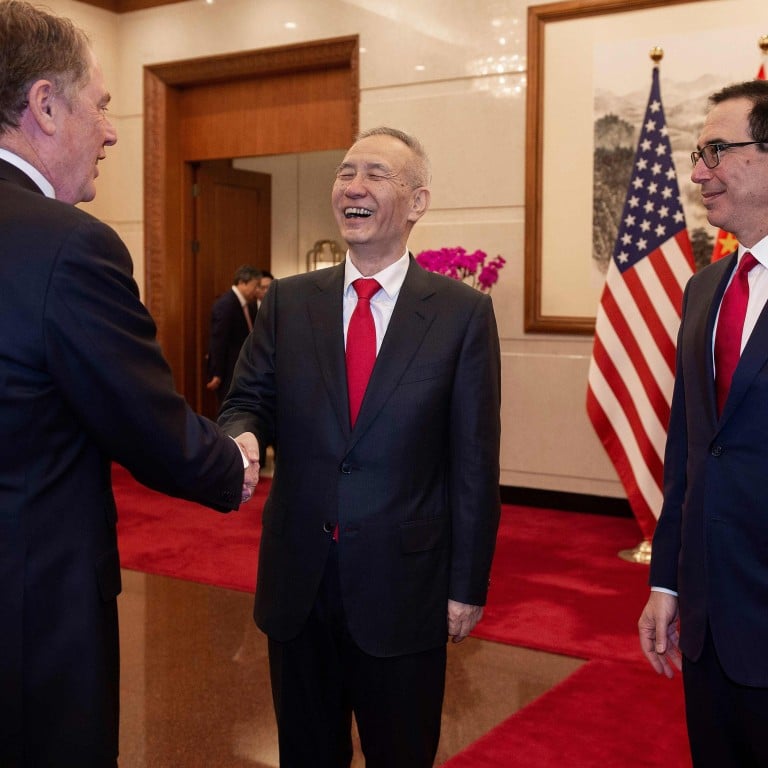 China's Vice Premier Liu He (centre) shake hands with US Trade Representative Robert Lighthizer (left) as US Treasury Secretary Steven Mnuchin (right) looks on in Beijing in March. Photo: AFP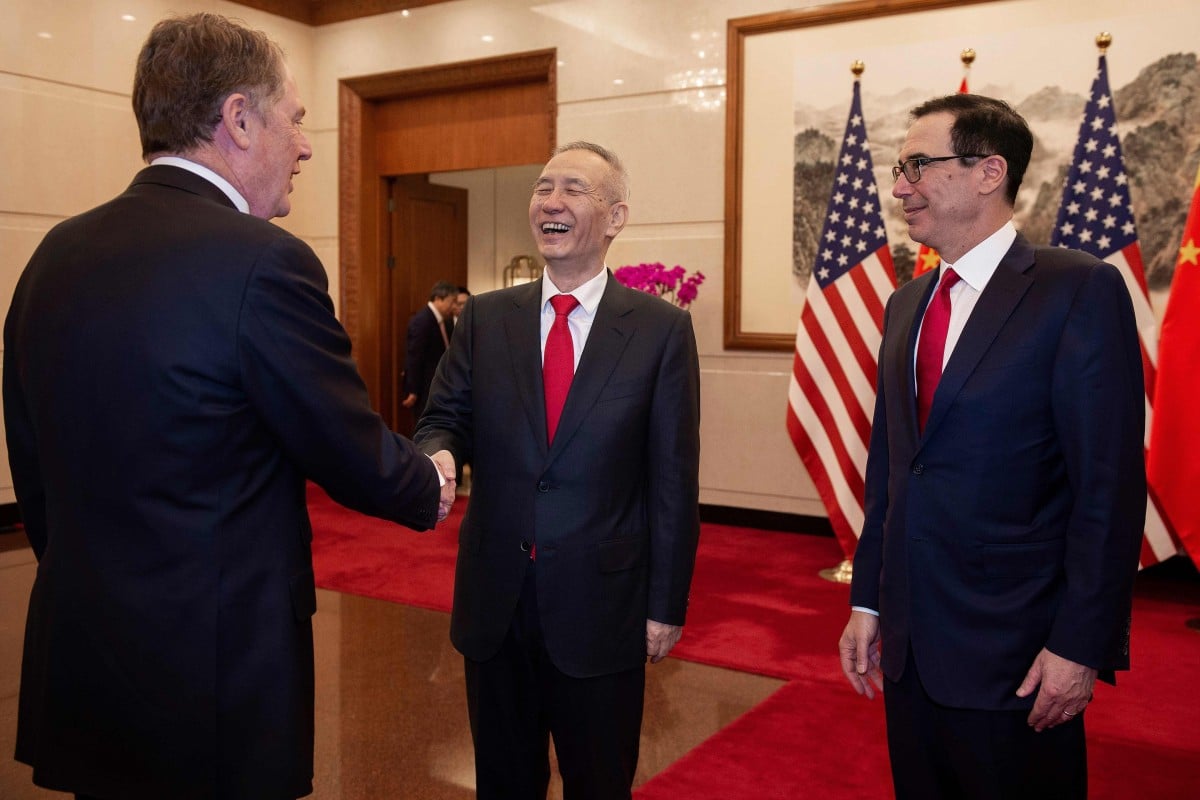 China's Vice Premier Liu He (centre) shake hands with US Trade Representative Robert Lighthizer (left) as US Treasury Secretary Steven Mnuchin (right) looks on in Beijing in March. Photo: AFP
"This time we really mean it. This time we're going to change China. Honest. This time won't be like the market access and intellectual property protection trade deals of 1992. Or 1995. Not to mention 1999 – or the 10 times since then that China's leaders have promised to stop doing this or that trade practice we found objectionable and finally behave like we want them to. This time is different. This time, your president is our president's friend. And even if he weren't, our president is still the world's greatest negotiator – just ask him – so you can take this one to the bank."
That seems to be the message coming out of Washington nowadays, various optimistic words by Trump administration honchos that "an agreement" is almost here. Treasury Secretary Steven Mnuchin and National Economic Council director Larry Kudlow pretty much always have upbeat assessments about the negotiations for anyone accompanied by a cameraman. Trump tweets superlatives about what he promises will be "the biggest trade deal ever made." But will it be any different from those that preceded it? Or will Trump water it down?
The last line of defence for Americans against another toothless trade deal is US Trade Representative Robert Lighthizer, who is labouring with Chinese Vice-Premier Liu He on the structure of an "enforcement mechanism" to ensure Beijing keeps its promises. Lighthizer is paying enough attention to this missing dimension of negotiations past to indicate the US is finally getting serious about it. You don't hear him making silly comments to reporters about anything, let alone the ongoing negotiation he's leading. No doubt he wishes the others would pipe down while he does his work.
Enforcement has always been the tomorrow of US-China trade deals – it never quite arrives. It's a peculiar American conceit that we still think we can change the behaviour of Chinese businesspeople when doing so depends on China's leaders and a court system they control.
Beijing hasn't shown much affinity for Western institutions since Xi Jinping came to power in 2012. On trade, Xi believes that Beijing should play a larger, not smaller, role in managing China's economy. That's his prerogative, but it cuts against the grain of the WTO. If he doesn't believe markets are best for China, then China should do its own thing. But that probably shouldn't include participating as freely in western markets as today.
Trump mocks former US presidents when he says he doesn't blame China for cleaning the US' trade clock all these years. Which begs the question of what mockery index multiplier the next president should apply to mockery of Trump, if Trump ignores Lighthizer and the US ends up back at the same place. Double? Triple? 10x? Is jillion a real number?
Watching the US inch toward a watered-down trade agreement is like watching the big dumb guy reach for a doorknob in a horror movie. You scream – "Don't open that door!" – but you just know he's going to open it anyway and a guy with an axe on the other side is going to do what guys with axes do to both the big dumb guy and the naive gal who thought his muscles and bravado were going to save her.
You could see it coming a mile away. Why couldn't the big dumb guy?
Robert Boxwell has worked and lived in the Asia-Pacific region since the early 1990s. He lives in Kuala Lumpur, where he is a director of the international consultancy Opera Advisors
This article appeared in the South China Morning Post print edition as: The 'big dumb guy' and why a China trade deal will be a flop