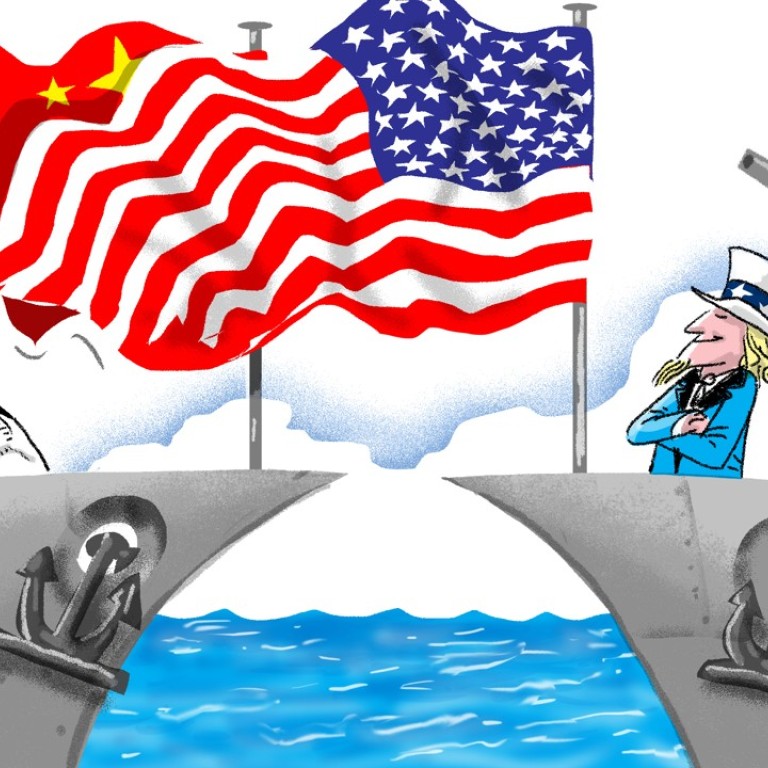 South China Sea tensions: does the US have an endgame, beyond war?
Mark J. Valencia says the US' new, more confrontational approach to China's actions in the South China Sea is based on misconceptions and disingenuous thinking – and could provoke conflict if Beijing isn't prepared to back down
At last week's
Shangri-La Dialogue
, US Secretary of Defence
James Mattis asserted
that
China
's "militarisation" of its occupied features in the
South China Sea
is "for the purposes of intimidation and coercion". Indeed, it seems the US has decided to step up pressure in the South China Sea. However, this policy shift is based in part on misperceptions that could easily lead to conflict.
This new US hard line towards China was officially manifested in its December 2017
National Security Strategy
that declared China a "strategic competitor" and "revisionist" nation regarding the existing international order. On May 23, the Pentagon announced it had
withdrawn its invitation
to China to participate in the 2018 Rim of the Pacific Exercise (RIMPAC) – the world's largest multinational military exercise. It said "China's behaviour [in the South China Sea] is inconsistent with the principles and purposes of the RIMPAC exercise."
This slight was followed four days later by a provocative first: a freedom of navigation operation within 12 nautical miles of the
Paracel Islands
, including Woody Island, that "violated" China's requirement of prior permission for warships to enter its territorial waters. Woody Island is China's largest military outpost in the South China Sea and where one of its H-6K strategic bombers
recently landed
. The US ships were confronted by Chinese warships that, according to the US, behaved in an "unprofessional manner".
China has responded to the US policy shift and what it sees as a growing threat. Its air force spokesperson said the landing (and take off) of strategic bombers at Woody Island was part of training to improve its ability to "reach all territory, conduct strikes at any time and strike in all directions" as well as preparation for "the battle for the South China Sea".
But the new US policy is bedevilled with misconceptions, hypocrisy, disingenuousness and a lack of a strategic endgame. Answering questions after his speech, Mattis said: "We [the US] firmly believe in the non-coercive aspect of how nations should get along with each other."
Mattis has implied that China threatens freedom of navigation by stating that the US is defending the concept "for all nations" so they can transit "those waters for their own prosperity". But China has not threatened commercial freedom of navigation and is unlikely to do so in peacetime.
Watch: Chinese senior military official dismisses US defence secretary's remarks on South China Sea militarisation
That is considerably more ambiguous than Mattis' interpretation. Moreover, Chinese government spokespeople have since implied that if the US continues its intelligence, surveillance and reconnaissance probes, exercises and freedom of navigation operations challenging China's claims there, it will prepare to defend itself. Given that the US has continued these missions and may even step them up, it should come as no surprise that China has responded as it said it would.
But the more serious problem for US policy in the South China Sea is that it does not have a strategic endgame, short of war. So far, the US response has not been effective. China has persisted in its claims and actions in its own "near seas" despite US warnings.
What if the US escalates confrontation and China does not bend or back off? Is the US really prepared to go to war over a hypothetical threat to freedom of navigation and China's actions, vis-à-vis rival claimants, regarding flyspecks and resources in a sea halfway around the world? There is no core US security interest at stake here.
Mark J. Valencia is an adjunct senior scholar at the National Institute for South China Sea Studies, Haikou, China