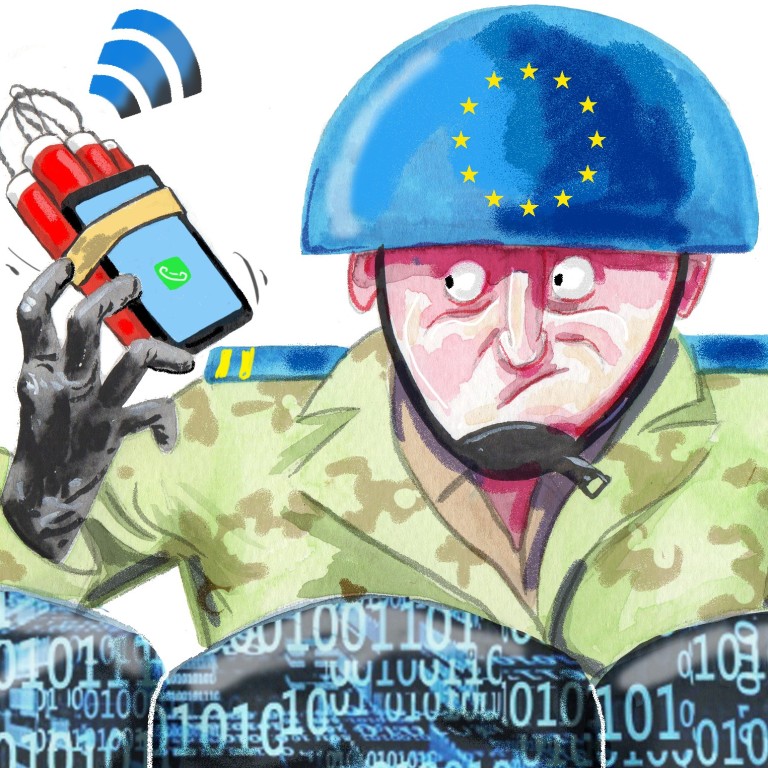 Opinion
Björn Fägersten and Tim Rühlig
Björn Fägersten and Tim Rühlig
Huawei's troubles have exposed the US-China tech war. How prepared is Europe to defend its interests?
Björn Fägersten and Tim Rühlig say in a world where power flows from control of technological infrastructure, European Union states lag behind both the US and China and must secure their commercial and security interests before it is too late
Other intelligence services – including in the
Czech Republic
and Denmark – have also issued security warnings. The stakes are high: McKinsey estimates that the internet of things alone will add anywhere from US$2.7 trillion to US$6.2 trillion annually to the global economy by 2025, penetrating all spheres of technological development.
While the trade war and the Huawei story are often reported about separately, they are both part of rising conflicts between Western countries and China that will have commercial and geopolitical consequences.
Commercially, Chinese and Western companies compete over innovation that enables them to set standards for the technology that will run our future economies. At first glance, setting technological standards appears dry and apolitical. But this perception misses the high economic and political stakes involved, as technological standards rely on patented technology.
Companies that establish their patented technology as the global standard either get to sell their equipment or can expect high royalties. The financial implications are huge: In 2014, the US chip manufacturer Qualcomm, which owns key patents for 3G, 4G and LTE (long-term evolution) technology, received US$8 billion in royalties from China alone.
One estimate suggests that, by 2017, Chinese companies held around 10 per cent of 5G standard essential patents, up from only a few patents in 4G mobile internet. Huawei alone cornered 28 per cent of the global market share of base stations going by 2017 sales, ahead of Ericsson (27 per cent), Nokia (23 per cent) and ZTE (13 per cent).
The control of technological infrastructure is a source of power. The previous generation of mobile internet has shaped our digital economies and transferred wealth within and between societies.
This will be even more the case with 5G because it is going to operate multiple vital societal functions: self-driving cars, pacemakers, energy networks and manufacturing, for example. The broad range of applications plays into fears that this critical infrastructure could be manipulated by foreign powers to destabilise Western democracies.
The US and China perceive the battle over Huawei not just as a regular economic dispute but as one over geopolitics and security, evident in US Federal Bureau of Investigations director Christopher Wray's statement that, "Companies like Huawei pose a dual threat to both our economic and national security."
China, in turn, has reacted to the arrest of Huawei chief financial officer Meng Wanzhou in Canada with the detention of
three Canadian citizens
and converting a life sentence for a Canadian citizen convicted of drug smuggling to
the death penalty
. In diplomatic circles, China openly tells its Western counterparts that this is a tit-for-tat game.
For Europe, the power struggle over 5G gives rise to three strategic considerations.
First, the European Union and its member states must understand the economic and social potential of 5G. Europe already lags behind China and the US in allocating frequencies for 5G and needs to step up engagement with the technology. Germany, a country aspiring to digital leadership, is not expected to be able to roll out widespread 5G services until 2020.
While investing in research, innovation and adaptation, EU nations also need to defend free trade and the international standards regime that has served the continent well. This is also vital in securing protection of citizens' data, which must be a European priority.
Second, the EU needs to grasp the security implications of this innovation race. More vigilance concerning critical infrastructure is needed at various levels of European governance and the EU's planned
foreign direct investment screening mechanism
is long overdue.
The acquisition by Chinese firms of Swedish companies involved in the semiconductor industry – an area of vital importance to 5G hardware, in which China has been trying to diminish its dependence on US technology – illustrates both the possible knock-on effects of
US sanctions
and how affairs that pass under the radar in one country can have lasting effects on allies as well as competitors.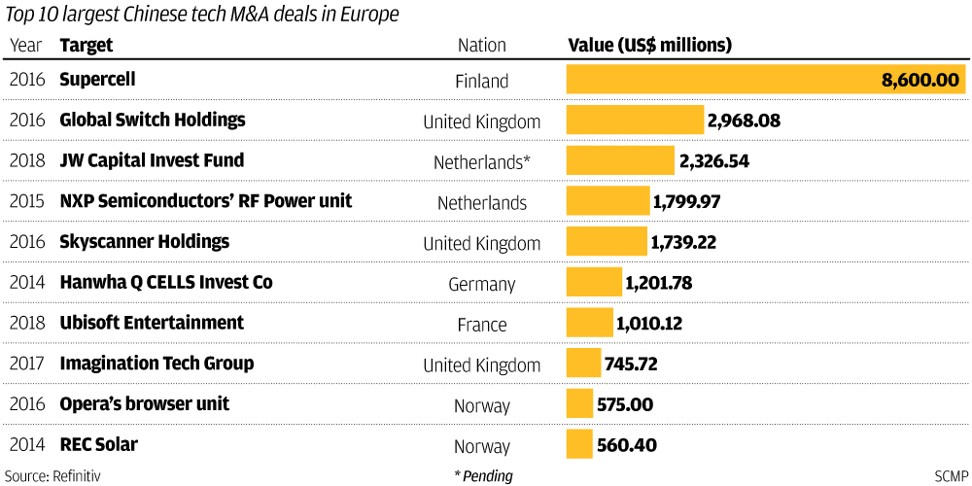 Finally, the EU needs to manage the geopolitical turbulence unleashed by the increasingly polarised battle between China and the US. Does the EU aim to position itself as a third centre of technological and political gravity or to seek strategic alignment with the US, as was the idea behind the Transatlantic Trade and Investment Partnership?
It also needs to ponder the implications of the fact that large parts of the world are completely excluded from this tech game. How will countries such as Russia react as they fall further behind in the geopolitics of innovation but still enjoy considerable traditional military power?
In the geopolitical innovation contest that has opened up, 5G is only one of several battlefields. It is very uncertain Europe will be able to change the framing of the current moment and help prevent a tech cold war. Therefore, Europe needs to equip itself to secure its commercial and security interests before it is too late.
Björn Fägersten is the director of the Europe programme and a senior research fellow at the Swedish Institute of International Affairs. Tim Rühlig is a research analyst at the Europe and Asia programmes of the Swedish Institute of International Affairs