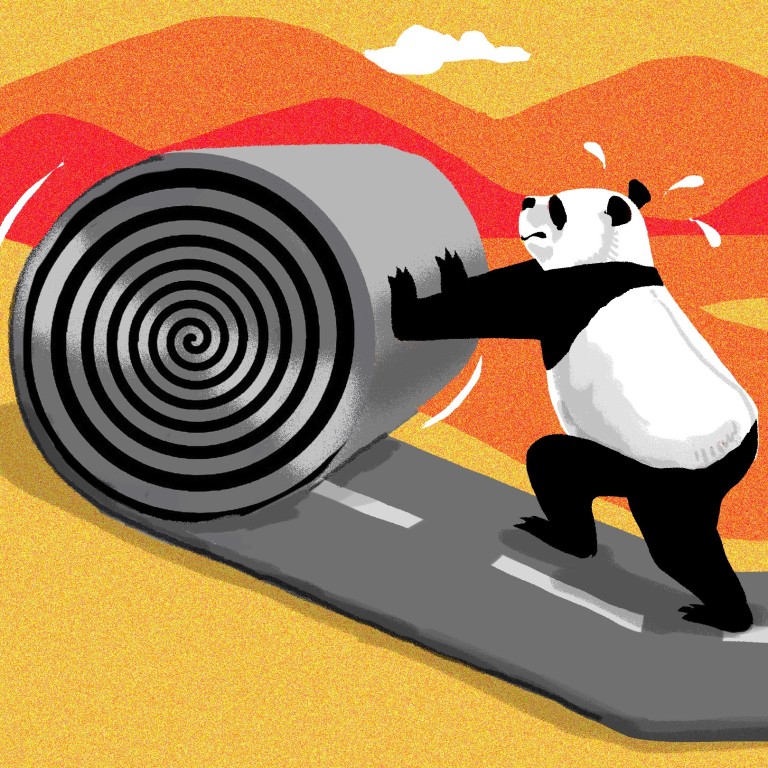 Opinion
Opinion
by Lucio Blanco Pitlo III
Opinion
by Lucio Blanco Pitlo III
The strengths and pitfalls of China's Belt and Road Initiative, six years in
The belt and road is changing shape, making inroads into Europe, the Pacific and Latin America. Beijing is increasingly willing to fund projects that symbolise the country's resurgence, but it should be wary of using economic might to sway policy
Next month, all roads will lead to Beijing again as China hosts the second
Belt and Road Forum
. It provides an opportunity to review what has been accomplished and discuss how to address implementation challenges. Entering its sixth year, China's development plan is
extending its reach
and has gone beyond physical infrastructure. The trillion-dollar initiative may have a greater role to play as Chinese trade and investment suffer setbacks in the West, such as through the trade war and heightened
national security scrutiny
.
As the "
Belt and Road Initiative
" gains traction, there are also more hurdles to overcome. The challenges include seeking more local input in host countries and weathering changes in foreign leadership. Beyond these, there are six things to note about the unfolding plan.
First, the initiative is gradually developing into a grand strategy for Chinese foreign policy. China's foray into overseas infrastructure projects did not begin with the belt and road plan, but President Xi Jinping's
announcement
of the strategy in 2013 gave shape to China's ambition. The
extension
of Xi's presidency gives continued priority to the plan. The Belt and Road Initiative was included in the
2019 government work report
presented early this month. By meeting the huge global demand for infrastructure, it may be a vehicle for Beijing to establish its
envisioned community
with a shared future for mankind.
Second, the plan has great flexibility. To date, there has been no definitive accounting of which projects fall under or outside the plan. Such flexibility allows participating countries to assure their people that cooperation with China enables them to accomplish part of their national infrastructure plans without compromising national priorities in terms of project selection and funding.
However, states without clear, coherent national connectivity plans and a limited pool of external partners are more vulnerable to external interference. Host countries also argue that although China is a big player in infrastructure, it is not the only one and they still have discretion in choosing partners for identified projects.
Third, the belt and road plan is expanding beyond Eurasia and Africa. The attendance of leaders of Italy, Spain, Switzerland, Fiji, Argentina and Chile in the first Belt and Road Forum in 2017 speaks of how the plan is making inroads into western Europe, the Pacific and Latin America. Ministers from Australia, Brazil, Finland, Germany, New Zealand and Britain also attended the first summit.
China's rise as Latin America's second-largest trading partner and expanding aid footprint in the Pacific is expected to generate greater interest in the strategy among these countries. Although concerns about Washington's reaction may slow Beijing's overtures to the United States' backyard, such hesitation may diminish if the trade dispute intensifies.
Fourth, there is growing interest in funding projects that are symbolic of China's global resurgence. Two Chinese-built railways in Africa run parallel to European-built railways dating back to the colonial era. The Addis Ababa-Djibouti railway runs alongside the French-built Ethio-Djibouti line, which is now in limited service, while the Nairobi-Mombasa railway runs parallel to the now-defunct British-constructed Uganda line.
China also won a bid to build a Jakarta-Bandung railway project, beating Japan. Bandung is the setting of the 1955 Afro-Asian Conference, which was attended by late premier Zhou Enlai and was an important platform for the Non-Aligned Movement. In Manila, China donated a
bridge
that would link the world's oldest Chinatown, Binondo, to the former Spanish walled city of Intramuros. For 250 years, the Southeast Asian city played an important part in the galleon trade that brought Chinese goods to the New World and Europe. Given China's deep connection to history, the choice of these projects may not be coincidental.
Fifth, there is an increasing propensity to secure
equity stakes
in certain infrastructure projects, giving rise to concerns over debt trap diplomacy and ulterior geopolitical motives. Concerns over foreign control of critical assets and associated security risks hamper Chinese investments.
Beijing may have to clamp down on Chinese enterprises failing to exercise due diligence when debtors default.
 Nonetheless, while such actions surely do not help China's image, ownership or control does tie the Chinese in, and commit them to turning projects around. However, whether China's template for economic zones and industrial parks with good access to ports and railways will also be successful in other countries remains to be seen, but there might be management lessons to learn.
Lastly, some projects may need time to be turned around and underuse might just be temporary. Last year, 300 ships called at the Chinese-built
Hambantota port
in Sri Lanka, up from 183 ships in 2017. While this is a far cry from capacity, the confidence of the Chinese investors suggests they are taking a long view. This is made possible by state backing, which is critical for big-ticket projects, as private capital generally shuns projects with long gestation periods and delayed returns.
How long this optimism can continue, given the weaker global shipping demand, remains to be seen. But this shows the appeal of state capital to countries or projects beneath the radar of commercial banks or Western-led lending institutions.
The Belt and Road Initiative will unmistakably expand China's influence. And with Beijing's enormous economic wherewithal, it will be tempting to use economic tools to sway policies of participating countries. However, doing so will only spoil these countries' appetite for exposure to China, because they will worry about the consequences should relations turn sour.
Lucio Blanco Pitlo III is a research fellow at the Asia-Pacific Pathways to Progress Foundation, a lecturer on Chinese Studies at Ateneo de Manila University and contributing editor (reviews) for the Asian Politics & Policy Journal. He also sits on the Board of the Philippine Association for China Studies