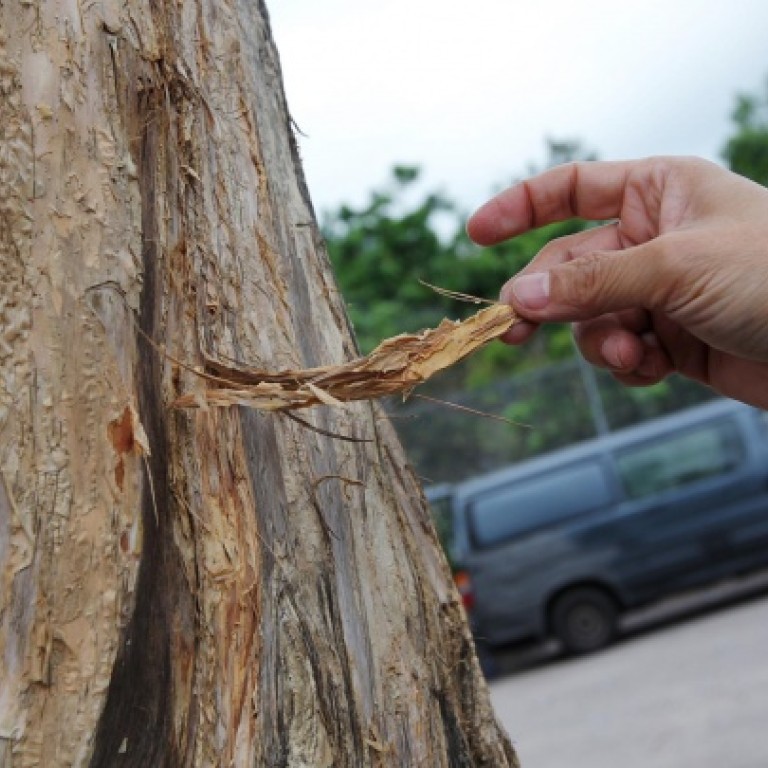 Letters to the Editor, May 6, 2013
Your detailed coverage of the plight of Hong Kong's urban and rural trees highlights the need for urgent action if we are to save at least some of our natural heritage.
Your detailed coverage of the plight of Hong Kong's urban and rural trees highlights the need for urgent action if we are to save at least some of our natural heritage ("Killer fungus threatens swathes of city's forests", April 26).
(brown root rot) disease has already been identified in 11 districts of Hong Kong, including two country parks.
Presumably it is only a matter of time before the disease is found throughout the SAR.
This infection is rampant in a number of countries, including the United States and Australia. Scientists are working on a tree vaccination and the possible development of a fungus that can kill .
However, Hong Kong cannot wait. We need to put some simple measures in place now. A network of countryside wardens could help to spot possible problems and initiate appropriate care in a timely fashion.
What is to be done with green waste left when sick trees fall or have to be cut down?
Sometimes the pieces are put into rubbish bags and transported to a landfill - an unsatisfactory idea at the best of times.
However, the usual practice on Lamma Island and many other places seems to be simply to leave the cut pieces on the ground or push them down the nearest slope where they form a reservoir of infection.
Perhaps Hong Kong should consider adopting the eco-friendly approach that is favoured by the Queensland government's Department of Agriculture, Fisheries and Forestry.
On its website, the department says the whole of the infected tree ("and as much roots as possible") should be removed as soon as possible and disposed of by composting (and turned over regularly) for at least 16 weeks.
Material larger than 18mm should be sieved out of the final compost before use.
Also, it advises that root barriers should be installed "around the infected site to reduce the rate of spread". It adds that infected trees should not be used for mulch without its advised method of composting.
The government has touted the proposal to build a monorail to link the Kai Tak development area with East Kowloon.
I think it would be better to have a modern fleet of trams.
First, the construction cost of the tram network would be a lot cheaper, which could be less than a quarter of that of the monorail.
Likewise, the maintenance cost of a tram network would also be lower than that of a monorail.
Some monorail systems have fallen into disuse because they were too expensive to maintain.
Also, the tram system could come on line sooner, meaning an earlier link-up between the Kai Tak development and East Kowloon.
Because of lower operating and maintenance costs, tram fares would be cheaper.
The tram system would have a dual role - it could be used by tourists coming off liners at the cruise terminal and also be part of Hong Kong's public transport network.
The monorail would require a new bridge to be built and this could obstruct the passage of large ships.
I understand the arguments of those supporting the trains, that, for example, they would give passengers a pleasant and elevated view of Kai Tak promenade.
Also, it is argued that road space in the area is already congested.
However, I believe the advantages of deploying a modern fleet of trams outweigh the disadvantages and that is the option the government should follow.
I am appalled at the "artistic" sense of the West Kowloon Cultural District Authority ("Sudden downpour takes the wind out of poop art", April 27).
As if it weren't enough of a laughing stock already, with delays and budgetary issues.
I can see how the inflatable Stonehenge might be considered amusing, in a land bereft of ancient monuments. However, I hope that the inflatable poop gets all the protests it deserves.
Hong Kong people should be justly outraged at spending taxes on such absurd nonsense. In a city that is so heavily polluted, do we really need to have our noses rubbed in it?
What is of greater concern is that the people who made the decision to exhibit this "art" have been given the responsibility for a project labelled as the cultural hub of Asia.
The subject of Hong Kong's ageing population has received a lot of media attention.
Hong Kong will inevitably face ever greater challenges as a consequence of more of its citizens living for longer.
With a steady increase in the greying population and therefore a greater dependency, the need to deal with this issue and the problems it will bring should be high on the list of the government's priorities.
We cannot afford to neglect this ageing trend and officials must come up with effective policies as soon as possible.
I refer to the article by Martin Lee Chu-ming ("The long wait", May 1).
The United States is the moral model to which Mr Lee looks for support in Hong Kong's quest for universal suffrage.
It spent more than 350 years inching from its "landed gentry" concept of suffrage in the 1600s to a constitutional amendment guaranteeing the vote for women in the 1920s to a voting rights act in the 1960s which extended the vote to all people of colour.
Mr Lee's wait of 10 years plus is the historical blink of an eye in comparison to the tortoise trek of the implied leader of the "international community" whose support his article seeks.
One wonders what Mr Lee would seek specifically now from the United States that was not demanded from the British colonial government.
That government was politically in charge of Hong Kong for more than a century and a half, and it seemed in no political rush to extend the franchise universally during those more than 150 years.
I refer to the letter by Amy Au of the Li Ka Shing Foundation ("Behind clichés, tycoon Li is a force for good", April 26).
Of course Asia's richest man would have a foundation, as well as a well-oiled PR machine, to defend him whenever anyone criticises the way the employees of his many companies are treated.
Even though that champion of the underdog, Elsie Tu, was obviously being diplomatic when she did not name Li Ka-shing in her denunciation of the greed of Hong Kong's billionaires ("Attack on tycoons with no conscience," April 23), we all know she speaks the truth in her clear condemnation of Mr Li.
Will this city's wealthy class heed the signs around them - the protests by underpaid and overworked dockworkers, menial laborers and migrant domestics - and will they realise they cannot continue living in their comfortable cocoons?
Will they engage in philanthropy like that in Western countries? Or will they continue to wallow in their luxurious lifestyles, oblivious of the real world around them?
Best wishes to Mrs Tu for her coming centenary when Queen Elizabeth will surely send her a congratulatory letter for being a big asset to Hong Kong.
Renata Lopez, Wan Chai
I refer to the report ("Talks on tycoon's offer of NT land for cheap homes", April 21).
Because of unreasonably high house prices, many Hongkongers are unable to own a flat.
This is why people have urged the government to come up with policies which can solve this problem.
One of the solutions put forward is obviously to build more houses, but land is limited in the SAR and it is difficult to find suitable locations to construct apartment blocks that would be suitable for first-time buyers.
I was therefore pleased to learn that tycoon Lee Shau-kee is willing to donate farmland for developing homes for first-time buyers.
Lee suggested a price of HK$1m for each 300 sq ft unit.
If this plan is implemented, it will really help middle-class families. Many young people who cannot afford to own a flat will be able to do so.
Lee's offer to the government not only benefits the public, but shows the caring side of Hong Kong businessmen.
We live in a capitalist society and people often think companies in the SAR care only about profits.
This act of kindness by this tycoon shows that there are still caring firms in Hong Kong.
I hope more developers will show a willingness to make similar offers of land to the government.