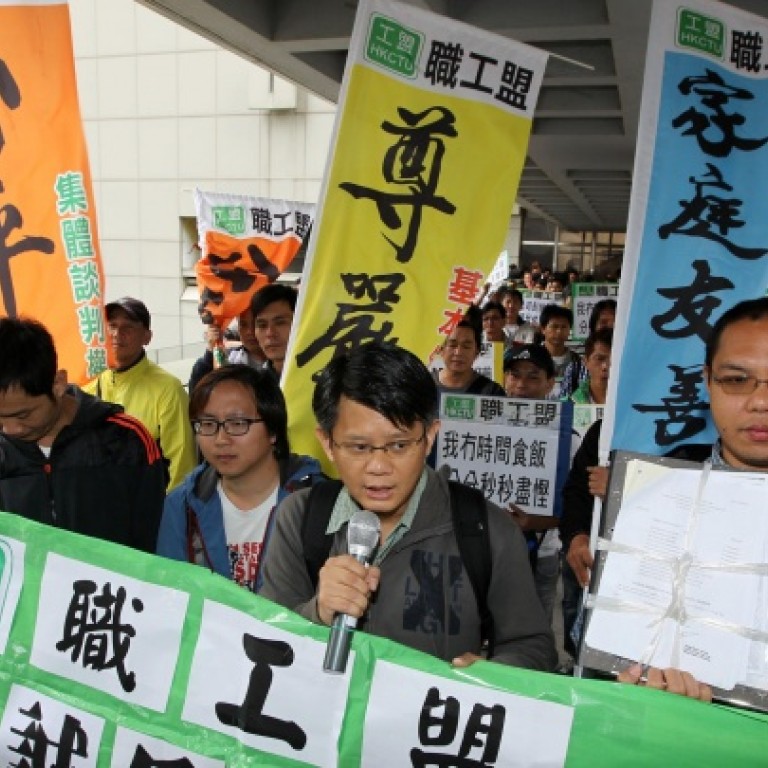 Letters to the Editor, May 10, 2013
I am glad to hear that the strike by dockworkers has come to an end following their acceptance of a 9.8 per cent pay rise.
I did not share any feelings of euphoria over their so-called victory.
Our logistics industry, one of the major pillars of Hong Kong's economy, faces major challenges from other ports in the region.
This sector has been hurt by the dockers' actions. I think these workers were impetuous and did not consider the implications of their strike and its impact on society.
What if workers from other industries followed their example and launched large-scale strike action in an effort to get improved benefits? And what if, during the next strike, the workers and contractors failed to reach an agreement?
We are now seeing too many demonstrations and strikes in Hong Kong.
People should think carefully about whether or not they wish to take radical action when they feel discontent.
Surely there are other ways in which people can express their feelings without harming society.
We all have a responsibility to try to create a harmonious community.
While the 40-day-long strike may have resulted in the dockworkers in Hong Kong getting a 9.8 per cent pay rise and improved working conditions, I think they will face difficult times ahead.
Mainland cities will have benefited as some firms were reluctant to have goods go through Hong Kong ports. Also, container port charges here remain high.
Also, these workers face a threat from greater mechani- sation.
In some countries, such as the United States, docking machines with a high degree of automation are commonly used, with workers operating them by remote control. Also, there is more computer- programming.
While the ports in Hong Kong are still a labour-intensive process, mechanisation is probably inevitable and more so because of the strike. And if that happens, some dockers will lose their jobs.
The strike itself could be a blow to the industry, but the timing of the strike could deal the killer blow.
Already faced with fierce competition from other cities, more businesses in the region might think twice before using our container ports in the future.
The dockers suffered a loss of income by being on strike for so long, damaged their relationship with the contractors and have put their future in jeopardy.
While it may bring job losses, greater mechanisation could make the port sector in Hong Kong more competitive in the region.
I recently received notification from PCCW that my fixed line rental charge will increase from HK$110 per month to HK$180, commencing June 1, and if I want time to think about this I can continue on a month-by-month basis at a rate of HK$198 per month.
I quote the following sentence from the notice, "You may notice our service prices have been revised - this is necessary in light of our continuous investment and cost increases."
Can there possibly be justification for such a staggering increase in the price of what may be considered as an essential service? I would appreciate it if PCCW could provide a more comprehensive justification of this increase through these columns.
I refer to the letter by Kristy Pau ("Impressed by tycoon's generosity", May 6), in which she complimented tycoon Lee Shau-kee for offering to donate farmland for developing homes for first-time buyers.
While I do not question that this is an act of generosity, it may well also be a business technique to generate more profits in the long run. A fair amount of Henderson's land reserves in the New Territories were bought at a low price. Since these areas are largely uninhabited and not accessible by public transport, they do not carry substantial value at the moment. By donating a small amount of uninhabited farmland to the government for building homes, it can incentivise the government to develop the infrastructure and transport links in the neighbourhood.
The value of neighbouring farmland owned by Henderson will then increase exponentially. As the saying goes, "To throw [out] a minnow to catch a whale".
One of the biggest issues on the mainland is air pollution.
Over the past few months, Beijing citizens have gone through extended periods when they did not see clear skies. This has put at risk the health of millions of citizens.
It is not so much the Land of the Dragon as the Land of the Smog.
The pollution problem has got worse as the country's economy has expanded.
It may be seen as the factory of the world, because of its massive manufacturing base, but at the same time these plants are generating huge amounts of industrial pollution with often illegal discharges of industrial waste.
Many mainland citizens do not appear to recognise how serious the problem has become.
Policymakers have focused on economic growth and, in the process, they have neglected the need for greater environmental protection.
At the beginning of the Hu Jintao /Wen Jiabao era, the central government appeared to recognise the importance of environmental protection.
However, more autonomy was granted to the provincial governments.
Many of the local governments started to ignore orders from Beijing and focused on economic development.
This meant that in many regions of the mainland, few regulations existed imposing environmental protection measures. Even where they were in place, there was confusion about them.
As a consequence, pollution in rural areas continues to get worse.
There are many new industrial complexes in rural areas that lead to the surrounding environment being damaged. The way in which they dispose of waste is inefficient.
I wish that more mainland citizens would recognise the importance of taking care of the environment and realise how vital it is for their future to take special care of their homeland.
I refer to the report ("I want my son to be safe, says ailing mother", April 23).
I feel sorry for 87-year-old Lee Lan and her son who suffers from Down's syndrome.
It is difficult to imagine how desperate you would feel if you were an elderly mother in poor health and you were having to look after a son with a mental disability. It appears she has nowhere to turn to for help, not even to the government.
She and her son have waited for more than a decade for a government-subsidised care home and they remain on the waiting list. This shows a lack of long-term planning on the part of the administration.
I am not saying officials have not tried to ease the shortage of care-home places but their efforts have clearly been inadequate.
The outcome to the story of this mother and her son would be far happier if officials acted with a sense of urgency. And I am sure there are many citizens in a similar situation. This is a deep-rooted problem that should not be neglected by the government.
Our ageing population requires the government to provide more free or affordable care homes for both the elderly and the disabled.
I refer to the letter from Paul Kumar ("Streets will remain unhygienic until role of officers is changed", May 2).
It is not just a matter of street cleanliness.
Some years ago, I boarded the last carriage of an MTR train in Central going to Tsuen Wan. Four MTR inspectors also boarded. The badges they all wore indicated they were being paid to check if any passengers were eating or drinking on the train.
Did they, the "gang of four", do the job that they were being paid to do? Absolutely not, at least not so far as the last carriage was concerned.
They just walked through, and yet at least three people sitting on the other side of the carriage were either eating or drinking. However, not a word from any member of the group of inspectors was uttered.
They were being paid to do a very simple job, to tell passengers that eating or drinking on MTR trains was not allowed, perhaps to issue notices for fines.
But, sadly, the job that these people have been given is almost impossible due to the fact that the MTR, at all of its stations, encourages all passengers to buy drinks and things to eat immediately prior to boarding trains.
How is it possible to ask people not to eat or drink on trains but at the same time almost beg them to buy some food or drink?