HSBC
Get more with myNEWS
A personalised news feed of stories that matter to you
Learn more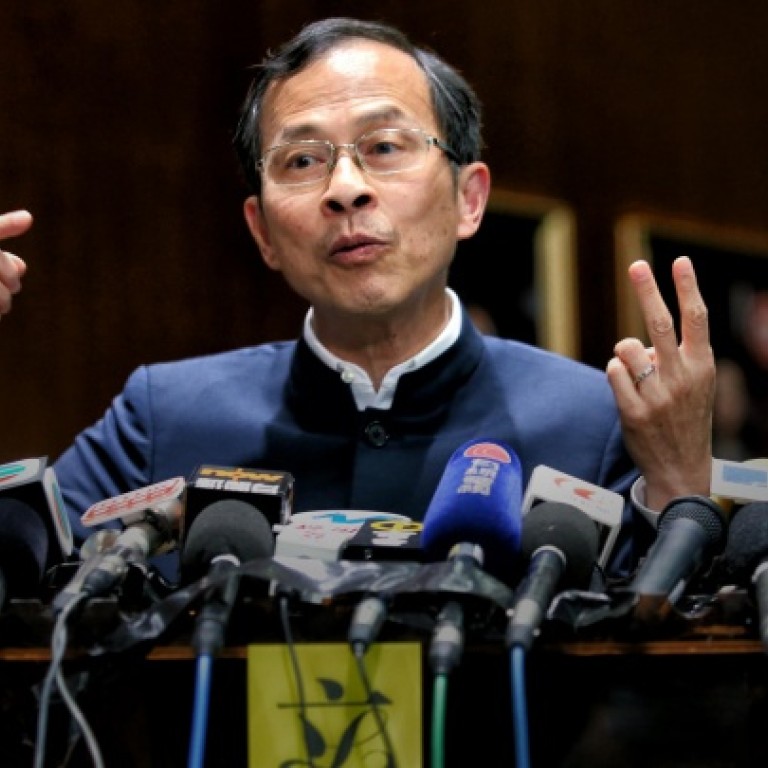 Letters to the Editor, May 16, 2013
I agree with the decision of Legislative Council president Jasper Tsang Yok-sing to end a filibuster on the budget bill.
Actually, I support the People Power lawmakers because they often help citizens on low incomes. But, I disagree with the filibustering tactics they employed in the Legco chamber as it made it difficult for the government to function and was delaying the passage of the budget bill.
They filed more than 700 amendments in an attempt to get the administration to include a [consultation on a] universal pension scheme or a HK$10,000 cash handout in the bill.
Their tactics to achieve those worthy aims, while well-intentioned, were too radical and they were stopping money allocated in the budget getting to people in need.
By ending the filibuster Mr Tsang took the right course of action and he sent a clear message to legislators that they would not meet their targets with such radical behaviour and would only give the Legislative Council a bad image.
Democratic Party chairwoman Emily Lau Wai-hing has said that Legco president Jasper Tsang Yok-sing "opened a very bad precedent" when he ruled that the filibustering to block the budget had to end ("Opinion divided as Legco chief cuts off filibuster", May 14).
The president has a duty to defend citizens' rights, but in this case he was clearly not acting independently. It would appear freedom of expression is ending earlier than July 1, 2047, when we become fully integrated with China.
It seems as if Tsang is reminding us that once we are fully part of China behaviour, such as filibustering will not be tolerated by the nation's senior leaders. Some might argue that Tsang was merely using the powers conferred on him, but could it not be argued that he over-exercised his powers?
Daniel Wettling complains of improperly attired Legislative Council members showing a lack of respect "to the public" ("Legco dress code must ban 'Che' T-shirts and colourful jackets", May 13).
Perhaps he is not aware that the man in the Che Guevara T-shirt is an elected representative of the people, who campaigned and was elected wearing these T-shirts?
Since the handover of Hong Kong in 1997, the level of English proficiency has been plummeting.
English, as an international language, is vital to the city if it is to maintain its international status.
If this phenomenon of declining English standards continues, it will pose a serious threat to the city's future.
This is a problem that has to be tackled and improvements are needed in Hong Kong's education system.
The current system employed in our schools features "language learning", compared to acquiring language. Students are forced to study English grammar and spelling and find themselves deluged with rules of grammar.
The fun part of learning language seems to have been forgotten in favour of notes and test papers.
You have a better chance of becoming proficient in a language if you also learn about its culture, for example, through books and films.
With a "language acquiring" system students are constantly exposed to the language through reading and listening. This way of teaching arouses their interest.
It broadens their horizons and through watching English-language films and reading books they develop a deeper understanding of international culture.
In this way they have a far greater chance of becoming proficient in the language.
It is now time to put an end to the spoon-feeding system that persists in Hong Kong's schools.
As I said, we need to have a good standard of English if we are to ensure that Hong Kong remains an international city.
I am appalled by HSBC's switch to UnionPay and its misinformation to customers about the ramifications of such a move ("HSBC ATM cards less usable overseas", May 12).
Online banking customers were informed that all ATM daily transaction limits would be reset to zero on March 1 and that for ATM cards to work abroad they would need to set the limits, and the period of those limits, themselves. Knowing I would be travelling in April, I did this.
However, according to HSBC, cards no longer work in many overseas ATMs. In your report an HSBC spokesman said, "For security reasons, we are allowed to link to only one pay system - we use UnionPay."
In fact, banks all over the world, previously including HSBC, use multiple networks such as Plus, Cirrus and others in addition to UnionPay.
The spokesman said that ATM card customers could withdraw cash from all HSBC ATMs in the world, except for Argentina, Brazil, France, Greece, Malta, New Zealand, Panama and Turkey. Also they could get money from ATMs covered by the UnionPay network. This is not the case.
ATM machines in Portugal use the UnionPay network and uniformly refuse HSBC ATM cards. There are no HSBC ATMs in Portugal as HSBC does not operate there.
Assurances from HSBC staff that my credit card would henceforth function as an ATM card also proved false.
There is no option, (as explained to me in person at HSBC's Pedder Street branch that there would be), to select the account from which to withdraw. Instead, every withdrawal was treated as a cash advance at a highly unfavourable exchange rate and with a hefty fee.
My inability while abroad to access my own money deposited with HSBC, despite assurances and even when using UnionPay, was extremely costly to me personally, professionally and financially.
In arbitrarily switching exclusively to UnionPay and giving misleading information about the results, HSBC has displayed its contempt for its retail customers.
Recently one2free set up a new smartphone app called Playground.
It allows users to play games and they have the opportunity to win prizes.
The company showed three adverts throughout April and early May to promote the product hoping to get more gamers interested.
I felt that the third advert was inappropriate.
I watched it on a terrestrial television channel and it ran for about 30 seconds. It showed a teenager sitting on a couch while his mother was doing household chores.
The mother told her son to get up and help her with the housework. Instead he took out his smartphone and tapped on the screen so he could access the Playground app.
The mother disappeared from the screen to be replaced by a feature from the app.
Essentially, the advert was encouraging teens to care more about the games on their smartphones than their duty to help their parents with regular household chores.
This is quite a serious issue in Hong Kong because so many youngsters are fixated by electronic games and sometimes neglect the needs of their families.
I help my parents do the chores and I think all teenagers should do the same.
In future, one2free should think more carefully about how to promote new products to young teenagers which encourage them to play more games online.
Parents should also teach their children to ensure that they use their smartphones responsibly.
I would like Hong Kong citizens to stop eating shark's fin dishes.
The methods used in shark fishing are cruel. After the sharks have been caught the fins are removed while they are alive and then they are often thrown back into the sea to a certain death.
As a consequence of these practices, some species of shark are now endangered.
Sharks are an important part of the marine eco-system and if large numbers are wiped out then it adversely affects the food chain.
Fish they would normally feed on will increase in numbers and this creates an imbalance in the food chain.
The Hong Kong government must introduce a campaign encouraging citizens not to eat shark's fin dishes in restaurants.
It should also try and get the same clear message across in schools.
This is not a food that we have to eat for our health. Any properties it has can be found in other foods.