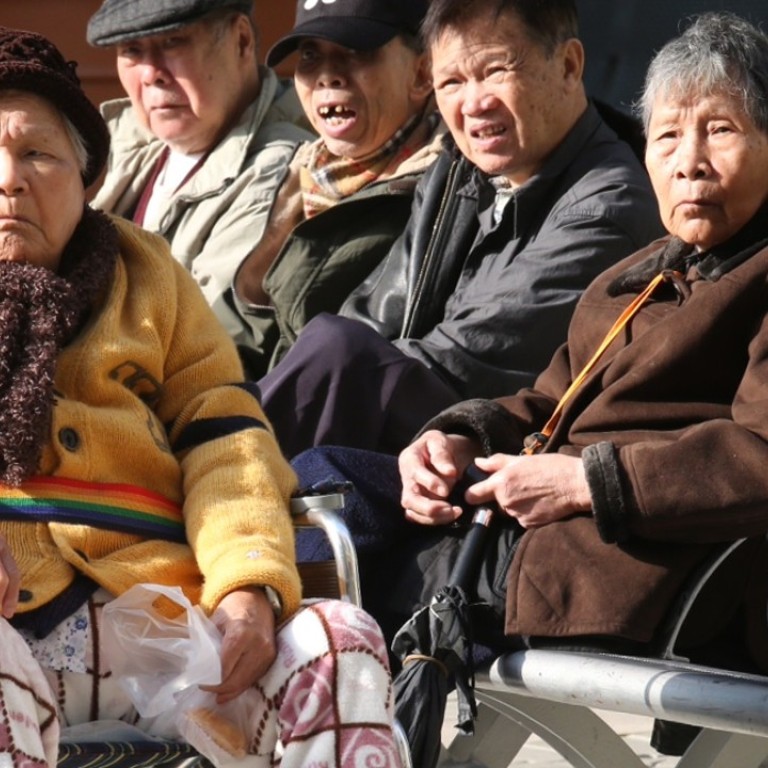 Letters to the Editor, May 21, 2017
Society failing elderly living in poverty
As an international financial centre, Hong Kong prides itself on providing a fair and just business environment. But it is drastically unequal in its distribution of resources and incomes.
It is most unfair that many in society thrive amid the city's economic growth while unfortunate residents living in poverty are left behind and not allowed to share even some of these economic benefits.
It just does not make any sense at all. Elderly persons with hardly any income are the worst sufferers of this imbalance.
In December, lawmaker ­Michael Tien Puk-sun, who is a member of the Commission on Poverty, proposed to raise the Old Age Living Allowance from HK$2,495 a month to HK$3,800.
But even this amount is not sufficient to live comfortably in a costly city like Hong Kong. It is a pity that no decision has been taken in this matter so far.
Now that we have a new chief executive-elect, Carrie Lam Cheung Yuet-ngor, I urge her to take action on this issue on a fast-track basis.
Given its huge budgetary surplus, it should not be difficult for the government to provide immediate relief to the needy elderly. Let them also share the prosperity of Hong Kong.
Dr B. K. Avasthi, Discovery Bay
All frontline officers should wear cameras
Having these devices can help in investigations if accusations are made against the officers. Each year we are seeing more protests on the streets of our city and sometimes they turn violent. Sometimes there are accusations that officers used excessive force, or even claims of brutality.
These cameras can record what really happened and the footage can be examined to see if the claims are true or not.
Accusations of police brutality harm relations between the public and the force. If camera footage shows such accusations to be groundless, this could hopefully lead to better relations and greater public faith in the police force.
By the same token, if an officer uses excessive force, that will also be captured on camera and the relative disciplinary action can be taken. It is all about finding out the truth and ensuring that innocent people are not turned into scapegoats.
Of course, it is not a perfect solution, as the lens will have a limited range, but it can still be helpful in case of allegations ­involving officers.
As for examining footage from these cameras when accusations have been made, that process should be overseen by the Independent Commission Against Corruption.
William Law, Sau Mau Ping
Government must pay heed to public views
Raising the statutory ­minimum wage does not alleviate poverty or increase people's living standards.
It might bring some relief, but that is temporary. And when it is raised, it increases employers' costs. They are forced to raise prices and this exacerbates inflation. Having this minimum wage will not solve the city's poverty problem.
The government should be drafting policies which get to the root of the problem.
It should be listening to the views of workers and responding to what they want. For example, many of them have been calling for a standard working hours law and obviously believe that this kind of legislation could make a difference to their lives.
The government has to be more responsive to the needs of ordinary citizens.
Wing Kwok, Tseung Kwan O
We would be in dark without press freedom
Having a free and independent press is vitally important for all of us, so that we are informed about what is happening here and elsewhere in the world.
It helps people to analyse whether the Hong Kong government has done wrong and they can respond in different ways, such as by joining a protest. Without press freedom, we would be kept in the dark .
Concerns have been raised about interference by the ­central government. This makes the defence of free speech in the city even more important, especially when so many citizens are ­joining the fight for democracy.
Toby Wong Yuet-ying, Kowloon Tong
Change habits to clean up air in Hong Kong
These high levels trouble us for a few days and then disperse, with changes in wind speeds or a fresh easterly airstream.
Natural events can cause pollution as can human activities, such as polluting factories and power plants using fossil fuels like coal. And of course, here in Hong Kong, with so many petrol-driven cars, we have to cope with high levels of roadside ­pollution.
Whenever the pollution is bad in Hong Kong, people talk about the risks to long-term health for those with respiratory and heart conditions.
Governments need to do more by developing renewable energy, such as solar and wind power, and aiming for these to replace fossil fuels. But citizens can also help. We should try to use public transport wherever possible. At home, we can use less electricity by switching off lights when we don't need them.
Jessie Leung Cheuk-yau, Yau Yat Chuen