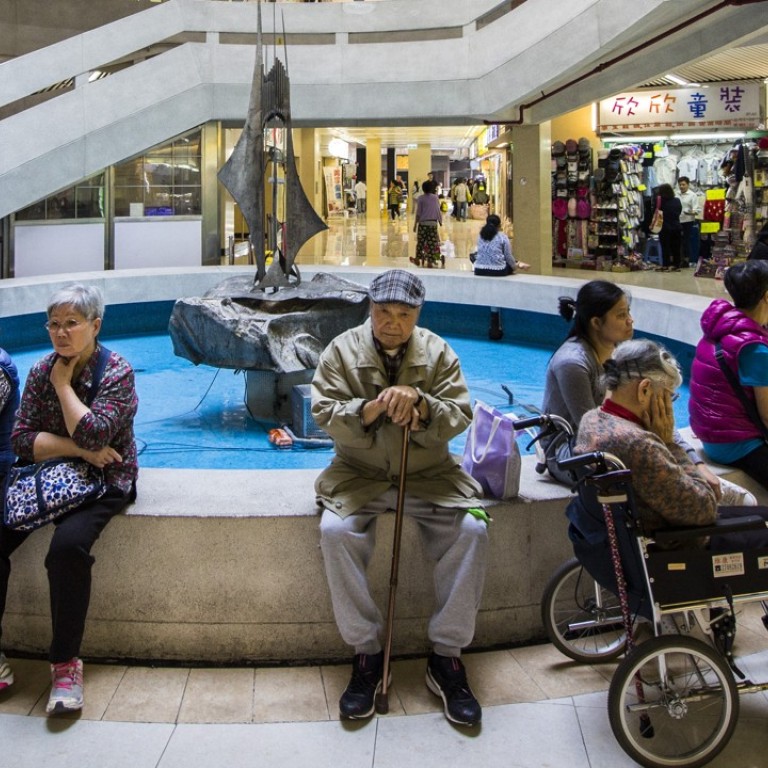 Letters to the Editor, May 31, 2017
Universal pension would cost too much
There has been a heated debate about whether the Hong Kong government should introduce a universal retirement protection scheme and it has not been ­possible to reach a consensus.
I would be opposed to the implementation of such a scheme. This would be a long-term commitment and it would eventually mean that working people would have to pay more taxes to finance it. And taxes will keep rising because of the city's ageing population. For young couples, this would be an additional reason why they might be reluctant to start a family, ­because of the high cost of ­raising a child here.
Hong Kong has never embraced welfarism. The government needs to ensure it continues to have a surplus in the years ahead. It must avoid taking on too great a financial burden, getting into serious debt and facing the same problems as Greece does now.
We should help the poor, but a universal pension is not the best way to do that. It would be a misallocation of resources. The government must focus on helping citizens living in ­poverty from all age groups.
Samuel Yu, Tseung Kwan O
Businesses will suffer from closed facilities
Consider, for example, the closure for an ­extended period of the ­barbecue pits, toilets and showers at Mui Wo main beach as a case in point.
Contestants at a dragonboat event in May had to make use of alternative sites far from the ­central beach area.
Closing all of the main ­facilities for so long will not ­encourage people to go on the water and will damage local ­businesses.
Christopher Ruane, Lantau
All problems at bridge must be addressed
I found it difficult to believe the allegations of "faking ­concrete test results" by "switching ­concrete samples during safety tests".
Whether or not these allegations turn out to be true, what matters is to ensure that there is no repeat of these incidents.
All construction companies and the government must surely recognise the importance of ­adhering to strict business ethics in Hong Kong when it comes to quality control.
The fact that the problem ­appears to have been missed a year ago shows a lack of oversight on the part of the government. More resources should be allocated for the testing of concrete and, if necessary, more ­experts and firms should be hired.
Some companies should consider if courses are needed in business ethics for staff so that all employees fully appreciate the importance of honesty and full disclosure in all aspects of their work. Companies have to understand that having mutual trust is essential in projects like this.
Maggie Leung Mei-chi, Kowloon Tong
Flexibility key for younger organ donors
There has been a lot of discussion about organ donations, such as the low donor rate and whether the age when people can donate should be lowered below 18.
I think the best way to deal with this issue would be to adopt a flexible approach.
If the age of consent was lowered, it should still be up to medical staff, after undertaking a thorough assessment, to decide if that person suitable, mentally and physically, to be a donor.
It should be made legally possible in Hong Kong for a person who is under 18 to be able to donate an organ and thereby save someone else's life. It does not make sense to establish rules and blindly follow them.
Cases like this should be judged on their merit by the relevant medical ­personnel. They should look at all the angles before deciding if a potential donor is suitable. Are they physically strong enough to cope with the surgery and the treatment and medication that will follow? Also, it will have to be asked if they have the ­necessary emotional maturity to go ahead with the surgery?
Willing donors should not be turned down just because they are not yet 18.
Michael Kwok Pui-hin, Yuen Long
Self-control is essential with smartphones
Smartphone addiction is a problem in Hong Kong, with more teenagers and adults having their own electronic devices.
While they are very convenient and help you keep in touch with family and friends and use all the other functions available, in the long term they can cause problems for users if they spend long periods on their phones.
They avoid face-to-face contact with other people and eventually develop an addiction to their smartphones.
I became aware I was spending too much time on my mobile. I wasted a lot of time and was not concentrating fully on my studies. I decided this kind of ­negative behaviour had to change.
Apart from the risk of addiction, there is also a greater chance of colliding with someone on the street because you are so intent on what you are ­doing on your smartphone. ­People who do this are prone to ­accidents on the street.
While these devices are a great help to all of us, we need to focus on the responsibilities ­involved in our daily lives. We all need to exercise self-control when it comes to using smartphones. We should control our phones, not allow them to ­control us.
Benson Wong Tat-hin, Tseung Kwan O