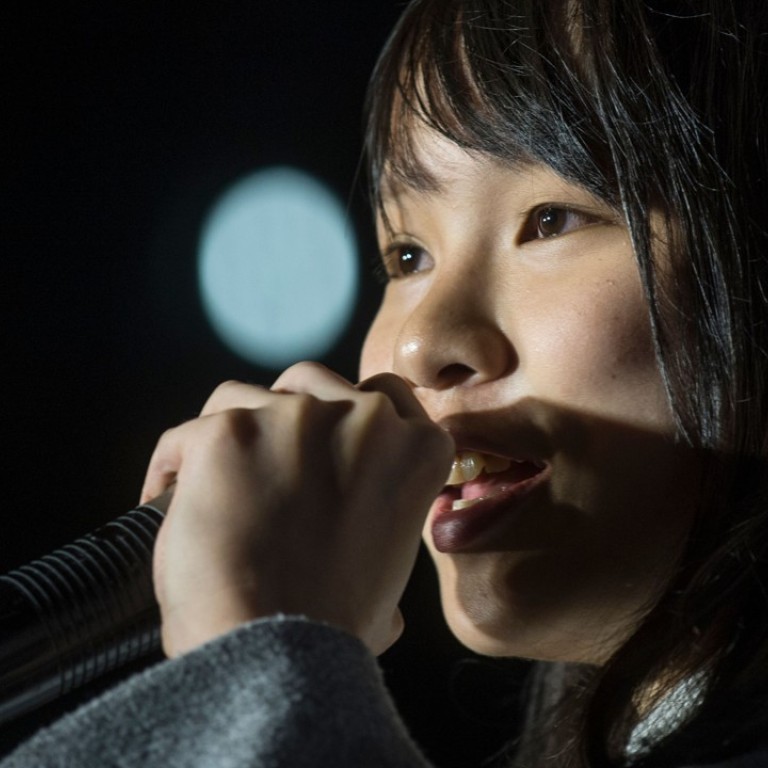 Letters to the Editor, February 10, 2018
'Two systems' does not mean two countries
If what Mr Nanik alleges is true, then those concerned have only brought it upon themselves with their years of treating two systems as two countries.
Everything that Beijing has ­required to be done is pursuant to the Basic Law. Just name the issue which he thinks was not, and I'll be happy to point him to the relevant article(s) of the Basic Law.
The SAR administration decided by itself to disqualify activist Agnes Chow Ting and that was because her platform goes against the Basic Law. All that the pan-democrat legislators have been doing is rendering the Legislative Council dysfunctional, which is not true to their duty.
Mr Nanik's, and for that matter Agnes Chow Ting's, main complaint is that Beijing is not giving us universal suffrage and therefore we lack what they call true democracy. But read Article 45 and they will see that, ultimately, upon nomination of the candidates by the nomination committee, the chief executive will be selected by universal suffrage.
It is only that this is not the direct election that they have in mind. The nomination committee is there to stay. If they don't like it, seek to change the law, but not to defy the law.
Peter Lok, Heng Fa Chuen
Listen to the people's voice on elections
I believe that banning Ms Chow was unfair to both the candidate and the people of Hong Kong. We citizens should have the right to vote for whom we think is the most suitable for the post. The disqualification is a serious blow to Hong Kong's autonomy and ­democratic aspirations.
After such an unfair judgment, people would have less confidence in political activities like elections and forums, and participate less in them.
As a Hong Kong youngster, I feel rather disheartened. From what I have learned in school, I know that Hong Kong has separation of powers, and the administration should not have greater power than the judiciary.
But what has happened was unexpected, as the right of people to be elected is now restricted ­because of their political platform and their different beliefs. This is unacceptable. The government should indeed listen to the voice of citizens and recognise what they really want.
Angela Ngai, Yuen Long
Buskers enjoy rewards of city freedoms
I am writing to express my feeling on the thriving busking culture in Hong Kong.
Busking is the act of performing in public places for gratuities. In many countries, the rewards are generally in the form of money but other gratuities, such as food, drink or gifts may be given.
Street performance is practised all over the world and dates back to antiquity.
It can be a way for up and coming musicians to reach new fans, earn some money, as well as help to build up their experience and confidence for performing before a live audience.
I believe two factors have contributed to the now thriving busking scene in Hong Kong. The first is money. The gratuities for street performers can sometimes be even higher than the minimum wage, making this form of earning more popular for young people.
Secondly, Hong Kong gives a lot of freedoms to its people. So if someone wants to share their kind of music and bring their message to the world, they are free to choose busking as a way to ­express themselves.
Benson Wong, Tseung Kwan O
Help children faced with parental abuse
In Hong Kong, we find many monster parents who scold, slap or even hit their children, not only at home but even in public areas. Toxic ­parental behaviour can be harmful to a child's mental development, as their childhood memories may be filled with pain, fear, and sadness over always being hurt by irresponsible parents.
Children need to be taught more about what constitutes abuse. Most child abuse cases go undetected because they are not reported by the child, as they do not really know their parents' acts are problematic. Teachers can educate and counsel children, so they understand better whether what they are facing is reasonable treatment or abuse.
The Hong Kong government can help by setting up more parent-child resource centres and counselling for parents prone to violence. Couples should also clearly consider the responsibilities parenthood brings before deciding on bringing a precious new life into the world.
Tiffany Kwok Kiu, Kwai Chung
Love all that is relevant in marriage
Whether it is a secular civil ceremony or conducted in a religious setting, such marriages only uphold our basic human right to choose whom to love and spend our life with.
Opponents say children born to or adopted by gay couples will have their right to be raised by a mother and a father undermined, but I do not agree. Love is what matters.
Also, I believe no government should have a role in regulating personal relationships.
Grace Chui, Sheung Shui