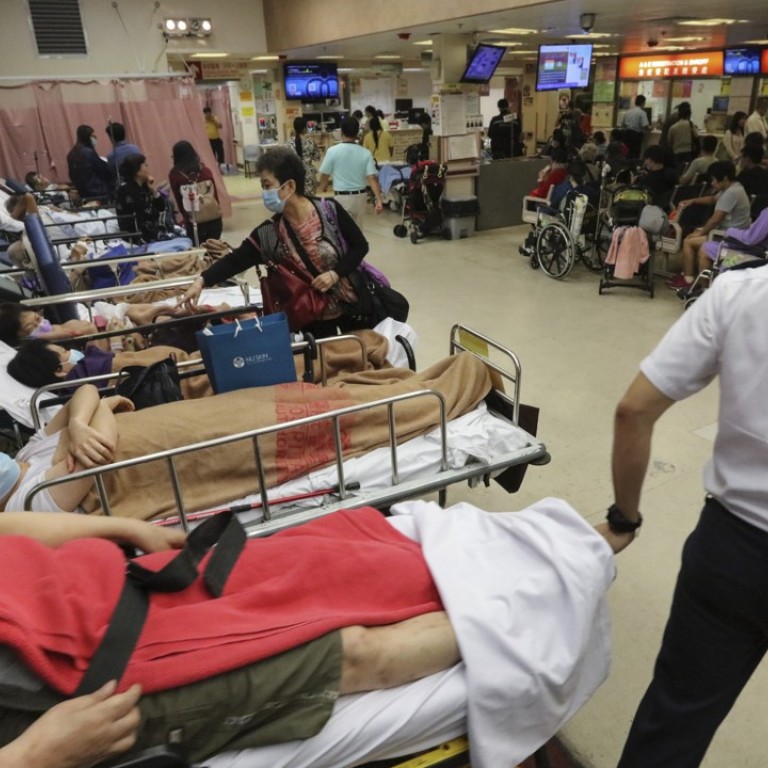 Letters to the Editor, February 15, 2018
Pay rise for hospital workers will not ease overcrowding
Increasing the allowance of care workers in public hospitals may not be a practical way to ease working conditions in the sector, because this does nothing to ease overcrowding.
Nurses and other health care workers will still have to work overtime, the only difference is they will be paid a little more. Such long and arduous working hours on a regular basis may badly affect the provision of services in public hospitals.
Especially in the flu season, and as the problem of an ageing population worsens, the demand and strain on public hospitals will undeniably increase. This will also raise the risk of drugs being wrongly administered and putting lives in danger.
In a bid to reduce the heavy workloads of nurses and medical staff in the long term, the government should be trying to boost their ranks – by promoting health care careers in secondary schools.
The relevant departments could hold some talks to deepen students' understanding of what nurses and other medical staff do. This might convince students that careers in the health service can be rewarding, and inspire them to study related subjects at university.
Also, as Hong Kong residents, we should have a clear understanding of healthy habits, maintain good hygiene when sick, and take the designated vaccines to protect against disease. This will all go towards easing the work pressure on doctors and nurses.
Vanessa Wong, Kwai Chung
What do Hongkongers seek from learning?
So what is the motivation for learning among Hongkongers?
Being inspired by a teacher and a friend of mine, I started to think about the reason we learn. Some go to school to get 5** in the Diploma of Secondary Education, while others just enjoy the learning process and interacting with their peers.
It is clear that learning is far different from studying. People learn so they can think independently, and can stand out in the crowd. Without this, our society cannot improve.
Ironically, Hong Kong is at this stage. People talk, but they don't speak. People hear, but they don't listen. Most importantly, people study, but they don't learn.
You could blame this on an education system that focuses on results, but is that really what stops you from learning? I learn because I want to know more and think critically, not because it is some kind of responsibility. How about you?
Mary Ng, Mei Foo
Rowdy Baptist students a reflection of society

The recent behaviour displayed by protesting students at Baptist University, including the use of foul language, has been widely criticised.
While the students themselves have been asking the public to focus on what they say is the unfair graduation criterion of having to first pass a Mandarin language test, the majority of the public beg to differ.
Indeed, the disrespectful acts of the students should not be overshadowed by the issue of the controversial Mandarin exemption test. No one has any excuse to disrespect a fellow human being, let alone university students receiving a high level of education. Insults and foul language should never be used.
UNIVERSITY STUDENTS SPARK CONTROVERSY
Undeniably, such acts should be condemned, but the students should not bear sole responsibility for this act. In fact, society has taught youngsters to become violent when trying to solve problems.
For instance, the "fishball riots" two years ago in Mong Kok had protesting adults acting impulsively and using violence against police. Such bad role models persuade the younger generation that, if they feel they can't get what they want through peaceful and gentle means, they can resort to using force. And this is what we are seeing in today's Hong Kong.
Thus, while pointing the finger at young people for unruly acts, perhaps adults should also reflect on their own manners.
Cindy Chong, Tai Kok Tsui
Hong Kong should promote zero-emissions public transport
Did Financial Secretary Paul Chan Mo-po, who chairs a steering committee on the promotion of electric vehicles, consult EV makers before his budget announcement to slash tax waivers last year?
In my opinion, if the government wants to popularise electric cars, it needs to expand and enhance the local charging station network.
Besides this, the Hong Kong government should educate the public about the non-polluting benefits of electric cars, and the positives for combating global warming.
However, if the government really wants to promote environmental awareness, electric cars won't solve the problem of carbon emissions and climate change.
The real challenge in reducing emissions is large fossil-fuelled vehicles such as buses, minibuses, trucks and taxis. The government should be more dedicated to promoting zero-emission public transport, rather than electric personal vehicles.
The government should not just subsidise people but spend money to solve the problem. The government should take the lead in ensuring zero-emission transport.
Wong Lok Yee, Sai Kung