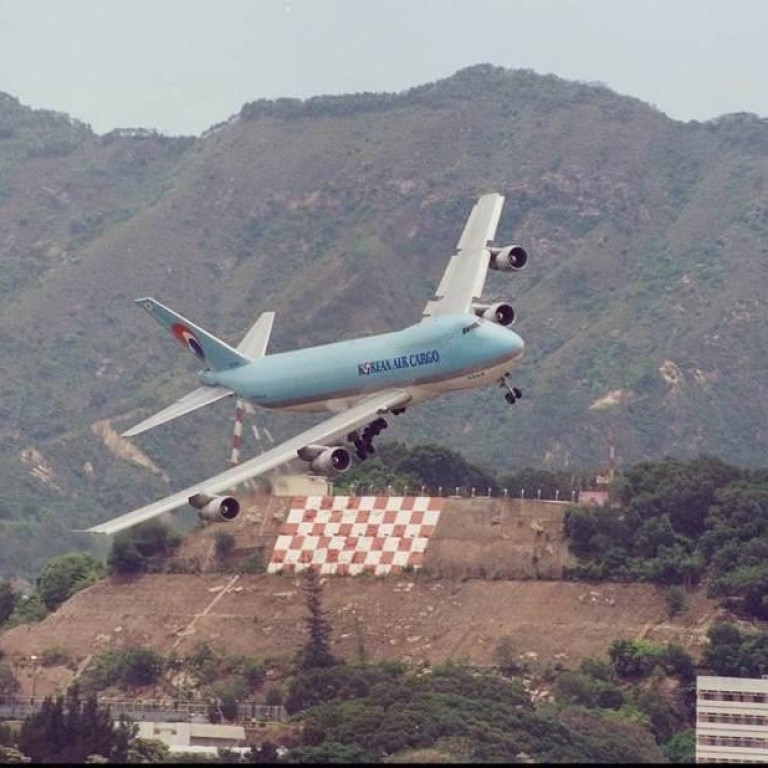 Letters
Restore famous Hong Kong 'checkerboard' as a memorial to old Kai Tak airport
The checkerboard was a navigational aid painted onto the side of a hill to help pilots land using the spectacular Runway 13 approach. Restoration would be a fitting memorial to Kai Tak
The
article
, "Retrospective pays tribute to the 'golden years' of Kai Tak" (April 10), made most interesting reading.
The display at the Mikiki shopping centre is as much a tribute to the photographer's skills as it is to the memory of Kai Tak Airport, and the thousands, perhaps millions of aircraft that landed there.
Birdy Chu, the photographer, has captured some exceptionally good images of aircraft, usually on the final approach to Kai Tak. This was the Runway 13 approach, made after the essential turn at the "checkerboard", to line up for the final descent to the runway.
The checkerboard was a painted pattern of colour blocks on the site of a hill at Lok Fu Park. Navigational aids got pilots to a position above Waterloo Road, where they were required to be "visual" with the end of the runway. The "checkerboard" would be straight ahead of them at that time, and they would commence a turn to the right and descend for their landing. Passengers would often clap and cheer as the wheels hit the ground.
You quote Birdy Chu as saying he landed there six times, and he noted "the checkerboard painted in white and orange on the side of a hill as a guide".
From 1968 until the closure of Kai Tak, I had the pleasure of flying past the checkerboard about 200 times, usually in the rear of a Royal Hong Kong Auxiliary Air Force plane. The view of the checkerboard would never fail to impress, which is why I have commented several times through your columns that it should be repaired and repainted, after clearing the scrub that now obstructs it from view. There was some support from readers, but no action.
So, another attempt, if I may, to have this unique antiquity restored to its former glory. It would create a most visible memorial to Kai Tak Airport, and the thousands of aircraft that landed on the Runway 13 landing approach.
Gordon Andreassend, Hong Kong Historical Aircraft Association