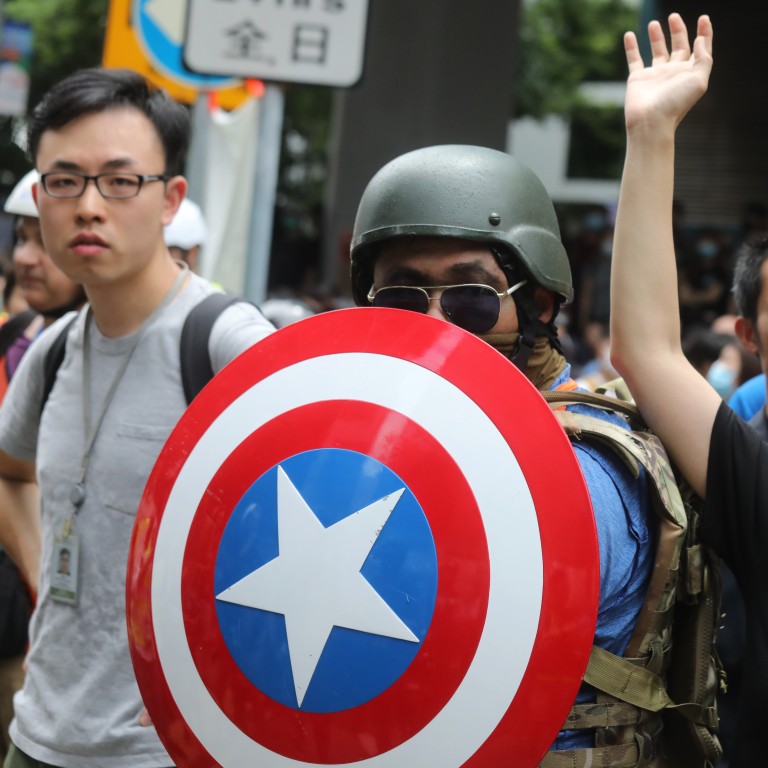 Letters
Hong Kong protesters are far from superheroes despite how some media and politicians present them
Belief in a liberal, open and tolerant society has long been a cherished world ideal.
However, ever since Francis Fukuyama declared "
the end of history
" in 1989, we have witnessed the deterioration of the liberal order, the rise of
populism
and great power politics, followed by trade wars.
We are still digesting these global instabilities. Compared with many places in the world, including the great cities of the West, Hong Kong remains a rich and prosperous place. However, Hong Kong's Achilles' heel is its
identity crisis
after 150 years of British colonial rule. It seems that a superiority complex has taken hold of some of its young people, making them vulnerable to being incited by radical ideas.
Taking advantage of an open and tolerant society, they have spent the summer creating an alternative reality on social media, playing superheroes on the street, flying foreign flags, carrying Captain America shields and wearing Batman-inspired black clothing. Hiding behind
face masks
and wielding umbrellas, they throw bricks at police, spray graffiti,
vandalise
government buildings and
disrupt
public transport.
This is not a fight for Hong Kong's future. It is misguided anger turned against its own people.
It is irresponsible for some sections of the media to cheer on the protesters and for some politicians to use the protests to pursue their vested interests. This political theatre in the name of democracy has brought chaos, tears and hopelessness to our city.
I hope that the media will play a responsible role in calming the public and giving a voice to the silent and frustrated majority. Meanwhile, we have to overcome the temptation of a blame game and exercise caution in dealing with ill-intentioned social media incitement. To re-establish public order and protect ordinary people's livelihoods, we must look beyond political dogma and make informed choices.
Jing Lee, Central  
Thank you reporters, for the risks you take 
I am writing to express my gratitude and respect for Hong Kong's reporters.
Since June, there have been a number of protests against the extradition law. Reporters have always been at the front line, putting themselves in danger to record the protests. Thanks to these reporters, not only Hongkongers at home but also the protesters have updated information on developments at different sites around the city.
However, reporters are increasingly coming under threat. The police seems to regard them as stumbling blocks to dispersing the crowd. Showing their press identity card no longer protects them. Instead, they are also subjected to pepper spray and tear gas.
Freedom of the press is guaranteed by the Basic Law. The police's attitude to reporters raises concern about the future of press freedom in Hong Kong.
Iris Leung, Tseung Kwan O