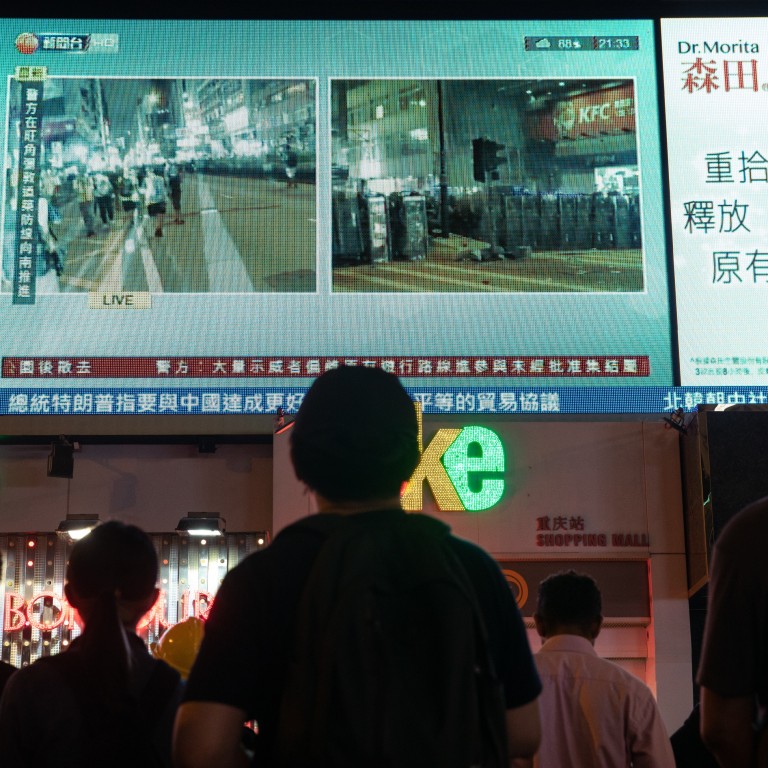 Letters
Lack of live news on Hong Kong protests in English keeps many residents out of the loop
To my understanding, Hong Kong has two official languages: English and Chinese. In the British colonial period, Chinese became an official language only in 1974, so non-English speakers could represent themselves in court without having to rely on a translator.
The Basic Law stipulates that, in addition to Chinese, English may be used as an official language by the judiciary, legislative authorities and executive authorities.
But since 1997, the language of choice has been predominantly Chinese. According to academics at universities, as well people in the
business sector
, proficiency in English in our so-called world city has declined.
Hong Kong continues to describe itself as an international city. It is ironic that during these weeks of crisis, live television news coverage of the
protests
is only in Chinese. Even the ticker tape running across the screen is in Chinese, not English.
This effectively excludes thousands of residents, who consider themselves Hongkongers, as well as visitors and members of the international community who work and live here. Since the local live news reports do not serve them, they have to turn to international channels, such as the BBC and Channel News Asia, for up-to-date news in English. We all care about Hong Kong as much as any Chinese speaker. This is our home and we are just as concerned about our city.
N. Fung, Repulse Bay
Internet-enabled youth have taken Hong Kong by storm
Rachel Yeo's informative
article
("How the city's Reddit-like forum LIHKG has become the leading platform for organising demonstrations", August 3) clearly explains how a few tens of thousands on a forum with technological infrastructure provided by an American cloud-computing service are able to hold us to ransom. That the young shall inherit the earth is not lost on the few who benefit from the work of their elders, who can now be cast aside.
These 60 years past I have seen Hong Kong transform itself from a shanty town of hillsides and pavements into a global city. How easy, with the power of the internet, to throw this into the harbour, in the name of politics, a game that had little to do with our success anyway.
Doubts and fears are being exploited, mistakes have been made, there is much to answer for and the truth may never fully emerge.
In the meantime, however, your article helps clear things up. The case for a full inquiry into all aspects of the present situation has never been stronger.
James Blake, Ap Lei Chau