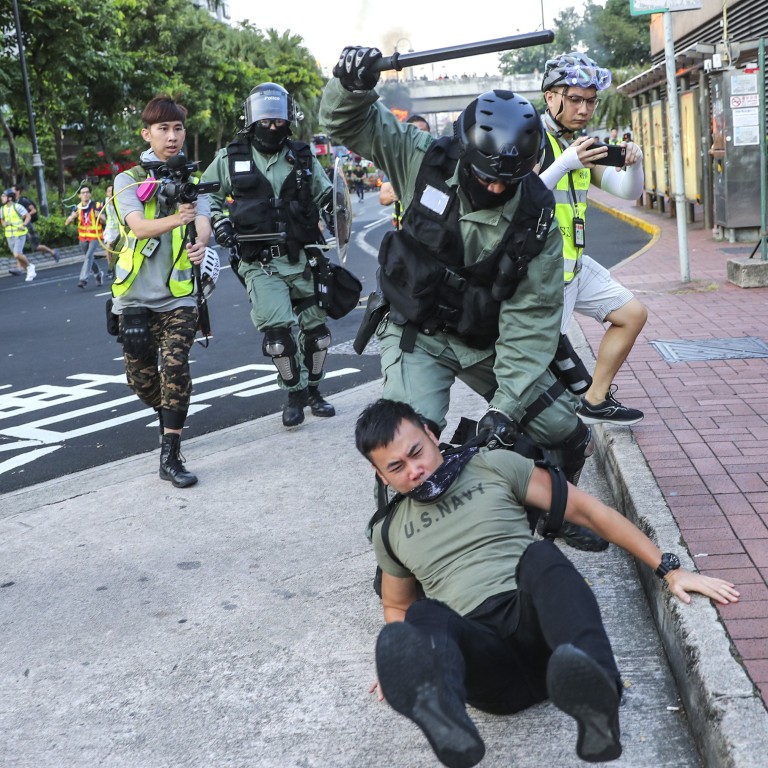 Letters

|
When Hong Kong police dehumanise protesters as 'cockroaches' and 'objects', the results can only be brutal
In August, Hong Kong's Junior Police Officers' Association released an official statement denouncing protesters as "
cockroaches
". Their antagonistic sentiment towards protesters alarmed me at the time. But earlier this week, I was stunned by the rhetoric of the
police spokesman
who described a man whose limbs had been bound as a "yellow object" ("Video showing police kicking man 'doctored'", September 24). It is evident that dehumanisation narratives have affected their judgment.
Since July, with the help of Beijing's propaganda machine on WeChat and Weibo, Communist Party supporters both on the mainland and in Hong Kong have been using the term "cockroaches" and other derogatory words to refer to Hong Kong protesters.
What they do not realise (or choose not to) is that the dehumanisation is not only deepening the hatred and misunderstanding between mainlanders and Hongkongers, but also inciting the police to use physical and verbal violence against civilians.
The Hong Kong Police Force is the sole law enforcement agency in the city, if we rule out the Hong Kong-based People's Liberation Army garrison. Officers are legally equipped with
lethal weapons
. The fact that they characterise protesters as inanimate objects, or even pests, therefore terrifies me.
How can we trust them to safeguard our lives and property regardless of political differences, when on numerous occasions police officers have been reported, and recorded, to be extrajudicially abusing or assaulting protesters and detainees? The Hong Kong police should be reminded that law enforcement does not mean you can justify the use of
excessive force
against protesters.
No one from either side can be exempted from the law. Yet, the worrying trend here is that dehumanisation, together with the lack of accountability with regard to physical violence, will push the Hong Kong police towards a collapse of discipline. This would be a nightmare for us all.
Samuel Lo, Sai Ying Pun
Protesters are the ones taking away public freedoms
Ordinary Hongkongers are under siege from people like Demosisto leader Joshua Wong Chi-fung and his accomplices, who are spreading fear and hatred throughout the city. Hong Kong has enjoyed unparalleled freedom and economic development throughout its history, including after the return of sovereignty to China 22 years ago. Only in June this year, when protesters decided to unleash violence on the city, did the ordinary citizens
lose
their freedom.
Hongkongers often cannot go to work because "pro-democracy activists" blindly destroy and disrupt the transit systems, and physically harm anyone who dares to intervene.
People have been prevented from travelling because these "pro-democracy activists"
disrupt and destroy
airport operations and facilities, spreading fear by resorting to physical force against locals and tourists alike.
Enjoying a night out on the weekend has become an impossibility, because these "
peaceful protesters
" block the streets, destroy train stations, set fires across town and beat up those who dare to disagree with their message.
Lee Yee Lin, Toronto, Canada