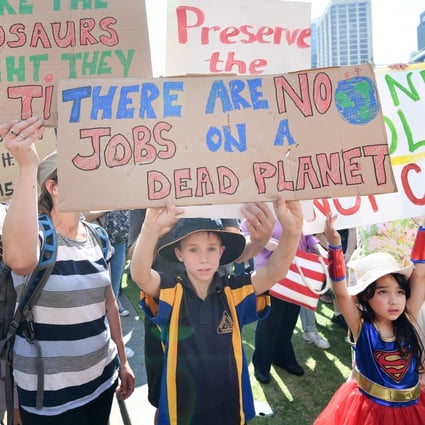 Young people participate in the Global Strike 4 Climate rally in Brisbane, Australia, on September 20. Following decades of sound science and evidence of rapid ecological deterioration, the world's youth is now also making its voice heard. Photo: EPA-EFE
Letters |

For climate change solutions: go beyond carbon and back to nature
The Earth's biodiversity and climate costs have been devastating and the risks will accelerate in the coming decades, if proper action is not taken
Nature-based climate solutions provide a unique opportunity to achieve connected solutions for biodiversity loss, climate change and sustainable development
Young people participate in the Global Strike 4 Climate rally in Brisbane, Australia, on September 20. Following decades of sound science and evidence of rapid ecological deterioration, the world's youth is now also making its voice heard. Photo: EPA-EFE
The UN Climate Action Summit held in New York this week was the first in a year-long series of global biodiversity and climate change gatherings. Much talk, massive media and some expressions of heightened ambition and new initiatives.
There's been a flurry of international activity over the past decades, yet our biodiversity and climate have continued to suffer.
We have lost 60 per cent of our wildlife over the past 40 years, according to the World Wide Fund for Nature, and the UN says 1 million species are at
Global gatherings are important, but their limits are becoming increasingly evident. The growing frequency of events since the catalytic UN Conference on the Human Environment in 1972, stand in stark contrast to the results observed on the ground.
Following decades of sound science and evidence of rapid ecological deterioration,
Climate change has emerged as a priority on the global agenda and nature-based climate solutions, like restoring and protecting forests, are now attracting political interest, including from
Over the coming year, it is imperative for us to achieve real progress in addressing biodiversity loss, climate change and sustainable development in a coherent manner, by converging our responses through advancing ambitious, connected and well-resourced field-based initiatives.
Nature-based climate solutions provide a unique opportunity to achieve connected solutions for these interrelated issues – if this is done the right way.
We've already seen proof of how this works from well-managed parks in Africa, from Zakouma in Chad to Akagera in Rwanda – wild places that have been restored and protected through innovative public-private partnerships. They are generating measurable long-term benefits for biodiversity, climate and people, with better security, more wildlife and enhancing livelihoods, showing how parks can be leveraged to support global goals.
Tackling multiple challenges in a coherent manner requires us to seriously scale up investment in nature-based climate solutions that benefit wildlife and local people.
If we act now, the current trends can be turned around. But to succeed, upcoming global gatherings must look beyond carbon and connect more directly to what happens in the field.
John E. Scanlon, special envoy for African Parks, secretary-general of CITES 2010-2018