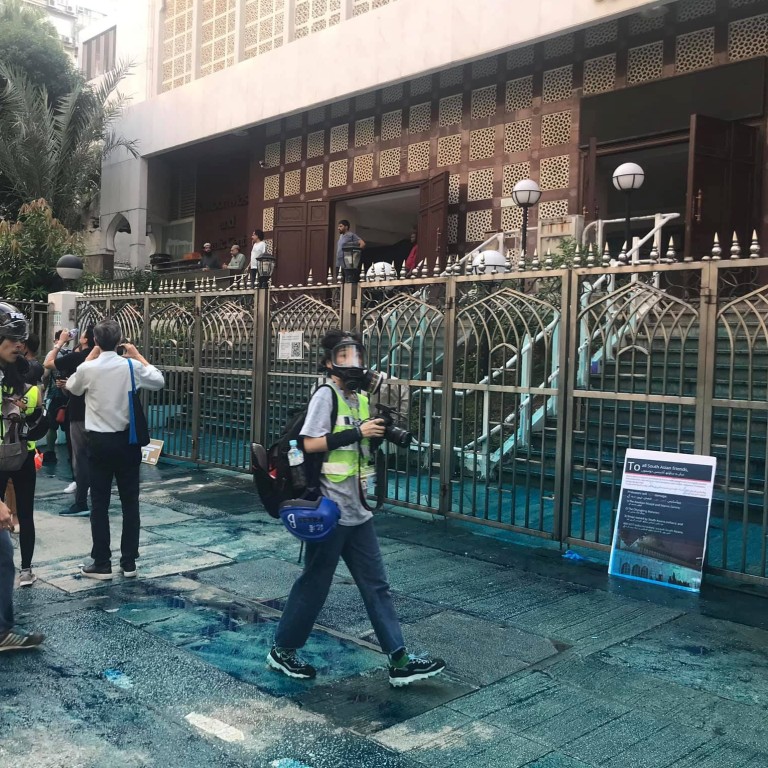 Letters
Kowloon Mosque water cannon incident shows why an inquiry into Hong Kong police handling of protests is needed
Despite the government's apology, the fact remains that police officers crossed the line and disrespected Hongkongers' religious freedoms. They should be held to account
On Sunday, a Hong Kong police water cannon hit the
Kowloon Mosque
and Islamic Centre on Nathan Road, spraying blue dye on both the mosque entrance as well as people outside. Mohan Chugani, a former president of the Indian Association of Hong Kong, some members of Unison, pro-democracy lawmaker Jeremy Tam Man-ho and several other people were hurt and needed medical attention. We extend our best regards to those who stood outside to protect the mosque, and condemn the police use of water cannon on the mosque.
Videos from media sources show that there were only a few people outside the mosque at the time. It was totally unnecessary to deploy the water cannon. However, the police officers did not appear to consider the circumstances or the dignity of the place of religious worship.
Respect for religion and places of worship is a fundamental civic virtue and common sense in a civilised society. But on June 12, during clashes with protesters, one officer is
alleged
to have told a pastor: "Ask your Jesus to come down and see us."
The UN Declaration of Human Rights and the UN International Covenant on Civil and Political Rights (CCPR) protect the right to freedom of thought, conscience and religion (Article 18). Furthermore, according to the
CCPR General Comment No 22
on Article 18, "the concept of worship extends to ritual and ceremonial acts giving direct expression to belief, as well as various practices integral to such acts, including the building of places of worship" (paragraph 4).
To protect the integrity of places of religious worship is an essential part of protecting the right to freedom of religion. The Hong Kong
Basic Law
as well as
Bill of Rights Ordinance
guarantee the
right to freedom of religion in accordance with international standards.
The chief executive and Hong Kong police commissioner
visited
Kowloon Mosque on Monday morning and met the chief imam. It is known that the mosque authorities accepted their apology.
Yet, Mr Chugani said that, while he accepted the apology in principle, the police should be criticised for crossing their boundaries. What he observed was that the water cannon intended to stop in front of the mosque and shoot the jet of blue water. This demonstrates the consequences of the absence of checks and balances against law enforcement: respect for religion and minorities is undermined by excessive use of police force.
Religious diversity and harmony are the basis of a civilised and free society. We regret the Hong Kong police's lack of common sense and insensitivity to religion. An independent commission of inquiry into the policing of the protests as well as accountability for law enforcement in Hong Kong is of paramount importance now.
Eric Lai, vice-convenor, Civil Human Rights Front