Letters

|
How Hong Kong can make the best of the Greater Bay Area
The Greater Bay Area offers Hong Kong a valuable opportunity to consolidate its position as a strategic bridge between the mainland and the West, provided integration avoids concessions that limit the city's free exchanges with foreign markets
Home to large number of the world's Fortune 500 companies and a gross domestic product roughly equivalent to that of South Korea, the
Greater Bay Area
(GBA) has all the elements required to develop into an international innovation and technology hub.
The initiative is already well under way with the completion of several major infrastructure projects. These act as an economic multiplier by improving mobility and allowing better access to talent, jobs and markets.
While Hong Kong accounted for 18 per cent of China's GDP in 1997, today it comprises less than 3 per cent. The GBA offers Hong Kong a valuable opportunity to consolidate its position as a strategic bridge between the mainland and the West.
Moreover, Hong Kong plays an integral role in the success of the GBA, acting as an international financial, transport and trade centre. Hong Kong's robust initial public offering pipeline, language advantages and
common law system
will continue to be attractive to foreign investors.
Hong Kong can leverage its expertise to help realise the GBA's growth potential. It can also benefit from aligning with Shenzhen through an innovation ecosystem, with Hong Kong universities fostering research and development that is tested in Shenzhen.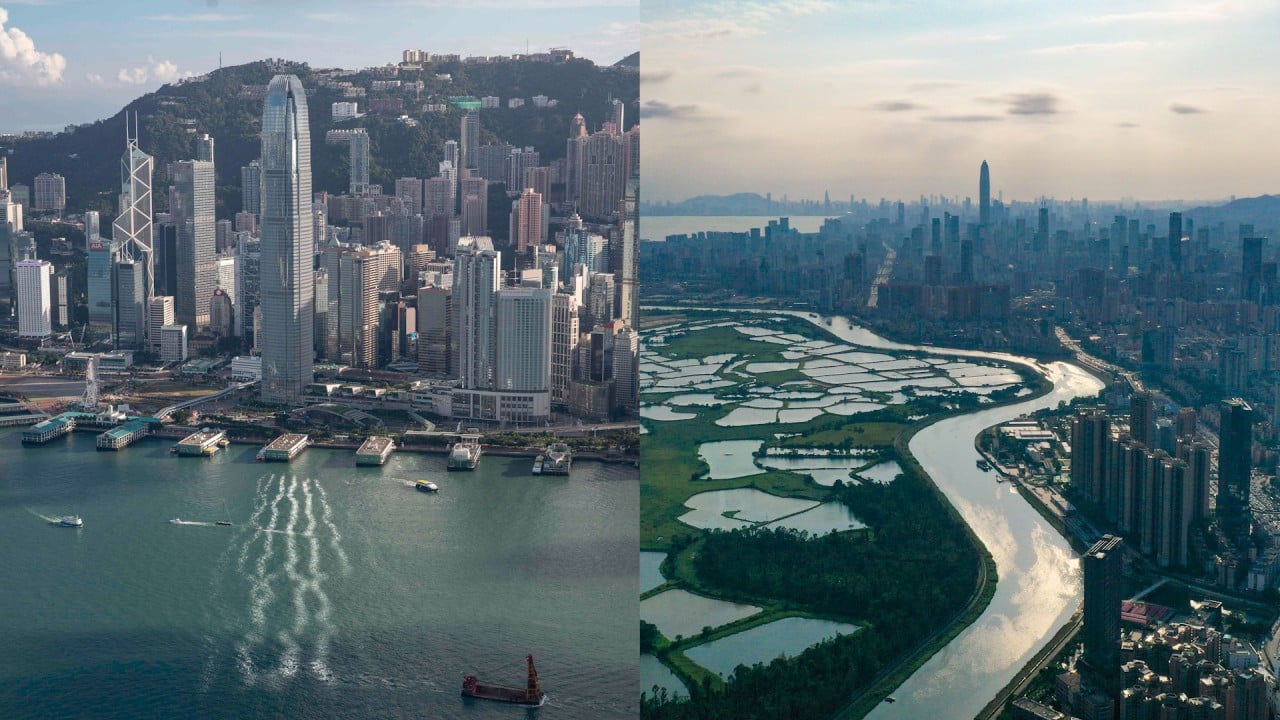 05:25
Hong Kong's competitive edge questioned as Xi says Shenzhen is engine of China's Greater Bay Area
Hong Kong's competitive edge questioned as Xi says Shenzhen is engine of China's Greater Bay Area
The "
insurance connect
" scheme, which will allow Hong Kong insurers to provide services in the GBA, is another measure the city should embrace, given that 22 million households in the GBA are projected to need insurance plans in the next decade. A survey of business executives found 89 per cent of mainland-based GBA firms and 78 per cent of Hong Kong-based firms expect economic growth in the area to be faster than the rest of the country.
Challenges to the project remain, including finding a way around incompatible administrative and value systems, lack of channels for R&D funding and paucity of intellectual property regulations. However, the mainland is willing to work on solving these issues. A 2018 directive allowed higher education and research institutions in Hong Kong to apply for central government funding under the Central Finance Science and Technology Plans programme.
Hong Kong firms still have concerns about level playing fields, incompatible tax regimes and capital controls. Hong Kong should be careful about regulatory integration, making sure to avoid concessions that limit its ability to have free exchanges with foreign markets.
Integration with the mainland could work in Hong Kong's favour if this ability is preserved. In the words of Albert Wong, CEO of Hong Kong Science and Technology Parks, "Hong Kong can't afford to miss this boat."
Saamiya Laroia, New Delhi