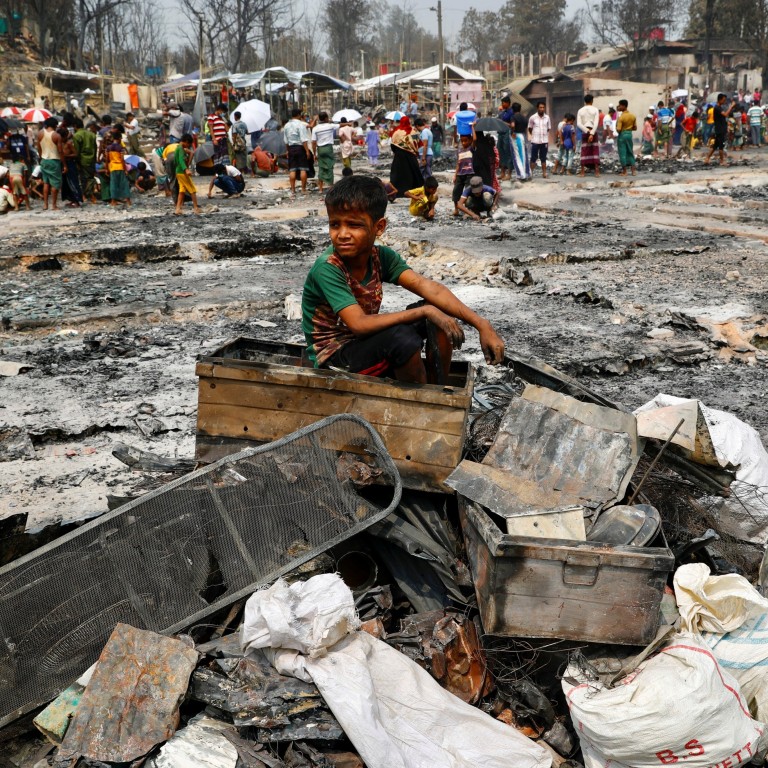 Letters
Asia is failing stateless Rohingya children suffering abuse, discrimination and worse
The Malaysian government's portrayal of Rohingya refugees as a national security threat is just the latest chapter in a long story of abuse
February's military coup has added to an already precarious situation for children in Myanmar, and governments must push the country to halt abuse of the Rohingya
This week, human rights groups condemned a poster by Malaysia's immigration department that portrayed
Rohingya refugees
as a national security threat after the government announced that it would be detaining undocumented refugees.
It is a story that is familiar to hundreds of thousands of Rohingya across Asia who are forced to live on the fringes of society, demonised or treated as criminals and afraid to leave their homes in case they are detained and deported as "illegal immigrants".  
A new report by Save the Children reveals that there are at least 700,000 Rohingya children across the continent, the majority of whom live outside their home country, Myanmar. Most notable are the half a million children living in refugee camps in Bangladesh, where hundreds of thousands of Rohingya
fled
to escape violence by the Myanmar military in 2017.  
This was just the latest chapter in a long story of abuse – for decades, large numbers of Rohingya have sought refuge in other Asian countries, including Thailand,
Malaysia and Indonesia
. All of these children have one thing in common: wherever they are and wherever they go, they live on the margins, at constant risk of arrest, abuse and exploitation.
Some are so desperate that they risk deadly sea journeys to build a better life elsewhere. At least 2,400 Rohingya people took to boats last year, according to the UN Refugee Agency. At least 200 are thought to have
died at sea
, while more than a third of the survivors were children.
Tragically, even those who make it to neighbouring countries don't always find a safe haven. The Rohingya are not recognised as citizens in Myanmar. None of the other four countries in our report grant citizenship to Rohingya children born on their shores, and neither are they officially recognised as refugees. As a result, they face injustice at every turn and are often denied their most basic rights to quality education and health care. 
This cannot continue. The world can – and must – do more to help Rohingya children.
The military coup
in Myanmar in February has added to an already precarious situation for children in the country. Governments everywhere – in Asia and beyond – must push Myanmar to end the causes of the abuse against Rohingya.   
Governments in the region also have the responsibility to guarantee the rights, safety, dignity, and humanity of Rohingya children living within their borders to ensure that they are able to survive and thrive. 
Hassan Noor, Asia regional director, Save the Children