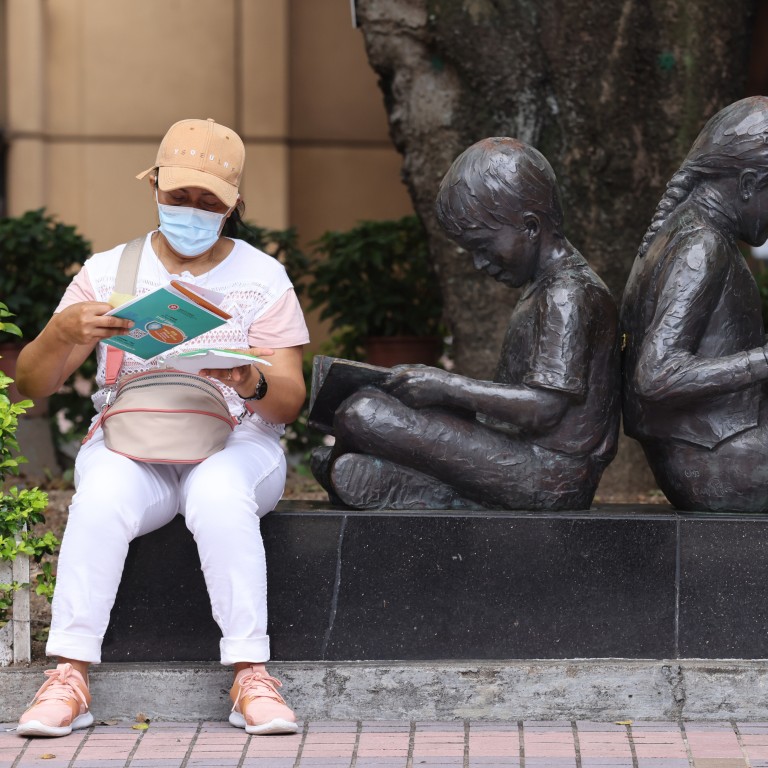 Letters

|
Tie Covid vaccines to Hong Kong voucher scheme and nightlife
The unvaccinated – except for the underage or those with special circumstances – should not be allowed to use any bars, restaurants or public facilities
The government should also consider only giving shopping vouchers to vaccinated residents and setting a deadline for ending free vaccinations
With the vaccination rates in Hong Kong still
so low
and the government so worried about another wave of Covid-19, I don't understand why they are not using more drastic measures to deal with the situation.
I have heard all sorts of excuses for not getting vaccinated, from "I clean my hands and wear face masks, so I don't need the vaccines" to "I am not planning to travel" or "I don't trust the government".
I just want to ask why Hongkongers must constantly shoot themselves in the foot. Without us being able to travel, business will not able to return to normal. There will be no tourists coming to Hong Kong and, with the retail sector and restaurants already dying, this will lead to further job losses.
I would suggest that anyone who has yet to be vaccinated – except for those who are too young or have special circumstances – not be allowed to use any public facilities such as parks, beaches and public libraries as well as any
bars and restaurants
.
For a start, this could change their mind about not getting vaccinated. It could also provide a safe space for the rest of us who have taken the vaccine, by guaranteeing these places will not cause any further spread of Covid-19 and allow these establishments to fully reopen for their normal hours of operation.
Another question is why the government is handing out
shopping vouchers
without any conditions. If everyone gets the vouchers and decides to go out and spend them, wouldn't that potentially cause further outbreaks?
Why can't it simply put a condition that you are only eligible for the vouchers if you take the vaccines? Also, if the government gives people a deadline to take the vaccines free of charge and then make it cost HK$1,000 (US$130) after the deadline, I bet there would be a massive rush for the vaccines.
Andrew Pang, Jardine's Lookout
Why have helpers been left out of scheme?
I was surprised to see in your report on Financial Secretary Paul Chan Mo-po's announcement of the roll-out of the voucher scheme that foreign domestic workers will not be eligible ("Hong Kong's first HK$5,000 vouchers to be delivered from August 1, with residents given at least five months to spend them",
June 18
).
What possible grounds does the government have for
excluding domestic workers
from a scheme intended to boost local spending? As a group they have suffered more than most from the measures that have been necessary to combat the pandemic, and including them in the scheme would show our gratitude to them.
Ian Wingfield, The Peak
Government's best efforts have failed the working class
Chief Secretary
Matthew Cheung Kin-chung
is completely misguided, as are Professor Sophia Chan Siu-chee and Chief Executive Carrie Lam Cheng Yuet-ngor, if they believe their pandemic policies place "public health as paramount".
Despite our city's vast wealth,
the most vulnerable
of our society have suffered disproportionately as a result of the government's one-size-fits-all pandemic policy. Low-paying jobs have disappeared, parents and children have been confined to minuscule homes, and domestic workers and poor elderly placed at heightened risk of exposure.
The government response has been to funnel money
into businesses
instead of directly to workers, which has worsened the financial security of the city's working class and placed undue mental health strain upon them.
Hong Kong might have one of the lowest incidences of – and deaths per capita from – Covid-19. That is because the city is shut down and cut off from the lifeline of business that the city is founded on. It is neither sustainable nor healthy.
Cheung praises his government for having been "working at full steam since February". Indeed, it has. The problem is that Hong Kong is a digital city declining under an analogue government.
Mark Peaker, The Peak