Cancer
Get more with myNEWS
A personalised news feed of stories that matter to you
Learn more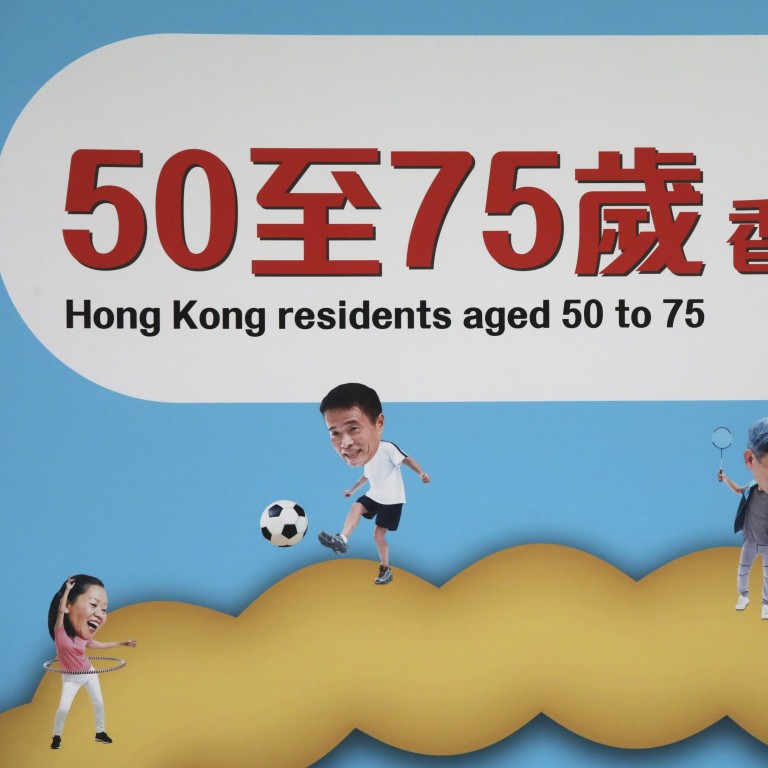 Letters
Colorectal cancer: help elderly Hongkongers make the most of early screening services
Despite government subsidisation, colorectal cancer screening uptake rates in Hong Kong remain low. A survey suggests that increased promotion of the subsidised screening programme for elderly Hongkongers is required
Colorectal cancer is one of the most common forms of the disease diagnosed in Hong Kong. It is often asymptomatic in the early stages, and screening can effectively detect and prevent this cancer.
Faecal occult blood tests (FOBT), sigmoidoscopies and colonoscopies are common tests performed to detect the condition. To promote the service, the Department of Health in September 2016 launched a three-year voluntary colorectal cancer screening pilot programme. In 2018, the programme was regularised, and in 2020, it was finally fully implemented, to subsidise such screening among asymptomatic Hong Kong residents aged between 50 and 75.
The decision to undergo screening can be influenced by a variety of factors. 
A research team from the Chinese University of Hong Kong conducted a survey to review colorectal cancer screening uptake among asymptomatic average-risk Chinese individuals aged 50 to 75 and to identify the association between individual and community factors, government subsidies and uptake rates. 
The survey, conducted from August 2019 to December last year, was completed by 1,317 participants recruited from the community. Of them, 432 reported having previously used the government subsidy for
colorectal cancer
screening (32.8 per cent), and 578 reported having ever had an FOBT (43.9 per cent). However, despite government subsidisation, colorectal cancer screening uptake rates in Hong Kong remain low compared to elsewhere.
This may be attributed to the Covid-19 pandemic, which has led to
neglect
of the importance of screening in early cancer detection. The top two most significant factors positively associated with FOBT uptake were the use of the government subsidy for screening and receiving information about cancer screening from booklets. However, perceived barriers to screening continued to be an important deterrent, reducing uptake rates. 
These findings indicate that increased promotion of the subsidised screening programme is required. Implementation of relevant interventions or revision of current health promotion strategies to address the low screening rates is also warranted.
More health promotion activities, such as promotional videos, distribution of health booklets, and health talks, could be organised for average-risk individuals to increase their awareness of colorectal cancer and screening for it. Clear information should be offered on expenses incurred when they join the subsidised colorectal cancer screening programme.
Moreover, appropriate assistance from health care providers or staff of community centres, including practical, step-by-step instructions regarding the application procedure and stool specimen collection process, should be provided, as some elderly individuals may not be able to comprehend the information or complete the applications on their own.
For those who are actively employed, other forms of health promotion activities, such as on social media, should be implemented. For example, messaging apps such as WhatsApp or Telegram could be used to discuss screening and motivate such individuals to participate in relevant programmes. 
Dorothy N.S. Chan, assistant professor, Winnie K.W. So, professor; et al, Nethersole School of Nursing, the Chinese University of Hong Kong