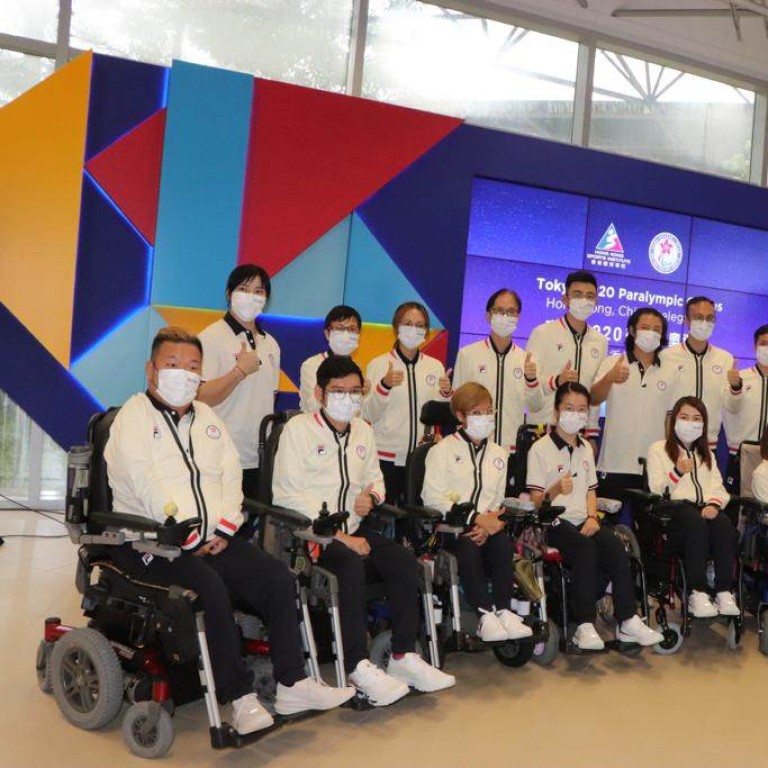 Letters

|
Tokyo Olympics: what Hong Kong can do for its elite athletes next
Readers discuss how to help athletes after they retire, the hunger crisis in Somalia, and why it makes sense to cut the pay of those who work from home
In the
Tokyo 2020
Olympic Games, Hong Kong won
one gold, two silver and three bronze medals
– a remarkable achievement for a city with only 7.4 million residents. The chief executive reacted promptly, indicating that more resources would be allocated to support sport and Hong Kong athletes.
Besides bringing glory and recognition to Hong Kong, medal winners were also given incentive awards by commercial sponsors.
But what about those who did not win any medals? They also sacrificed their personal lives, deferred their education and careers, and might also be prone to suffer from psychological and injury-related health problems.
While placement programmes were coordinated by the Sports Federation and Olympic Committee of Hong Kong and the Hong Kong Sports Institute, several athletes have told me that these placements failed to meet their expectations and that they wanted to have better careers than serving as interns/apprentices or supply teachers/helpers in schools.
The local universities were very supportive in admitting elite athletes, providing them with scholarships and allowing them to defer their enrolment until they retire from competition. However, only a few of them have the expertise to counsel retired elite athletes and to match their talents to their expectations in life.
It was thus timely for us to consider setting up a Hong Kong Elite Athlete Professional Development Centre to serve elite athletes (both abled and disabled) who would be retiring within a year and with a follow-up in the next five years if needed.
The terms of references could be to provide education and job training, to provide professional job counselling and placements, and medical and health services, to provide a clearing house for all matters related to retired athletes, to provide and develop a network of supportive local corporations, tertiary institutions and sponsors, to provide a permanent facility with offices, hostels and training/detraining facilities.
The centre should be set up and funded by the Home Affairs Bureau, ideally with an endowment fund from the government and Hong Kong Jockey Club and a permanent venue with facilities. Its annual budget should be pegged at no less than 5 per cent of the existing Hong Kong Sports Institute budget.
Frank H. Fu, professor emeritus, Hong Kong Baptist University
Fall in aid funds compounds Somalia's suffering
Somalia's humanitarian crisis is among the most complicated in the world. The hunger crisis in Somalia this year is particularly alarming because of rainfall deficits in the rainy season, which are likely to lead to low crop yields and rapid deterioration of vegetation, threatening the lives and jeopardising the development of tens of thousands of Somali children.
Somalia has been experiencing the hardships of ongoing conflicts, climate-related natural disasters such as recurring droughts and floods, disease outbreaks, and a weak social protection mechanism.
In 2021 alone, 5.9 million Somalis are in need of humanitarian assistance. The UN Office for the Coordination of Humanitarian Affairs (OCHA) estimates that 2.8 million Somalis are likely to face acute food insecurity by September 2021.
In one of the stabilisation centres for acutely malnourished children supported by World Vision, I saw a child having medication injected into a vein in his scalp, because the veins in his arms were too difficult to find. It was a heartbreaking scene for me, as someone born and raised in Hong Kong.
However, the child is considered lucky by the locals. Many others do not even have the opportunity to access such life-saving services due to the low coverage of health facilities. Somalia has reached less than 40 per cent of its target of having two health facilities per 10,000 people, and has only 19 per cent of its target skilled health workforce.
The Covid-19 outbreak has made the situation even worse for vulnerable Somalis. Many do not have access to clean water, health services and other hygiene commodities that can protect them from infection.
The pandemic has hurt the global economy and affected the humanitarian assistance to Somalia. The current funding for Somalia is the worst in six years. At midyear, humanitarian partners can barely meet the basic needs of nearly half of Somalia's total population, according to OCHA.
Despite the hardships, East African countries suffering protracted crises, such as Somalia and its neighbouring countries Ethiopia, Kenya, and South Sudan, can easily be forgotten as their ongoing plights rarely make headlines in Hong Kong. When the entire world is in the grip of Covid-19, let us not forget these countries. They require immediate assistance from the international community to fight this multifaceted battle.
So Wan-suen, programme development and quality assurance director, World Vision Somalia
Less pay for those working from home is fair
I am responding to news this month that Google employees who choose to work from home permanently may see a pay cut, especially those with a long commute. A Google spokesperson has explained that the company's compensation packages are determined by location.
I think it is appropriate to cut the pay of staff who work from home. It's fairer to those who have to suffer the commute to work.
Besides, working from home is less effective than working in the office, as communication between colleagues is less direct, and meetings that rely on telecommunication can be interrupted by technical issues. Therefore, a pay cut could encourage employees to go back to the office where they can work more efficiently.
Some people argue that since some people were forced to work from home because of the pandemic, it does not make sense to cut their salaries when it is not their fault.
However, the pandemic is a global challenge affecting many people, including the airline business in Hong Kong. Employees of airline companies like pilots and flight attendants have had to take unpaid leave or lost their jobs.
Natalie Leung, Tseung Kwan O