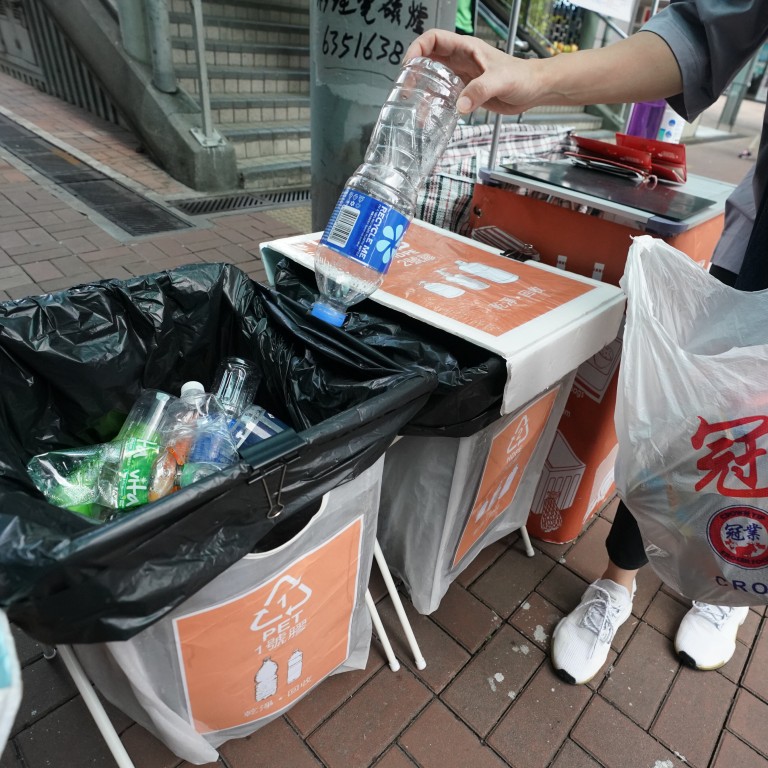 Letters
How Hong Kong can get the most out of its waste-charging scheme
Readers discuss the pros and cons of the scheme requiring residents to pay for the trash they generate that was recently approved by the city's lawmakers
The Legislative Council passed the municipal solid waste-charging bill
on August 26
after 16 years of advocacy by key stakeholders. This long-awaited milestone is significant for environmental management in Hong Kong. It is important for waste management as well as the city's 2050
carbon neutrality target
since waste contributes 7.3 per cent of Hong Kong's greenhouse gas emissions.
What does the waste-charging scheme really mean for Hong Kong? Can we achieve the intended objectives? While green groups have welcomed the scheme, they have long expressed concerns over the lack of community recycling facilities.
Video clips of cleaners mixing recyclables from three-colour recycling bins with general waste have
discouraged many
from seriously recycling. This leads to the prevailing public perception of recycling as an unregulated, wasted effort.
Recycling bins on streets are
poorly managed
, many filled with unsorted and unclean recyclables. Another problem is the insufficient number of recycling bins, with only around 1,800 sets of bins across the city. Not all MTR stations have recycling bins, reducing the convenience of recycling.
Once the waste-charging scheme comes into effect, people will be driven by financial incentives to recycle more. However, this could become an unbearable burden on the city's impaired and inefficient recycling infrastructure.
Recent years have seen progressive government efforts to enhance recycling facilities, spearheaded by the Green @ Community recycling concept stores in different districts. The reward point system, modernised design and clear sorting system assisted by knowledgeable staff have led to increased recycling volume and served the important purpose of community education. More needs to be done, though, to boost Hong Kong's recycling rate of
29 per cent
closer to South Korea's 60 per cent.
The next step is to think about how to upscale good recycling infrastructure. There is a need for new business models to ensure long-term financial sustainability of these recycling hubs.
Ensuring a just transition has to be seriously factored into the implementation of the waste-charging scheme, preventing it from turning into another form of regressive tax that widens
wealth disparity
. Mechanisms have been proposed to assist the less well-off once the scheme is in place.
The secretary for the environment said low-income households can receive a subsidy of HK$10 (US$1.30) each month to purchase the required plastic bags for disposing waste. However, they will still incur extra costs. As they contribute the least to our waste and carbon footprint, low-income groups should not be punished for environmental damage, especially for producing waste that cannot be avoided.
In addition, there is a lack of upstream measures, such as regulation to prevent overpackaging. The government must keep refining measures to minimise the impact of this policy on marginalised communities.
Passing the waste-charging bill is undoubtedly a big win for Hong Kong's waste management policy. Continuous work has to be done to ensure it delivers the objectives of waste reduction and recycling promotion without jeopardising the interests of the less well-off.
Natalie Chung Sum Yue, MPhil candidate in environmental change and management, University of Oxford
Waste scheme not fit for purpose
Alex Lo's understanding of "Rubbish plan from no-can-do government" (
August 28)
is similar to the guidelines adopted by our medical services. The Hospital Authority uses the same techniques with suffering seniors who go to them with serious eye, knee and other ailments but are given appointments as much as two years away. They are left to suffer or wait to incur a major breakdown before being able to use the Hospital Authority's services.
Collection of rubbish in bags of different sizes will not reduce the accumulated waste as unscrupulous people will divert their garbage to street bins provided by the government. The gross total wastage will remain the same, but the government will have extra revenue.
Moreover, with the days of filibustering being over, I do not understand why it should take 18 months to start implementing the waste-charging system.
Nalini Daswani, Tsim Sha Tsui