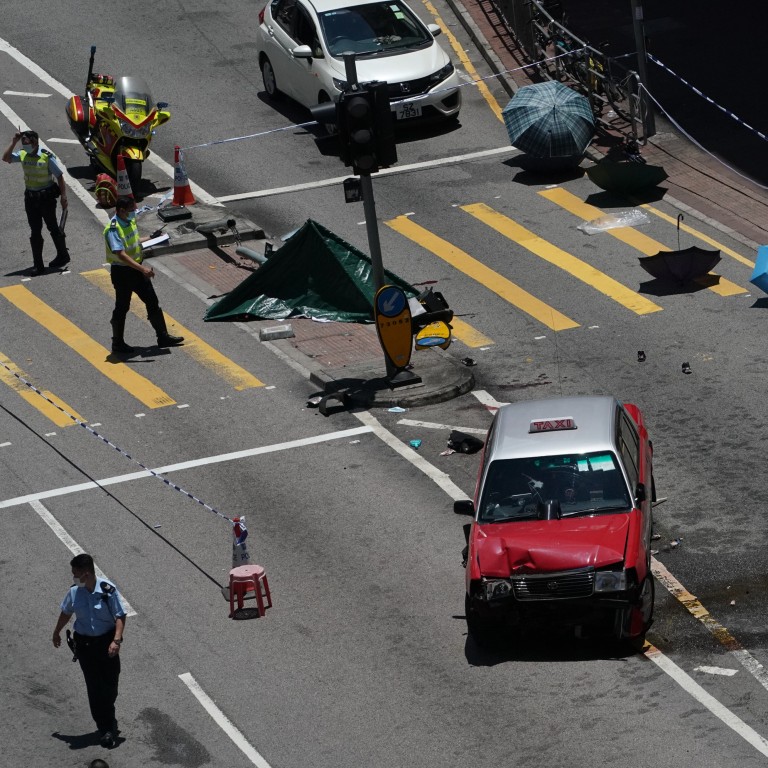 Letters
Are Hong Kong's drivers really all that bad?
Readers write about the city's low road fatality rate, ask that safety islands be made safer for pedestrians and warn that Covid-19 restrictions are killing SMEs
Although home to some of the narrowest and least friendly roads in the world, Hong Kong has managed to keep its road fatalities low.
This can be attributed to our mostly law-abiding drivers and well-developed transport system. It is too sweeping to say that all taxi drivers in Hong Kong have low safety standards just because of one traffic accident.
Jasper Tang, Kowloon Tong
Safety islands offer little protection against drivers
While the taxi driver has been the focus of many people's ire, the archaic and questionable design of the safety island located on Kwong Fuk Road, at the scene of the accident, must share some of the blame.
The safety island is located between two curbs with safety cones that hardly protect pedestrians from traffic flow. When an accident occurs, such curbs cannot minimise the impact. While the design might have appeared safe on paper, it is not so in reality.
There is no need for much innovation if we want to redesign or replace the safety islands on our roads. There are many different safety islands in other countries that we can use as models. What is most important, ultimately, is to have a safety island surrounded by an element that can minimise impact in the event of a crash.
Traffic accidents happen all too often in our city and the loss of any life is one too many. The authorities concerned must study the issue and refer to designs abroad to reinforce our safety islands.
Randy Lee, Ma On Shan
Shop sale highlights city's economic gloom
Steve Vickers ("SMEs suffer brunt of Hong Kong's harsh quarantine rules",
August 27
) criticised Hong Kong's double standards in exempting film star Nicole Kidman from quarantine while travel restrictions leave the city's small and medium-sized enterprises stranded or dead. Here is an example of how bad the situation is.
A 214 sq ft Causeway Bay shop recently sold for one-tenth of the price it had been bought at in 2013, in those good old days before the protests when Hong Kong was swarming with visitors from the mainland. In just eight years, the price had dropped to HK$1.38 million (US$177,350) from HK$14.8 million. This dreadful deal is a symbol of investors' losses, SMEs' pain and the bleakness of our future.
On my way to the office every morning, the sparse crowds bring back fond memories of the 1970s, but dark clouds are gathering over the city's prospects.
Edmond Pang, Fanling