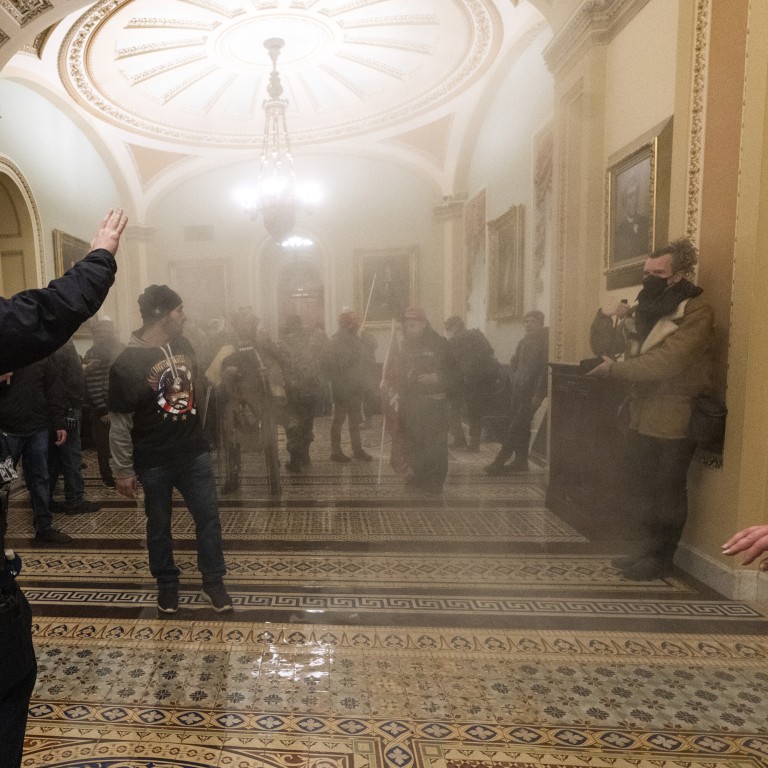 Letters
Capitol Police officer's clean chit a reminder of double standards on Hong Kong
Readers discuss police violence, the UN Security Council resolution on Afghanistan, pandemic lockdowns, the Gay Games and same-sex marriage
On August 23, US Capitol Police said they had cleared the lieutenant who shot dead a rioter during the
January 6 storming
of the Capitol building in Washington after an extensive investigation into whether he had done so unlawfully.
In April, the Justice Department said it would not pursue charges against the officer who fired his gun through the door leading to the House of Representatives chamber. The shot killed a woman who was among a crowd of people trying to breach the barricade erected because people were battering and shoving the doors.
I will remind readers that
the rioters
in this instance had smashed some windows of the entrance doors to the Speaker's Lobby, but no fire bombs were thrown and neither were guns fired at those inside. The mob used sticks and other available hard objects to batter the doors, but there was no incontrovertible evidence that the shot fired by the officer was because any person on the inside of the building was in immediate danger of being killed or seriously injured.
The legal justification was based on the premise that had the mob succeeded in entering the building at that moment, the Congress members inside the building, who were being evacuated at the time, might have been endangered.
All told, five people died in connection with that mob incident in Washington. This is in a democratic country whose presidents keep lecturing China on needing to adhere to our shared human rights values and the "rules-based international order".
Contrast this with the situation which Hong Kong police faced here during the recent turmoil in 2019 and 2020. Members of our police force were being assailed by crowds who threw petrol bombs and attacked officers and members of the public with steel rods and bricks. On the occasions when police officers did use their firearms, they did so because officers were under serious personal assault endangering their lives, and yet police still killed nobody.
P.A. Crush, Discovery Bay
Security Council abstention no cause for alarm
The two countries abstained because the resolution failed to address some of their concerns, such as the activities of other terrorist groups including Islamic State and the East Turkestan Islamic Movement.
While the resolution – meant as a statement of international expectations – might have more normative force if it were passed unanimously, the split should not be perceived as problematic at all. First, the Security Council should address the relevant and potent issues raised by China and Russia rather than leaving them out. China and Russia might not be the only ones who have such concerns.
Second, the council sought to pressure the Taliban to live up to its pledge to let people leave Afghanistan. In terms of reverse psychology, a unanimous resolution might exert too much pressure on Taliban and lead to reactance, or the feeling of not wanting to obey others. The minor split, with only two abstaining members out of 15, pushes for peace and improvement with the right amount of emphasis.
Martin Kwan, Mid-Levels
Pandemic can't quash power of love
Recently, several newspapers carried reports of an Australian farmer who drew a heart with sheep as a tribute to his aunt. I was particularly touched by this story.
I still remember that during the Lunar New Year this year, I cried bitterly because I couldn't go back to the mainland to spend the festival with my parents. But at least I had many opportunities to reunite with my family later; I can only imagine Mr Jackson's sadness at not having the opportunity to say goodbye to a loved one. I was moved by Mr Jackson's affection for his aunt and his faith in love, which he termed "sensational".
I have been living with my own aunt for three years now. I'd like to tell her, "I love you".
Colin Xu, Tseung Kwan O
Lawmaker out of step with city on Gay Games
Mark Peaker, The Peak
Time for Hong Kong to endorse same-sex marriage
I recently read about Indian-American gay couples who are finding new ways to solemnise their unions. I am so happy to see there are LGBTQ people who manage to ignore the questions of others and find their true love.
It is legal for gay couples to marry even in Brazil, but not Hong Kong. I hope our government and lawmakers can change the law and everyone does not look upon the LGBTQ community differently.
Cheris Chan, Tseung Kwan O
I