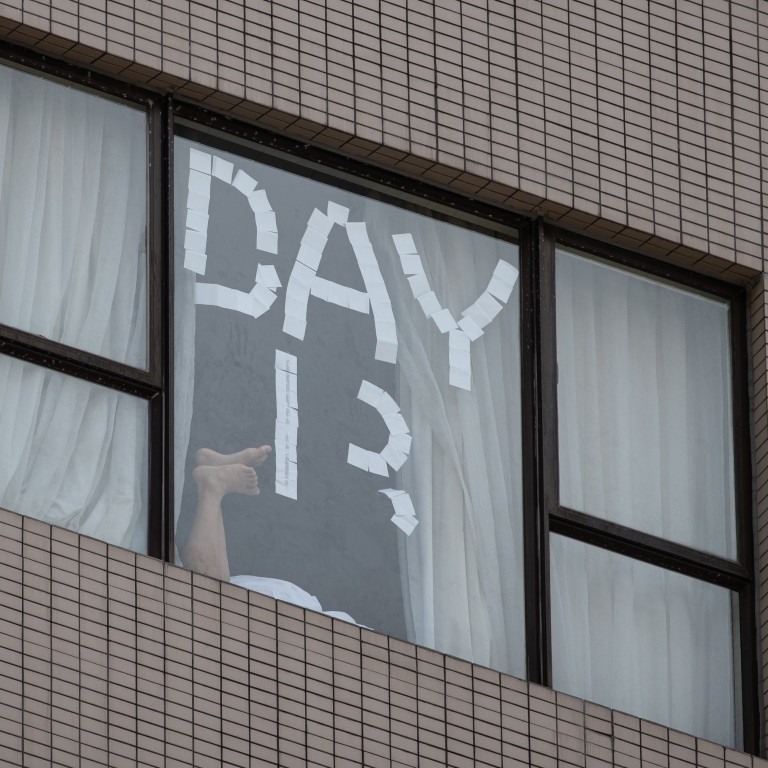 Letters
Is Hong Kong's 21-day quarantine worth the cost in the long term?
Readers discuss the city's lengthy quarantine requirements, the proposed ban on e-cigarettes, and air mail services to the UK
I should first declare my personal interest in arguing for Hong Kong to consider relaxing its
stringent travel restrictions
: it has been over one year and nine months since I last saw my family. In this time, my grandmother, whom I am extremely close to, has had two health scares.
I have had my wedding postponed twice because my fiancé, who is British, is unable to enter Hong Kong, and we would lose the deposit we paid our Hong Kong wedding vendors if we cancelled. To say that the restrictions have had an emotional and psychological toll on me would be an understatement.
I have worked on the front lines at the height of the pandemic, as a medical doctor in Britain. I understand and have seen first-hand the risk that Covid-19 poses, and the harm it could cause. However, I am increasingly frustrated by the Hong Kong government's decision to impose such draconian travel restrictions when they are not based on scientific evidence, and which are causing travellers and its population harm.
There is no evidence that 21 days of hotel quarantine offer more protection and benefit than 14 days. It is well documented that the incubation period for Sars-CoV-2 is up to 14 days. There is
good evidence
that quarantine can cause depression and post-traumatic stress symptoms. Children are especially vulnerable; post-traumatic stress scores were four times higher for children who underwent quarantine than those who did not.
A longer quarantine is, unsurprisingly, associated with poorer mental health. Given the financial and psychological impact of quarantine, is 21 days of hotel quarantine for travellers really necessary?
The Hong Kong government should take into account the long-term consequences of its extreme travel restrictions and mandatory hotel quarantine, and base their implementation on scientific evidence.
Further effort should be made to lower vaccine hesitancy to resolve the limbo that Hong Kong seems to have found itself in: unable to open its borders for fear of risking the health of its residents, and the second and third-order effects that are not yet realised.
Germain Lam, London
Despair of the jabbed: no quarantine advantage
What is the benefit to me of getting vaccinated early on?

Nobody could ever convince me to get a flu shot, for example. But when I saw how much the Hong Kong government wanted to get people vaccinated, I volunteered early on in February this year. I saw it as an act of good citizenship.

Despite this, I have been subjected to numerous Covid-19 tests. These included the test I underwent before departure for Hong Kong that had to be conducted by an ISO-certified institute and not more than 72 hours before arrival in Hong Kong. I had another test right after arrival in Hong Kong. All the results have come back negative.
Nevertheless, I'm sitting in a hotel room under quarantine for three weeks.
Never ask me to get an additional vaccination. It obviously makes no difference to how I will be treated by the Hong Kong government – unless I am a
celebrity
.
Roland Guettler, Lai Chi Kok
Ban on e-cigarettes the right way forward
From the 1950s, when the tobacco industry concealed evidence that cigarettes cause cancer and that they are highly addictive, to the 1980s when it put forward questionable evidence to claim that
second-hand smoke
is not harmful, to the 2000s when it suggested smoking "light" cigarettes was safer – its claims have been full of dishonesty.
In this century, to counter diminishing cigarette sales and lure the younger generation, it came up with e-cigarettes. It pulled out all stops to get children hooked, including the creation of a huge social media presence, sponsoring youth events, introducing appealing flavours like candyfloss and ambiguous packaging of products so that they looked like innocuous items.
Hong Kong's youth were not spared from these marketing traps. In jointly appealing to the government to ban new smoking products, Hong Kong school principals noted that children got
attracted to e-cigarettes
after watching YouTube videos. A
Youth Quitline survey
of 733 young smokers revealed that 49 per cent were attracted by the unique flavours.
The World Health Organization's Tobacco Free Initiative has called the
targeting of children
by tobacco companies for sale of electronic nicotine delivery systems "criminal".
Hong Kong has been considering legislation of e-cigarettes since 2014, but this has been blocked by
some interest groups
on the pretext that heated tobacco causes less harm. This is the same "mild" cigarette deceit all over again. In the past, tobacco companies used a devious marketing strategy by playing on words such as "light", "mild", "low tar", "ultralight" and advising consumers to switch to these apparently "healthier" options.
But nicotine addiction and the health risks that come with it cannot be eradicated by switching to dubious alternatives. These false assurances entice smokers to smoke more or inhale more deeply, leading to disastrous and irreversible health impacts. According to a 2019 study by the University of Kansas School of Medicine, use of e-cigarettes increased risk of heart attacks and coronary heart disease by 34 per cent and 25 per cent respectively.
The only way to avoid nicotine addiction is to never smoke or, for smokers, to quit smoking immediately. The Legislative Council has rightly come up with a bill to ban e-cigarettes.
Around 7,000 Hongkongers die every year from tobacco-related causes and second-hand smoke. It is time we fight back against this series of deaths by tobacco.
Avisekh Biswas, Lantau