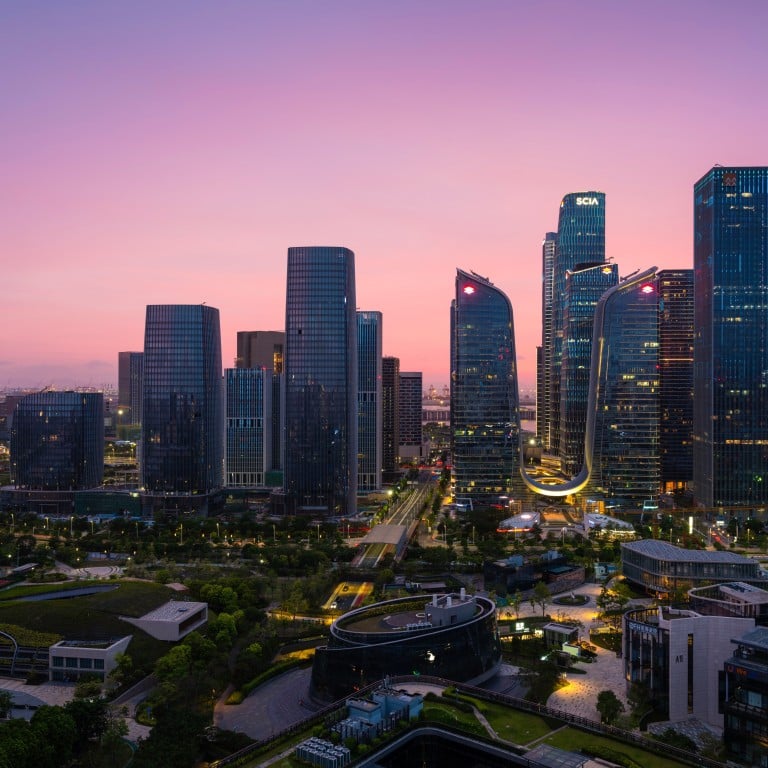 Letters
China's 14th five-year plan: Hongkongers must get on board or be left behind
Readers urge Hongkongers to help the country achieve its goals, propose how the city can move towards a sustainable future, and question the current quarantine policy
The writing is on the wall. It's game over for Hong Kong "liberators", and for the rest the last call before the ship sets sail.
For some, it's time to pack up, say goodbye to friends and family, and leave, or if you don't have the time, just flee – to greener pastures where wearing face masks is a personal choice and where freedom of speech and press freedom trump everything else.
Just remember, though: try beating up a policeman, throwing petrol bombs at government buildings or bricks at people who hold a different political view from yours, and you are most likely to land in jail for so long that you won't need to look for accommodation in that country, ever.
For others, it's game on, time to go out and meet friends, walk along the streets feeling safe again, go to work without fear that your child might be bullied in school because you support the police, or proudly declare you are Chinese in Mandarin without being attacked.
It's time for those who believe in law and order to rise again and reclaim our city. It is time to rebuild and prosper.
Time, however, is waiting for no one. The central government's 14th five-year plan spells out clear and ambitious goals for the country, which include:
quality over quantity of economic growth (while transitioning to a low-carbon economy);

becoming a self-reliant technological and manufacturing powerhouse;

further urbanisation of the country;

gradual liberalisation of the business environment;

managing international power rivalries and taking up leadership roles in regional or global economic governance.
Mainland officials in Hong Kong have a stern reminder for the people of Hong Kong: "Get on board or be left behind", because the country is going to forge ahead, with or without Hong Kong.
Those who don't like it are free to leave (and they have), and for those who choose to stay, there are plenty of opportunities ahead, not so much because of the vacuum created by the "leavers", but more because of the role Hong Kong can play in helping China implement the five-year plan, and of the mutual benefits that can be reaped.
So for those reading this who are still in Hong Kong, I urge you to gear up, get ready to grab the opportunities ahead and play our part. Where exactly? The
Greater Bay Area
, of course.
Jeremy Young, district councillor (Peak)
Reinvigorate Hong Kong with eco-friendly township
The
letter
, "City must look to 'degrowth' economic policy to help avoid an environmental catastrophe" (September 2) was inspiring. Your correspondent was certainly right to conclude, "It's time Hong Kong policymakers aligned themselves with the national thinking or rather took leadership towards degrowth-based economic policy to avoid environmental outcomes that cause great hardship to millions."
It's almost time for our chief executive to present her annual policy address. Sustainable economic growth is a matter of serious concern for Hong Kong as it affects the livelihoods of hundreds and thousands of families.
The government often tells young people we don't have enough space and job opportunities locally, so they should seek greener pastures on the mainland. While we can't deny the rosy prospects that the motherland is inviting our youth to explore, it is more proactive to provide job opportunities locally if we claim to care for our youth.
Chinese President Xi Jinping's
promise
to the United Nations General Assembly that the country will achieve carbon neutrality in 2060 is a goal the Hong Kong government shares. To achieve this, we must create a platform which can both provide jobs for young people and be environmentally friendly.
We do have a
large chunk of land
near the border. It could be used to build homes and generate income through new technology and creative ideas. Can we turn the desolate landscape into an inspiring place where ideas flow, similar to how a desert in Arizona became a land of opportunity?
An eco-friendly township should be built at the border to provide all sorts of economic elements we need. The new town would offer young people a platform to develop their talents fully, helping us tackle both our economic and political problems.
Necessity is the mother of invention, so we need to have more room for our young people to wander around a land of opportunity.
The people of Hong Kong are creative. We turned a barren rock into a prosperous international business, financial and shipping hub. Now, faced with another challenge, we should respond appropriately.
The question is whether the government is going to invest vigorously in the future for the well-being of the community as a whole.
Lo Wai Kong, Lai Chi Kok
Why can't vaccinated Hongkongers quarantine at home?
I have been a resident of Hong Kong for 45 years. Both my wife and I are fully vaccinated with the Pfizer vaccine.
We cannot get back to Hong Kong from the UK without spending 21 days in quarantine. Furthermore we have been unable to book accommodation in a government-recognised hotel for the required duration.
We have our own apartment in Hong Kong, but cannot return to our full-time residence.
I am sure we are not the only people thus being deprived of our right to return. This makes no sense, especially with Hong Kong having so few positive Covid-19 cases each day.
The government must rectify the situation without further delay. For starters, why not let us be quarantined in our own apartment? And for fewer than 14 days, while accepting a requirement of frequent testing?
David Paterson, Mid-Levels