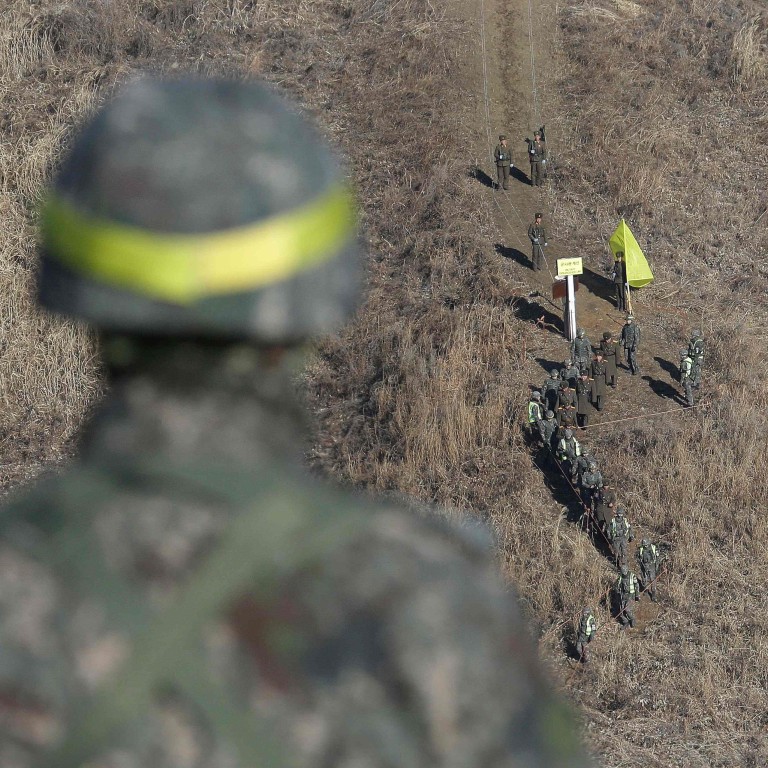 Letters
Security crisis on the Korean peninsula cannot be resolved without a peace treaty
Keeping the status quo of a deadlock is neither effective nor conscionable, given the wishes of the Korean people themselves to reconcile
When it comes to North Korea, "peace" is a dirty word. As evidenced by a
recent op-ed
in your pages ("Korean peace treaty advocates are chasing an absurd, destructive dream", September 9), there is an ongoing belief that the status quo – soldiers on both sides of the border aiming weapons at each other, ready to pull the trigger at any time – is effectively keeping the peace.
Yet anyone can see that this is an extremely dangerous situation. In the decades that successive US administrations have failed to resolve the security crisis on the Korean peninsula, North Korea has built up its nuclear arsenal. Its long-range missiles are now thought to be capable of reaching anywhere in the United States.
Without a peace agreement, renewed conflict could break out at any time. In fact, the US came dangerously close to war with North Korea in 2017, according to former US president Donald Trump. Such a war would be catastrophic, especially if nuclear weapons were used.
Solving this problem requires addressing the root cause of tensions between the United States and North Korea – the
unresolved Korean war
, which never officially ended but was only halted by an armistice. A peace agreement including the US and the two Koreas would bindingly end the state of war, recognising that wartime rights to use force have ended once and for all.
Rather than demand that North Korea give up its nuclear weapons or improve its human rights record as a precondition to peace – a strategy that North Korea has repeatedly rejected – the US should pursue a peace agreement to build trust and lay the foundation for making progress on those issues.
One argument that often gets neglected in this conversation is the desire of the Korean people themselves, who have been separated for more than 70 years. In the
Panmunjom Declaration
in 2018, the leaders of North and South Korea declared that "there will be no more war on the Korean peninsula and thus a new era of peace has begun". Yet the US has blocked reconciliation efforts between the two Koreas.
Successive US administrations have failed to resolve the security crisis on the Korean peninsula precisely because they have failed to address North Korea's security concerns. Continuing to insist on a failed strategy is the definition of absurd and dangerous.
Christine Ahn, executive director, Women Cross DMZ