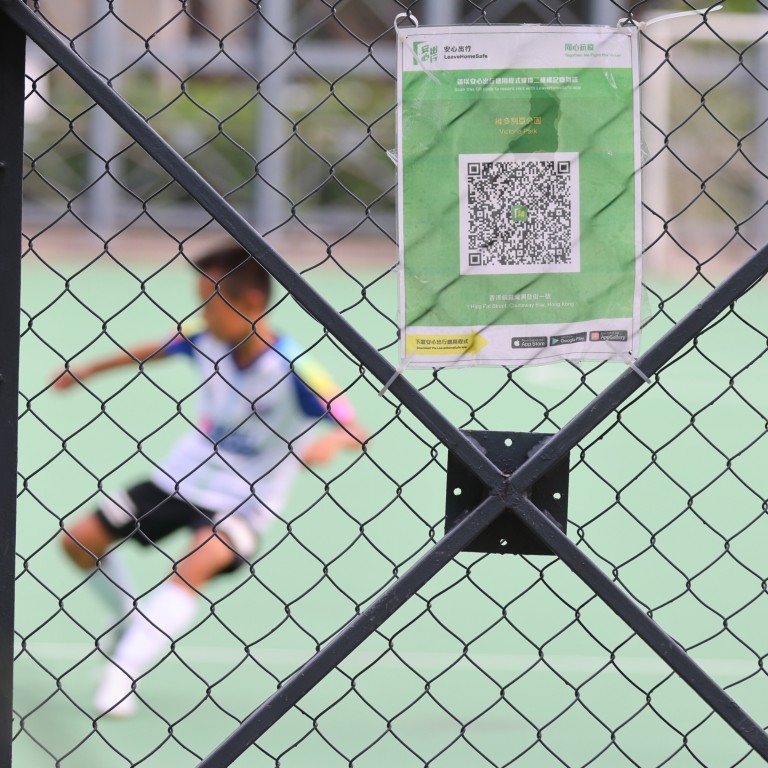 Letters
Contact tracing, not vaccination, is the key to reopening the border with the mainland
Readers discuss how Hong Kong can improve contact tracing, make the vaccination drive elder-friendly and boost take-up of the jab in general, as well as why the city should relax mask policies
Draconian quarantine and social distancing measures have helped Hong Kong maintain zero local transmission cases of Covid-19 for quite a stretch. However, the central government has still not given Hong Kong the green light for quarantine-free passage to the mainland. This will deter people from the mainland from joining the
"Come2HK"
scheme, as they will still be subject to at least 14 days of quarantine on their return home.
This appears to be because the central government has no confidence in Hong Kong's infection control measures, which are inconsistent with the mainland's. While the Hong Kong government believes that boosting the vaccination rate will help, officials have probably ignored the fact that the mainland has allowed quarantine-free travel to and from Macau since August 2020, when no vaccination was available. Thus, the key to addressing the central government's concerns is not the vaccination rate, but aligning Hong Kong's contact tracing and inbound quarantine measures with the mainland's.
Since last year, Hong Kong has greatly improved its inbound quarantine measures, imposing mandatory hotel quarantine of 14 to 21 days on those arriving from medium- to high-risk areas. However, there are still certain loopholes, including intra-quarantine transmission, and infection of
quarantine hotel
and
airport staff
.
This is because hotel rooms are not designed to be isolation facilities and protective gear may not insulate hotel and airport staff from infection. Quarantine hotels should be upgraded in a standardised manner to enhance ventilation. The Centre for Health Protection should provide guidelines and the government implement protocols stipulating standards for protective gear worn by hotel and airport staff to minimise infection or contamination. Vaccination alone cannot eliminate Covid-19, though it minimises the risk of infection.
Moreover, contact tracing measures in Hong Kong are not consistent with those on the mainland, as Hong Kong merely conducts compulsory testing in areas when outbreaks happen, and relies on people's self-discipline in reporting their movements. The "Leave Home Safe" app allows users to be anonymous, and it is neither mandatory, nor has any location tracking function. The government should consider aligning its contact tracing policy with that of the mainland to resolve technical, political and legal issues.
The continued travel restrictions and social distancing measures have jeopardised Hong Kong's economy and social stability. Only by considering the above measures to ease the concerns of the central government can the situation be improved. When the central government's concerns are addressed, it will relax the travel restrictions on Hong Kong.
Perry Tang, Ma On Shan
How to convince the elderly to get vaccinated
Any incentive to boost the vaccination rate among the elderly is good. An incentive of 1kg of rice for the elderly at special senior vaccination stations would be an effective and economical way.
My husband and I are both senior citizens and we are both fully inoculated. There was no negative reaction. We both feel much more secure in living our normal daily lives after being vaccinated and urge more fellow older adults to do the same.
Being vaccinated will keep the elderly safe when Hong Kong opens up. The following are further recommendations.
Special indoor stations for the elderly should be provided at all locations. It is extremely tiring and difficult for the elderly to stand and queue for a long time outdoors particularly on hot and sunny days. Water and a place to sit should also be offered.
Lucky draws only for those over 60 could also be an incentive. Hong Kong needs to coordinate more grand prizes from sponsors dedicated only to the elderly. Given the low uptake of the vaccine among the elderly, the vaccine drive should be further extended. The elderly played an important role in the success of Hong Kong. They should be given priority for vaccination.
Medical professionals on site could provide information and reassurance. Many senior citizens here may be hesitant to get the vaccine but many older people around the world have been safely vaccinated despite having underlying conditions. Being locked down at home and isolated due to fear is a far worse fate.
Harriet Tung, The Peak
Bars check vaccination records, why not hospitals?
I recently visited a hotel bar and was only allowed in after being checked for proof of my vaccination against Covid-19. It was indeed reassuring that the crowd inside the bar was of a similar disposition, with regard to understanding the benefits of preventive vaccination.
However, what is perplexing is that unvaccinated people are allowed to enter clinics and hospitals, but not a bar. There may be various social, ethical, compassionate and political reasons, but I doubt there is anything remotely scientific.
Why is it inconceivable to turn away patients from a clinic or hospital if they are not vaccinated? Are other vaccinated patients and health care workers at the hospital more dispensable than the bartenders and their customers? Will the spread of the disease in the community not occur through the visits of unvaccinated people to the clinic or hospital?
The reason for bringing up this question is not to prevent unvaccinated patients from seeking medical care, but to highlight that any exclusion policies must be accompanied by persistent and robust education and meaningful incentives so that people opt for early vaccination.
The unvaccinated are highly vulnerable to serious Covid-19 disease and death. Besides, new mutants are bound to arise in time to come, as the world is too politically divided to fight this scourge.
Sutinder Bindra, Discovery Bay
Pay attention to impact of mask wearing on children
How long will it be before we can see faces in the street? How long will it be before children can see the smiles on their friends' faces? Masks have their place, but are they really necessary in a community that has had no local infection for many weeks?
The consequences of prolonged mask use on our oxygen levels and physical health still require thorough investigation. This is especially of concern for children, who are physically and mentally active, and require more oxygen.
Long-term use of masks can have a psychological impact on all of us, but especially children, who have now spent 18 months without fully seeing the faces of their friends or of their teachers, nor seen smiles or many other facial expressions. It is time for the government to make the wearing of masks voluntary.
Hong Kong needs to be unmasked and returned to sanity.
Bruce Vaughan, Central