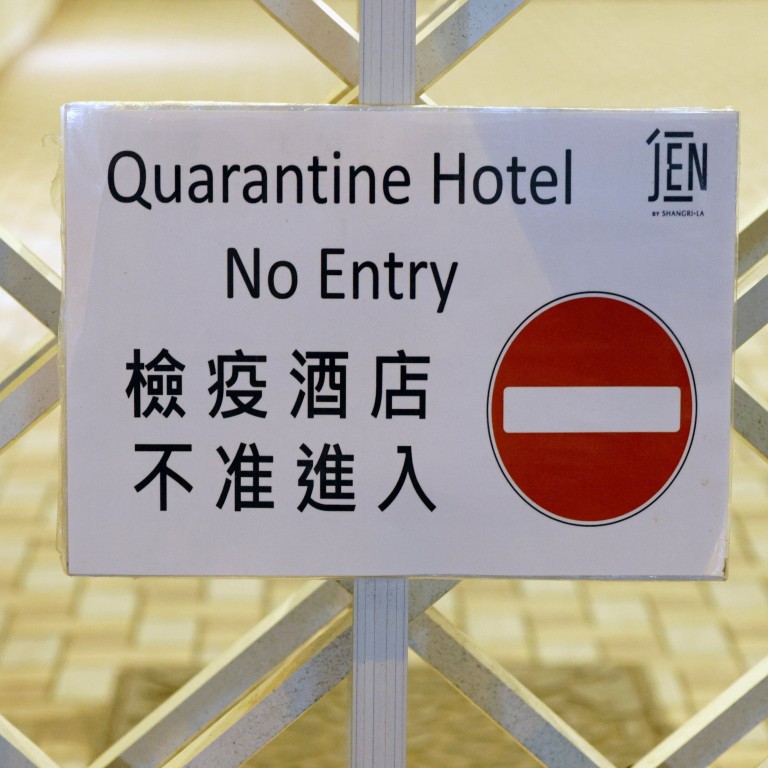 Letters
Gay Games delay tells the world Hong Kong is closed for business
Readers discuss the damage done by Hong Kong's 21-day quarantine, a better way to raise the vaccination rate, a Mid-Autumn boost to the economy, and Hong Kong's big advantage over New Zealand and the UK
Whilst this event might be of scant importance to her or her government, the delay reflects an international perception that Hong Kong is closed for business. This government, with no end plan in sight, has allowed an event scheduled over a year away to fall victim to a policy that serves no one other than government ministers who are immune to the pressure from it.
Has our chief executive, who surely would ask of Hongkongers nothing she would not be prepared to do herself, spent a single day in quarantine? The financial loss to the city caused by the Gay Games delay is part of an enormous financial loss Hong Kong will endure as a result of having a government leader who seems to have a deficient understanding of business.
This ignorance allows her to falsely believe Hong Kong's economy is sustainable and can be driven by domestic consumption; it cannot.
Hong Kong needs an exit strategy. We need to know that our government is leading us towards the resumption of international trade and travel.
It is one thing to have BBQ pits closed, it is quite another to have the city closed because of an impractical belief that Covid-19 can be eradicated. Vaccination was meant to be the key to freedom, Hongkongers have heeded this and we want the doors of our city open and the draconian quarantine measures removed.
Mark Peaker, The Peak
To encourage vaccination, persuade rather than punish
Your correspondent urged the authorities to wield a stick to achieve the goal of a high vaccination rate ("To encourage vaccination, Hong Kong has used carrots. Now it's time for a stick",
September 14
).
If we had tried this 30 or 40 years ago, I believe we wouldn't have encountered too much resistance and opposition from the population. But if we put forward this proposal now, I believe it will be condemned and bombarded by people from all quarters – simply because Hong Kong is an enlightened, civilised society and government policies can't be implemented in this way.
As we know, we have the Equal Opportunities Commission (EOC) and a number of other established channels to handle complaints. Your correspondent's proposal would cause the EOC a major headache.
Yes, your correspondent has a right to express his opinion, but other readers also have their right to inform him that this is not going to go down well with the public and bring harmony. Most importantly, no one should be callous with regard to other people's medical needs and weaknesses.
Gone are the days when the government could dictate to the public.
Remember the fable of the wind and the sun? The wind tried but failed to remove a coat from a man by force. The sun shone, making the man feel warmer and warmer until he took off his coat. Persuasion is more effective than force.
A carrot and stick policy should only be applied to animals. If it is applied to Hong Kong today, it will be a mockery. Instead, care and wisdom should be shown.
Lo Wai Kong, Lai Chi Kok
Festive spending a sign the economy is recovering
It's the
Mid-Autumn Festival
today. Now that the Covid-19 pandemic is more or less under control, and with the
consumption vouchers
putting more spending money in people's hands, most Hong Kong people would choose to celebrate this major festival outside rather than stay at home.
The catering industry has much to cheer: the media reported that up to 90 per cent of available capacity in restaurants had been booked.
Lan Kwai Fong, an entertainment hub for all sorts of festivals, has many restaurants pushing set dinners or discounted meals to celebrate the festival. From big restaurants to small eateries, the food and beverage industry is expecting brisk business.
Besides celebrating by eating together, Hongkongers can also visit the city's two theme parks. Ocean Park's Water World is having its
grand opening today
.
On the Mid-Autumn Festival, many people have half the day off from work. So there will be a festive vibe in every corner of our city well before night falls. Moreover, lanterns will be showcased at places such as Victoria Park until the day after the festival.
So every one of us should be out and about, celebrating the moon festival. It looks like most of us are willing to spend some money and the economy is recovering. Hopefully, the economy will thrive not just once in a blue moon, but is at the start of a long bloom that all of us would be so pumped up to see.
Randy Lee, Ma On Shan
Hong Kong's big advantage: safety from extreme weather
S. Ching Choi flaunted the appeal of the UK's outdoor art exhibitions and New Zealand's well-being budget in a
September 18 letter
on liveability ("Hong Kong can persuade people to stay on by creating a more liveable city").
But these are egregiously misleading examples to newcomers to those countries who would be struggling to live with freezing temperatures, snowstorms and silent anxieties about having their lives upended by earthquakes. Devastating inherent weather conditions and geographic risks surely count as push, not pull, factors.
In this regard, Hong Kong has a natural advantage: barring the occasional typhoon, we enjoy blazing sunshine and refreshing temperatures in turn, and largely clement weather through the year.
Perhaps, only when people have suffered elsewhere will they have a new perspective, come to recognise the merits of a rough diamond like Hong Kong, and queue up to re-enter the city.
Edmond Pang, Fanling