Taiwan
Get more with myNEWS
A personalised news feed of stories that matter to you
Learn more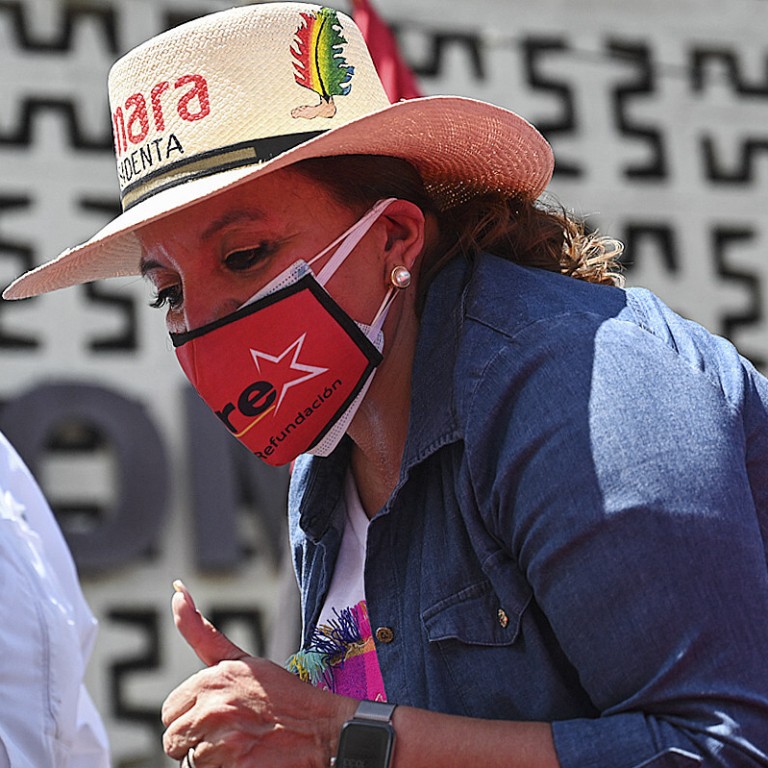 Letters

|
How Honduras election puts Taiwan on notice
Readers discuss the implications of the upcoming Honduras election for Taiwan, the state of roads and parking enforcement in Hong Kong, and India as an investment destination
I am writing in response to
the article
, "Is Taiwan about to lose another long-term ally to Beijing?" (September 11).
Honduras, a country that has been allied with Taiwan for 80 years, is about to elect a president, and a high-profile candidate, Xiomara Castro, insists that she will establish diplomatic and commercial ties with mainland China if she wins the November 28 presidential election.
Amid the coronavirus pandemic, mainland China is known to have
used Covid-19 vaccines
as a political tool to put pressure on Taiwan's allies to change allegiance.
Taiwan is only able to count a total of 15 countries among its allies. With the upcoming presidential election in Honduras, Taiwan has been put on notice that its diplomatic relations with Honduras might be severed.
Lithuania, which has official diplomatic relations with mainland China, agreed in July to let Taiwan open a representative office in its capital. A diplomatic crisis soon erupted, with mainland China recalling its ambassador to Lithuania.
The headline of the Post article on the election in Honduras is thought-provoking, calling into question the long relationship between the two allies.
Without the support of the United States, and even with Taiwan's own military and economic strength, it may be hard for the island to maintain the status quo.
Tsai should certainly formulate policies to prevent diplomatic crises and maintain friendly relations with allies.
Henry Chow Ka-hang, Po Lam
In 'Asia's world city', we deserve smoother rides
It is a disgrace, and embarrassment, that our roads are in such a horrendous state of disrepair when we consider ourselves "Asia's world city". Even the bumpy road surfaces of new infrastructure projects, such as the Wan Chai Bypass and the Tuen Mun-Chek Lap Kok Link, are not of the calibre one expects in a world-class city.
Take a ride on a motorcycle on a dry day and one is constantly avoiding the inundation of receding manhole covers and steel plates every five to 10 metres, inconsistent paving every 30 metres, and walls of asphalt pushed up by buses and trucks.
Take a ride on a wet day and the slick conditions, due to a generous coating of diesel emitted by buses, combined with thick road paint, are such that you would be better off travelling on ice skates.
And then there is highway 7 which, when one travels through Kowloon Tong and Lai Chi Kok, is more thrilling than any ride Ocean Park has to offer.
The increasingly common chatter among motorists is that our roads are being degraded rapidly and that the government is completely ignoring the need for safe road conditions and not maintaining what we have. It makes one wonder if our bridges and tunnels are safe and receiving the necessary maintenance.
Simon Constantinides, Pok Fu Lam
Focus on reducing congestion, not ticketing motorcycles
Yet, I do not see the same enthusiasm for ticketing when large vehicles such as lorries and buses are illegally parked. I presume that it takes quite an effort to climb to see those vehicle licence decals.
It would be interesting to see the ticketing statistics: for example, the percentage of ticketed vehicles by category.
Mr Zimmerman has pointed out most of the problems, and boosting the ticket quota or revenue through easy targeting of motorcycles is not the solution. Let me outline a few more problems.
Motorcyclists, in most cases, are careful not to block both vehicles and pedestrians, and will park temporarily in an unobstructive manner. This is hardly the case, though, with other vehicles that block an entire lane in Central and other areas on a daily basis.
Motorcycle parking is very restricted and some buildings do not allow two- or three-wheel motorcycles to park. I cannot understand the rationale for such restrictions.
Recently, due to Covid-19 social distancing restrictions and quarantine requirements, there has been an upsurge of delivery motorcyclists, who are providing vital support and performing a social function by delivering meals. They work on meagre commission and yet I have seen them being ticketed, without mercy, by traffic wardens. This takes a significant toll on their earnings.
I request that the authorities take a pragmatic and sensible approach to traffic enforcement. Unblocking those lanes and reducing congestion should be the priority.
Danny Gohel, Ho Man Tin
Investors bearish on China should turn to India
India has come out of the pandemic stronger, with multiple reasons to grow economically. I always believe there is a bull market somewhere and we just have to find it. This is India's decade to shine in Asia, and we're just at the beginning of it. Hong Kong investors should look outside China and start investing in India for the rest of the decade.
Rishi Teckchandani, Mid-Levels