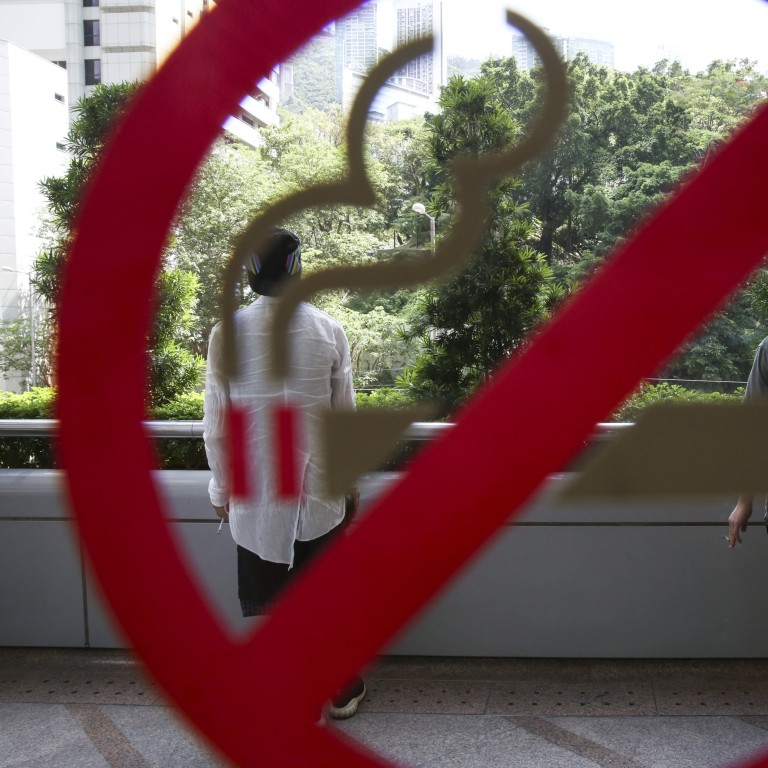 Letters

|
Hong Kong should clamp down on all tobacco use, not just new products
Readers discuss the need for stronger restrictions on tobacco use, a Chinese space mission, a Shanghai ban on English exams, and the arrest of HKU students
Hong Kong prides itself on being a liberal society where market forces compete freely, consequently propping up the economy and indirectly the lives of its residents. However, as much as I appreciate capitalism, it cannot run unchecked.
Take the gun industry, for example. In China and in Europe, we are fortunate to have sound prohibitive policies in this regard rather than the abhorrent self-serving permissions granted in the United States. To be fair, I see US President
Joe Biden
's contempt for such a lax regulatory environment and a
clear intention
to address the issue. However, former US president Barack Obama also held a
similar view
, but could not make significant progress with gun control.
Another example is the tobacco industry. Much like with the gun industry, there is no real advantage in having it around, and yet it remains through the sheer power of money, invested heavily in lobbying.
I myself indulge in the occasional cigarette socially. In my experience, it is a great way to meet people or even further relationships with acquaintances. Recently, I even found myself vaping on those social occasions to avoid the reportedly more harmful effect of tobacco, which has only increased my weekly usage of nicotine products.
I am a social creature and thus find it difficult to dismiss such harmful habits although I am fully aware of their damaging effects, that is, unless I am forced to curb such conduct because of higher taxes on tobacco (like in the United Kingdom) or the expansion of no-smoking zones (combined with effective policing).
Jose Alvares, Macau
Astronauts could spark STEM revolution
In recent years, Hong Kong has been positioning itself as an innovation and technology hub. The inventions of our talented young entrepreneurs may one day be used in the country's space missions. Yet, innovation is so much more than creativity, and a solid foundation in STEM subjects is critical. Fortunately, the Education Bureau's efforts in promoting STEM education have been commendable.
Yet, career and life planning education can be deepened at the secondary and primary level. Advice on elective subject choice at the senior secondary level can be strengthened such that STEM-inclined students will pick related subjects. Secondary schools should also invite alumni who are STEM majors at university to share their experiences of working on projects or serving internships with current students.
In primary school, activities such as STEM Experience Days or workshops could ignite children's interest in these subjects. Virtual or augmented reality technology, artificial intelligence and robotics are areas that intrigue children.
Most importantly, teaching kids to dare to dream is crucial. STEM experience could be a springboard for representing the country in space exploration one day, regardless of age.
Jason Tang, Tin Shui Wai
Shanghai's worrying ban on English exams
When Shanghai banned exams for English in 2004, that decision was widely ignored. It remains to be seen if the current ban will be more successful.
It is understandable that parents are concerned about the new ban as the absence of exams may lead to less focus on the subject. English is used by people around the world, especially during travel or studies abroad.
With more businesses in China becoming international, English has become increasingly important as companies seek to hire English-speaking staff. Children should be given more resources, not less, to master English.
Niki Lee, Tseung Kwan O
Educators should share blame for student transgressions
Maybe they will get heavy sentences. But don't just blame the students, blame also the educators. The university's leadership should take responsibility.
After all, the Three Character Classic teaches that "it is the fault of the father if the son is nurtured but not educated; it is the laziness of the teacher if the student is not educated strictly".
Chiew Tse Vun, Sha Tin