Tourism
Get more with myNEWS
A personalised news feed of stories that matter to you
Learn more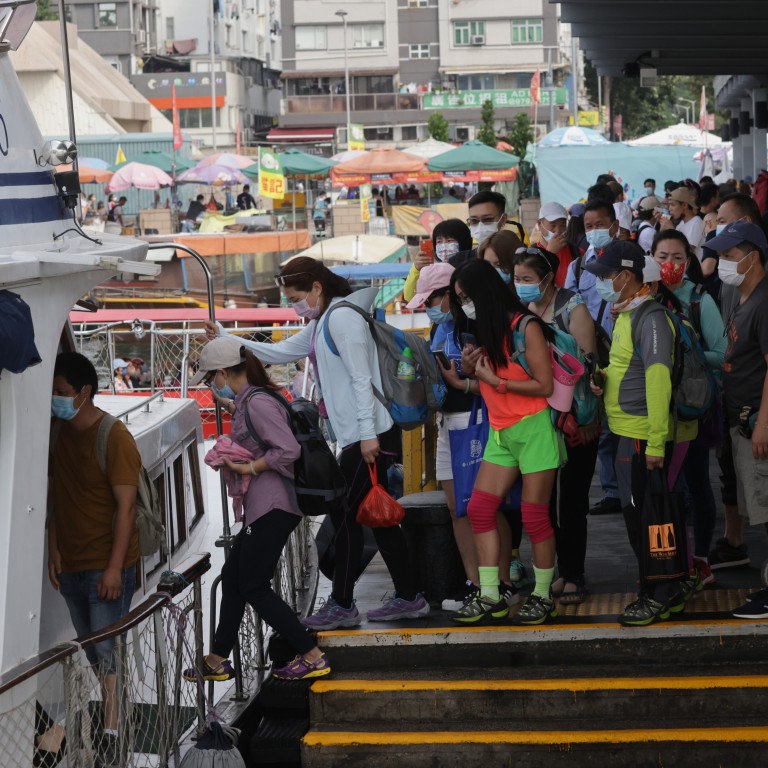 Letters
Sai Kung needs green public transport, not foreign tourists
Readers discuss suggestions on how Sai Kung could be developed, flat sizes in a Sai Sha residential project, and the feasibility of recycling programmes in Hong Kong
I wish to respond to the letter, "Improve links to Sai Kung and make it a proper destination for tourism and leisure" (
September 24
).
While it is true that local leisure destinations have been more popular during the overseas travel restrictions because of the Covid-19 pandemic, the suggested "improvements" to Sai Kung's links and facilities are impractical and would be detrimental to the town's ambience and environment.
A rail extension from Po Lam to Wu Kai Sha would take many years to implement. The cost would be exorbitant and need to be funded by high-rise property development along the route, because that is
the MTR's model
. Sai Kung is Hong Kong's back garden. Such high density development would totally ruin Sai Kung as we know it.
While a ferry link to Sai Kung has been suggested in the past, the proposal has fallen on deaf ears. However, redundant ferry boats could not call at Clear Water Bay as there are no berthing facilities near the beaches. The construction of such facilities would ruin the popular beaches and pollute the sea.
The bus terminus could be moved to the area near the Sai Kung police station. There is an abundance of tourist shops in the town, but there is scope for more bars and restaurants along the waterfront. However, the high rents demanded could preclude these.
Tourist developments such as Sea World may be fine in places like Gold Coast, Australia, but are totally inappropriate for Sai Kung. Where would land for such a facility be found? We surely do not want more land reclamation. In any case, Ocean Park is available for marine biological research.
Sai Kung is already crowded on weekends and public and school holidays. The fabric of the town is fine as it is and doesn't need grand schemes to attract international tourism.
All that is required is an easily implemented green public transport system, such as more electric minibuses, non-polluting double decker buses and a park and ride facility to reduce traffic congestion.
Eric Edwin Taylor, Sai Kung
Sun Hung Kai Properties will not build 88 sq ft flats
I refer to the article, "Rush to build small flats as prices soar" (
September 24
), which said that, according to a filing with the Buildings Department, the smallest of the flats at Sun Hung Kai Properties' (SHKP) Sai Sha project measures 88 square feet.
We would like to stress that the figure refers to the usable floor area of a unit, which covers only part of a unit as it excludes bathrooms, kitchens or balconies. The flat size or saleable area of those units, if they were to be built, would be bigger than 88 sq ft.
More importantly, SHKP will not build flats of such a small size. This filing does not reflect the latest design of the Sai Sha project. Under our current plan, the smallest flats will have a saleable area of around 300 sq ft, bigger than many newly completed flats in the market, and such one-bedroom flats will make up only a small percentage of the total. Most units at Sai Sha will have two or more bedrooms.
Sai Sha is a mega residential development offering some 9,500 units to be completed in phases. With a project of this scale, it is inevitable for the building plans to be enhanced from time to time.
Located near the Ma On Shan Country Park, the Sai Sha project will embrace a cross-generation living concept with pedestrian-friendly design, smart home features and community facilities to satisfy the needs of residents of different ages.
Chris Liu, director, corporate communications, Sun Hung Kai Properties
Large-scale recycling not feasible in Hong Kong
Solid waste is a problem in many parts of the world, because of its impact on aquatic life and its ability to pollute water. Recycling seems to be an easy solution, but is it
practical in Hong Kong
?
Lacking large amounts of flat land, Hong Kong is a cramped place to live in where people find it hard even to purchase a suitable house. Given this, it will be difficult to select a location for
a recycling centre
when we are prioritising finding land for housing.
Furthermore, we cannot construct such a centre near housing estates. Nobody wants plastic bottles or smelly food waste in their backyard.
Also, recycling is cumbersome and involves a large number of procedures. Separating materials from a sea of garbage is not easy for workers. They then have to withstand not only the high temperatures while melting the waste but also the toxic gases that get released. Even afterwards, the process could still cause other problems such as air pollution.
Those who work in such environments might find themselves discriminated against, so these are hardly ideal jobs. I doubt recycling on a sizeable scale can happen in Hong Kong.
Sky Mok, Tuen Mun