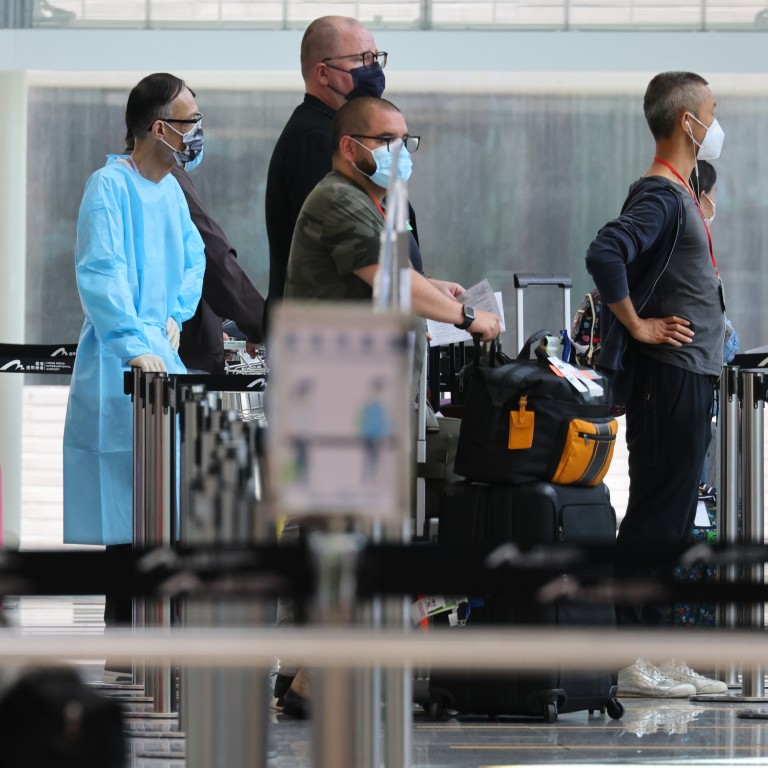 Letters
Hong Kong quarantine: high-risk ranking of Spain doesn't follow the science
Readers discuss Hong Kong's quarantine policy, the central government's effort to understand the city's problems, and private versus public health care
I am a Hong Kong permanent resident currently living in Spain. Since I have been wishing to come back to Hong Kong to visit my family, whom I have not seen for over two years, I have been keeping an eye on the quarantine situation in Hong Kong.
On the forum, there are lots of complaints about the cleanliness of the quarantine hotels, including mould, dust, hair and even used condom wrappers. I understand that quarantine is necessary, but basic cleanliness is also important so that we can, at least, have a decent stay.
It is enough that overseas travellers to Hong Kong need to undergo quarantine, some for 21 days even with full vaccination, while people arriving from mainland China can be exempted from quarantine under the
Return2HK and Come2HK
schemes without being vaccinated. We should at least be given a decent stay in the quarantine hotel.
I can understand the rationale for
upgrading Spain
to Group A (high-risk) countries in August as the coronavirus cases in Spain increased substantially in July and August. However, the case numbers have dropped significantly since then and Spain is now one of the countries in Europe with the least cases, even lower than Germany.
Also, about 80 per cent of the population have had at least one dose of the vaccine, and 77 per cent have been fully vaccinated.
Why does the Hong Kong government continue to keep Spain in Group A and under what criteria is a country classified this way?
I have been waiting since August for Spain to be returned to Group B so I can undergo quarantine for 14 days instead of 21 days. How long must I wait for this to happen?
I wish the Hong Kong government could look at what other countries in the world are doing and follow the science. It can afford to give overseas travellers the same treatment.
Fung Ha Li, Alicante, Spain
Solve Hong Kong's two problems: housing and youth
While everyone was enjoying the National Day celebrations and extended weekend, senior officials from the central government's liaison office
reached out to the Hong Kong public
. Luo Huining, director of the office, wasted no time in trying to understand the problems Hong Kong is facing on an outreach effort this month.
Engaging with those in need and having a taste of their unacceptable living conditions can put fire in the bellies of those who are formulating the policies. The central government has successfully lifted everyone on the mainland
out of extreme poverty
and Hong Kong should be no exception.
Measures should include boosting employability through skills training and exchange programmes, providing training subsidies, matching jobs to the unemployed, and enhancing employment opportunities for university graduates as well as entrepreneurial opportunities in innovation and technology, to name a few.
As social stability is back on track, the Hong Kong government must act fast to implement plans to resolve the city's two main social problems: housing and youth development.
On housing, while Hong Kong still has abundant land supply to be developed or redeveloped, the administrative approval procedures are complicated and drag out the process. An application for redevelopment usually takes at least six years, with around an additional five years for construction.
Projects may also face opposition from the public and are sometimes blocked by lengthy judicial review. The government must be proactive in removing the legislative hurdles and thinking out of the box.
Other policies include stopping abusive use of public housing, putting restrictions on the resale of subsidised home ownership properties, joining forces with elderly owners and social enterprises to redevelop properties in old districts, and speeding up land reclamation.
Now is the time for action. As more of our government officials reach out to the people, let us all work together and build a better Hong Kong.
Lusan Hung, Wan Chai
A tale of two medical bills
Just over three weeks ago, I had what is known as a bursa on my elbow, an unsightly swelling owing to an accumulation of fluid which can cause concern if infected.
I went to a private clinic and the doctor who attended to me said there wasn't anything he could do except refer me to a specialist, in this case an orthopaedist, who practised in another clinic but in the same chain. The visit, including the referral letter, cost me HK$250. I can only guess how much it might have cost if I had consulted the specialist.
Instead, three days later, and for the first time, I went to the North Lantau Community Health Centre, where after an hour and a quarter, a friendly and knowledgeable doctor prescribed two sets of pills.
Now, three weeks later, the swelling has disappeared completely. How much did it cost me? HK$50, including the pills. Why couldn't the private doctor have prescribed the same pills?
A solitary experience isn't enough to make sweeping generalisations, but it would seem that even though the health of the patient is paramount to both private and public doctors, in the private sector the healing process is rather extended.
Chris Stubbs, Discovery Bay