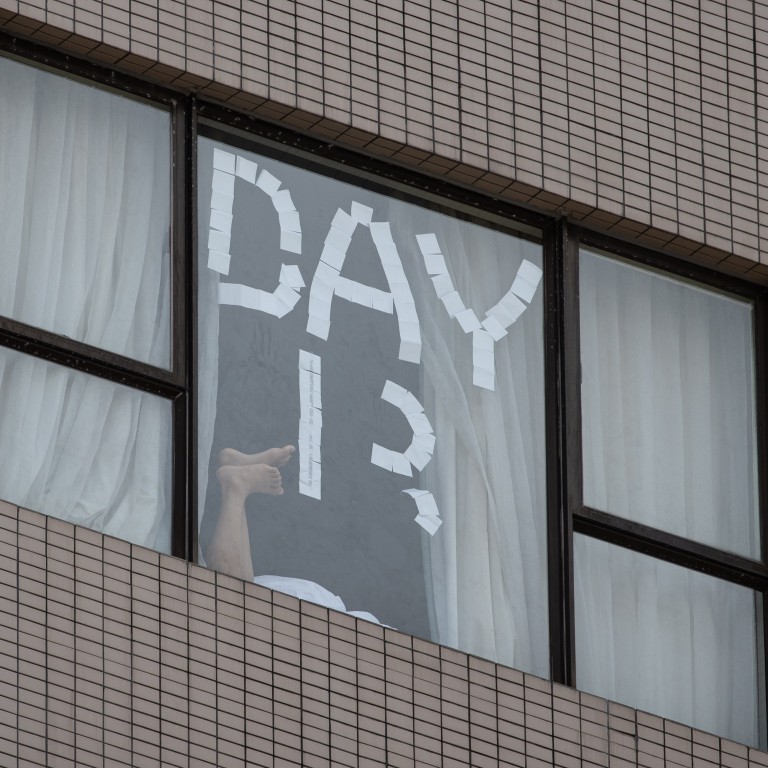 Letters

|
Hong Kong's Covid-19 quarantine and tests: publish data to prove need for strict rules
Readers discuss Hong Kong's requirement of multiple Covid-19 tests, US-China war of words over Taiwan, Hongkongers leaving for the UK and children's fitness
It is time for some cold, hard facts from the Hong Kong government to justify its quarantine and testing policies for fully
vaccinated travellers
to Hong Kong from places other than mainland China.
It is well past the time for the government to scientifically and logically justify its policies on testing and quarantine of this large group of people by publishing data on Covid-19 cases detected in the programme.
Depending on the origin of travel, fully vaccinated travellers from Group A, B and C countries – high-, medium- and low-risk countries – need to undergo
hotel quarantine
for 21, 14 or seven days and be subjected to nine, eight or eight Covid-19 tests, respectively.
Where T is the travel date, the tests are conducted on T-2, T, T+3, T+7, T+9, T+12, T+16, T+19 and, for Class A only, T+26.
The tests include a test within 72 hours of departure to Hong Kong, an airport test upon arrival, multiple tests during the quarantine period in a hotel, and multiple post-quarantine tests after the hotel quarantine period. The exception is Group A, which has just one post-quarantine test.
The pre-departure and airport tests make sense. The tests in hotel quarantine range from two to six, all of which are conducted while the traveller is isolated. What is the justification for more than two tests – one after arriving in the hotel room and one before leaving?
If the risks from certain countries are considered lower, why subject the travellers from those countries to almost the same number of tests as travellers from countries designated as significantly more risky?
A traveller from a Group C country is subject to four post-quarantine tests in 12 days and could easily catch Covid-19 during that period, so what is the logic of continued testing to tie any potential positive Covid-19 test back to the original Group C country?
The government should publish data showing the number of positive Covid-19 tests for each group by designated test date to justify its policies. At some point, the number of positive results must consistently become zero.
This would indicate excessive testing for that particular group and, most likely, excessive quarantine periods. The government should cut the hyperbole and just publish the data.
J. Herbert, Sai Kung
US in no position to call out 'Chinese aggression'
US President John F. Kennedy cited it in America's confrontation with the Soviet Union over their deployment of ballistic missiles in Cuba during the Cuban missile crisis. Yet, the crisis began with the US deployment of ballistic missiles in Italy and Turkey, on the doorstep of the Warsaw Pact. The Soviet Union responded by deploying its ballistic missiles in Cuba.
During the Iran-Contra scandal, the Reagan administration secretly sold arms to the Khomeini government of Iran to fund US-backed right-wing rebels against the Sandinista government of Nicaragua. Then CIA director Robert Gates argued that non-intervention in Nicaragua would be "totally to abandon the Monroe Doctrine".
In 2019, the Trump administration's national security adviser John Bolton invoked the Monroe Doctrine for the Americas, saying "In this administration, we're not afraid to use the word Monroe Doctrine".
East Asia is China's backyard. China is not only native to this region but has never been a colonial power like the Western powers. Western powers came, saw and colonised countries in South Asia, Southeast Asia, Australia, Oceania and even parts of China.
Even after decolonisation, they fought wars in Asia over their far-flung interests. These wars cost trillions of dollars and thousands of Western lives while millions died in Asia. To illustrate, the US suffered around 58,000 military casualties during the Vietnam war while estimates of Vietnamese military and civilian deaths range from 1 million to as high as 3 million.
Any potential conflict between the US and China could draw in other countries in the region. With America's record of easily entering wars but messily ending them, Asian countries might suffer again the consequences of such a conflict.
Chew Kok Liang, Singapore
Hongkongers should stay to help city rebuild
I am amazed by the number of citizens who continue to be attracted by the idea of migration to the UK. While many who went say their children's education is their first priority, others were cheated by politicians who paint rosy pictures of their future in this foreign land.
It is foreseeable that all the big and small issues associated with livelihood and adaptation can combine to make life hard for migrants. They have all been enjoying a hitherto comfortable and privileged life in our colourful city.
Admittedly, our city is in a pretty hopeless state at the moment. But I believe that, given time and space, things will improve. We can all learn to come to terms with the new political climate.
We need to develop confidence that our administration can deal with our problems one by one. At the same time, we can explore the opportunities available and move ahead.
To survive the negativity, do not abandon ship. Hong Kong needs us. As citizens who have benefited much from the city, l urge those planning a move to think twice before they take action.
Jacqueline Kwan, Mid-Levels
Declining children's fitness a wake-up call for parents
Parents play an important role in guiding their children. Many Hong Kong parents are busy with their work and do not pay sufficient attention to their children's fitness. Some spoil their children and indulge their unhealthy habits.
During the pandemic, children have spent more time online, both for study and play, and less time outdoors. This worsens the problem.
But parents cannot do it alone. Social attitudes must also change. Hong Kong society highly values a child's academic performance, often to the neglect of their physical fitness. As a community, we need to encourage children to do more exercise and take up a sport.
The good results of Hong Kong athletes at the 2020 Tokyo Olympic Games have enhanced public interest in sports. I hope this will help get more children into playing sports.
Sandy Mak Pui Yan, Kwai Chung